ROUND ROCK, Texas – The University of Iowa baseball team split a Sunday doubleheader against No. 18/21 Michigan at Dell Diamond. The Hawkeyes won the opener, 8-3, before falling 7-0 in the night cap.
The two teams will play the final game of the series Monday beginning at 11 a.m. (CT).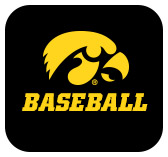 GAME 1
The Hawkeyes scored six runs in the fifth and sixth innings en route to an 8-3 victory in game one – a seven-inning affair.
Iowa loaded the bases in the fifth inning via an Austin Martin single and two walks before Matthew Sosa was hit by a pitch to force in a run to tie the game at three. Pinch hitter Brayden Frazier then delivered, ripping a two-run double with one out to dead center to give the Hawkeyes the 5-3 lead.
With two outs, Iowa extended its lead when Brendan Sher reached on a throwing error and two runs scored on the Wolverine miscue.
WE'RE BACK ON TOP! @brayden_frazier has the CLUTCH gene!

RBI double to dead center gives #Hawkeyes the 5-3 lead! pic.twitter.com/kUPRhFBNI1

— Iowa Baseball (@UIBaseball) March 7, 2021
The Hawkeyes struck first, taking a 1-0 lead on a Peyton Williams RBI double in the first and Williams' second RBI in the third made the score 2-0. After starter Drew Irvine threw three shutout innings, Michigan got to the right-hander in the fourth.
The Wolverines loaded the bases via two walks and a single before scoring their first run on a Riley Bertram comebacker. Michigan's second and third runs came on a wild pitch and bases loaded walk.
Junior Dylan Nedved earned the win, allowing one hit (but walking a pair) over two innings of relief. Freshman Ty Langenberg allowed one hit and fanned two over 1 2/3 innings in his collegiate debut.
Martin had two of Iowa's eight hits in the game, finishing 2-for-4 with a double and run scored. Williams, Matthew Sosa, and Frazier each had two RBIs.
GAME 2
Michigan came out of the gates fast in the second game of the doubleheader, jumping out to a 6-0 lead over the first three innings. A Christian Molfetta bases loaded walk started the scoring in the second before Griffin Mazur delivered the big blow. The catcher hit a two-out grand slam to left center, making the score 5-0.
That's all the Wolverines needed as three pitchers completed the three-hit shutout. Jacob Denner tossed five innings, scattering two hits and fanning seven, while Jack White and Connor O'Halloran threw four innings of one-hit ball with five strikeouts.
Redshirt junior Cam Baumann suffered the loss, allowing six runs (all earned) on five hits over three innings. Six of his nine outs came via the strikeout.
Four freshmen hurlers – Will Semb, Jacob Henderson, Tyson James, and Jackson Payne – faired well in relief, combining to allow one hit over the final six innings. Michigan's only run was unearned on a Hawkeye throwing error.
OF NOTE
– Williams had one hit in both contests, extending his hitting streak to 14 games dating back to last season.
– Four players – Anthony Mangano, Will Semb, Tyson James, and Jackson Payne – all made their Hawkeye debuts in game two.
– Iowa's pitchers finished with 12 strikeouts in game two. The Hawkeyes have had 12 or more strikeouts in two of their three games.
UP NEXT
The Hawkeyes will close out the four-game series Monday, facing Michigan at 11 a.m. (CT). Redshirt sophomore Duncan Davitt will be on the hill for Iowa.