IOWA CITY, Iowa — University of Iowa junior Max Murin has been awarded an at-large berth to the 2021 NCAA Wrestling Championships in St. Louis on March 18-20. The NCAA announced the 330-person tournament field Tuesday.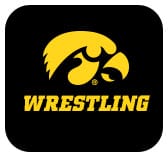 Murin is one of six 149-pound wrestlers to earn an at-large berth. His selection means Iowa will send its entire 10-man roster to the national tournament. The Hawkeyes are the nation's top-ranked team and recently captured their 37th Big Ten Championship at the conference tournament March 6-7.
Murin was the No. 7 seed at the national tournament a year ago. He is 4-3 this season with three wins against ranked opponents. His only losses are to the top three medalists at the 2021 Big Ten Championships, which was Iowa's national qualifier.
Brackets and seeding for the 2021 NCAA Championships will be revealed during a selection show on Wednesday, March 10 at 5 p.m. (CT) on NCAA.com.
The 2021 NCAA Division I Wrestling Championship are March 18-20 at the Enterprise Center in St. Louis. A complete list of qualifiers is available at NCAA.com.