MINNEAPOLIS — A six-run fifth inning propelled Ohio State to a 7-4 victory over the University of Iowa baseball team in game two of a Saturday doubleheader at U.S. Bank Stadium.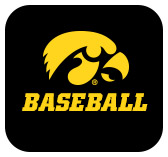 After the Hawkeyes tied the game at one in the top of the fifth, the Buckeyes scored six unearned runs to take control. The inning started when Nick Erwin reached and moved to second on a fielding error by Austin Martin in left field. After Erwin moved up a bag on a groundout, he scored on a Will Semb wild pitch to give Ohio State the 2-1 lead.
The Buckeyes proceeded to load the bases via a walk, double, and an intentional walk to Conner Pohl. With two outs, Mitchell Okuley hit a fly ball down the line in left field, but Martin over ran the fly ball and it fell for a bases-clearing double to extend the Buckeyes' lead to 5-1.
Ohio State added two more runs via an RBI single by Colton Bauer and an RBI double by Nate Karaffa.
The Hawkeyes started chipping away in the sixth when senior Ben Norman hit a two-run home run to center field to make the score 7-3. It was Iowa's first blast of the season.
Iowa put two runners on to start the seventh when Dylan Nedved walked and Brendan Sher reached with an opposite field single. Senior Matthew Sosa drove in the fourth run with a single to center field, but Ohio State made a pitching change and Root got two line outs and a fly out to end the inning.
The Hawkeyes had base runners in the eighth and ninth innings, but TJ Brock had two strikeouts in the ninth to record the save.
Patrick Murphy (1-0) earned the win despite allowing three runs on four hits over 1 2/3 innings. Starter Jack Neely struck out seven and only allowed one hit over the first 4 1/3 innings.
Iowa starter Cam Baumann (0-2) suffered the loss, allowing two runs (one earned) on four hits over four innings. He struck out five and issued only one walk. Freshman Jackson Payne pitched the final two innings, allowing two hits and striking out two.
Iowa mustered five hits in the game and struck out 14 times. Norman was 1-for-2 with a home run, two walks, two runs and two RBIs.
QUOTING HEAD COACH RICK HELLER
"For whatever reason, our offense is really struggling. We can't get a break, can't get a hit, can't get a clutch hit. Across the board, top to bottom, our best hitters are slumping and at the end of the day we're not getting it done.
"We've played good defense in the first game, other than the error Drew (Irvine) had himself, but it was costly. In game two, all three pitchers that threw, they threw well. We had the one inning where we would have gotten out of it with no runs and we misplayed three fly balls in left field and that was the game.
"As poorly as we hit, we still had a chance to win that game if we get out of that inning without any runs. For the first time in quite a while, we hurt ourselves defensively and offensively in that game."
OF NOTE
– Iowa's pitching staff finished with nine strikeouts in the game.
– Norman's home run was the eighth of his career. The Des Moines native also had two steals – tying a career-best. They were his 35th and 36th career steals.
– Sosa extended his hitting streak to seven games.
UP NEXT
The Hawkeyes (2-5) close out the weekend, facing Nebraska at 2 p.m. (CT) Sunday at U.S. Bank Stadium.