MINNEAPOLIS – The University of Iowa baseball team brought the game-tying run to the plate with two outs in the ninth inning, but Nebraska closed out a 4-0 victory Saturday morning at U.S. Bank Stadium.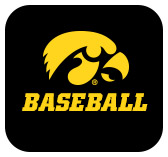 The Hawkeyes loaded the bases with walks from Tyler Snep, Ben Norman, and Dylan Nedved in the ninth against Husker reliever Cam Wynne before Nebraska went to Spencer Schwellenbach.
Iowa countered with pinch-hitter Peyton Williams, but the Husker flame thrower won the battle. After falling behind 3-0, Schwellenbach pumped three straight fast balls past Williams to close out Nebraska's fifth win of the season.
After playing four scoreless innings, Nebraska grabbed a 1-0 lead in the fifth on a Brice Matthews opposite-field home run to right. The Huskers chased Iowa starter Drew Irvine from the game a inning later after Max Anderson singled and Cervantes reached on an Irvine throwing error.
With two outs and the bases loaded, Iowa reliever Trace Hoffman walked in the second run before Joe Acker delivered a two-run single to push the lead to 4-0.
The Hawkeyes had traffic on the base paths throughout the game, but couldn't deliver with runners on base. Iowa had two runners on in the third, fourth and sixth innings against Husker starter Chance Hroch, but the right-hander continuously pitched his way out of trouble.
Iowa stranded 10 runners in the game.
Irvine took the loss, allowing four runs (one earned) on six hits over 5 2/3 innings. He had eight strikeouts to one walk. Redshirt freshman Jacob Henderson pitched the final two frames, striking out four while allowing one hit.
Hroch moved to 2-0 after tossing six shutout innings, scattering five hits and fanning seven. Schwellenbach's save was his first of the season.
Iowa mustered six hits in the game with all the hits coming from the fifth through ninth spots in the order.
OF NOTE
– Iowa was shut out for the second time in six games. The Hawkeyes lost 7-0 against Michigan last weekend.
– The Hawkeyes finished with 13 strikeouts, their second straight game with 10 or more Ks. Iowa has four 10+ strikeout games this season.
– Irvine (8 strikeouts) and Henderson (4 strikeouts) both had career-highs.
– Sosa extended his hitting streak to six straight games.
UP NEXT
Iowa (2-4) returns to action at 1 p.m. (CT), facing Ohio State.