IOWA CITY, Iowa — The University of Iowa soccer team fell to Minnesota, 1-0, on Sunday afternoon at the Iowa Soccer Complex.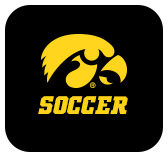 The Hawkeyes were shorthanded at the defender position, missing junior Sara Wheaton and freshman Aleisha Ganief because of injury. Senior Diane Senkowski and freshman Jalyn Mosley smoothly filled the void in what became a defensive battle, with Senkowski playing all 90 minutes.
The lone score came in the 69th minute when Minnesota's Sophia Boman drilled in a goal from the top of the penalty arc. That 1-0 score would hold for the rest of the game.
Sunday's competition marked Iowa's first game in Iowa City since the end of the 2019 season. The Hawkeyes hosted their first two contests of the season at the TBK Bank Sports Complex in Bettendorf, Iowa. 
HEAR FROM HEAD COACH DAVE DILANNI
"We played today without pretty important people in the backfield, and I thought Jalyn Mosley and Diane Senkowski filled in for Aleisha Ganief and Sara Wheaton very well. Minnesota is very difficult team to play against in terms of attacking players. I was happy with how we played against them and thought our defensive shape was good. 
"We're not strong enough in the attack to be able to withstand mistakes and right now, we're having to play perfect defensively. Early in the game, we created enough chances to be able to score a goal or two and we were a bit unlucky. The ball kind of sat around in the box, and I believe the difference was that we did not create those same chances (after that). 
"I am disappointed because I thought we again we played well enough to be able to get points out of this game, but the reality is the Big Ten is a very tough conference and you have to play better than that.  We need to not accept losing while going through this building process.
"I was happy with how we performed, but it was still just not good enough in some areas, and unfortunately, it's costing us points. We are getting better every day and it is about building up who we are, what our personality is, what our character is, and our style of play throughout the season."
OF NOTE
– Redshirt sophomore Monica Wilhelm made six saves. She has 27 saves on the season.
– Iowa position players Diane Senkowski, Samantha Cary, and Rielee Fetty each played all 90 minutes of Sunday's game. 
NEXT UP
Iowa travels to Piscataway, New Jersey, on Thursday to take face Rutgers. Kickoff is set for noon (CT).