THIS WEEK
The University of Iowa soccer team hits the road this week for a pair of games at Rutgers and Maryland. Iowa takes on the Scarlet Knights at noon (CT) at Yurcak Field before squaring off against the Terrapins in College Park at Ludwig Field at 1 p.m. (CT). Sunday's game will be televised on BTN.
Due to the coronavirus pandemic, general admission fans will not be permitted to attend the contests.    
WATCH/FOLLOW LIVE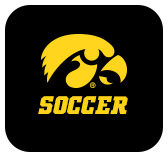 Thursday's game will be streamed live on BTN+. Sunday's game at Maryland will be televised on BTN.
Live stats will be available on hawkeyesports.com.
Fans can follow the Iowa soccer program on Twitter (@HawkeyeSoccer) for live in-game updates.
WHAT YOU NEED TO KNOW
Head coach Dave Dilanni is in his seventh season at the helm of the soccer program. In 2019, Dilanni led the Hawkeyes to a 15-5-1 overall record and an at-large berth into the NCAA Tournament for the second time in program history.
The Hawkeyes have shown improvement over the course of the season, including strong defensive efforts that have allowed one or fewer scores in three of their six games. However, Iowa is still searching for its first goal of the 2021 campaign.
Three Hawkeyes — Hailey Rydberg, Sara Wheaton, and Samantha Cary — were named to the Big Ten Preseason Honors List. Iowa was picked to finish sixth of 14 teams in the preseason coaches' poll.
Juniors Hailey Rydberg and Riley Whitaker were voted team captains for the 2021 spring season.
The Hawkeyes will play 11 games over a seven-week period before competing in a Big Ten Wildcard Weekend from April 8-11. The semifinals of the Big Ten Tournament will be held April 15, but it will include only four teams.
LAST GAME
Iowa fell, 1-0, to Minnesota at the Iowa Soccer Complex on March 14. The Hawkeyes were without starting defenders Sara Wheaton and Aleisha Ganief. While senior Diane Senkowski and freshman Jalyn Mosley filled in effectively during the defensive battle, Iowa was unable to convert first-half opportunities and gave up a goal in the 69th minute.
WILHELM IN GOAL
For the first time in four seasons, Iowa has a starter not named Claire Graves at goalkeeper. Redshirt sophomore Monica Wilhelm has helmed the goal in each of Iowa's first six games, posting 27 saves in 560 minutes. The Illinois native has a 1.50 goals against average.
FRESHMEN STRONG
Five Hawkeye freshmen — Aleisha Ganief, Meike Ingles, Rielee Fetty, Jalyn Mosley, Maggie Johnston — have all started games this season.  Johnston has started all six contests, while Ingles, Fetty, and Ganief have started five contests.  Mosley made her first career start against Minnesota.
GETTING CHANCES
The Hawkeyes have out-shot their opponents in three of the five losses this season, but have yet to find the back of the net. Junior Hailey Rydberg (14) and freshman Meike Ingles (8) have combined for 22 of Iowa's 49 shot attempts.
90 TRACKER
Despite missing the Minnesota game, junior Sara Wheaton still leads in the team in full-games played (5). Other Hawkeye position players to reach 90 minutes in multiple games include: Aleisha Ganief (3), Rielee Fetty (3), Samantha Cary (2),  Diane Senkowski (2), and Samantha Tawharu (2).
DEFENSIVE DEFENDERS
Iowa is most experienced at the defender position where junior Sara Wheaton and sophomore Sam Cary started every game in 2019.  The duo was instrumental in the Hawkeyes allowing just 18 goals in 21 games and posting six shutouts.
FRESH HAWKEYES
A year after having one of the most veteran teams in the nation, the Hawkeyes have one of the youngest.  Iowa has only one senior on the 2021 spring roster in Diane Senkowski.  Eighteen of the 28 players on the roster are underclassmen.
NO PLACE LIKE HOME
The Hawkeyes will host the remainder of their home games at the Iowa Soccer Complex after playing early contests against Michigan and Northwestern at the TBK Bank Sports Complex in Bettendorf, Iowa.
ROSTER BREAKDOWN
The Hawkeyes have 28 players on the 2021 roster, which includes 10 freshmen/redshirt freshmen.
Junior Samantha Tawharu and sophomore Gianna Gourley return after combining to start 16 games (eight apiece) during their first Hawkeye seasons. Junior Skylar Alward scored two goals in 18 games as a reserve as a sophomore
The Hawkeye midfielder are anchored by junior Hailey Rydberg. The St. Charles, Illinois, native started 11 games as a sophomore and has 24 career starts. Junior Josie Durr has three career goals in 33 career games (11 starts).
Along with sophomore Monica Wilhelm, the Hawkeyes have a total of three underclassmen at the goalkeeper position. Redshirt freshman Sabrina Shaw and freshman Macy Enneking have no collegiate experience.
The Hawkeyes welcome eight newcomers to the mix in 2021, including two players — Enneking and Jayln Mosley — who joined the program last January.
Forward/defender Aleisha Ganief played on the Canadian National Team, joining Tawharu, who was a part of the New Zealand Youth National Team prior to becoming a Hawkeye.
NEW DIGS ON THE HORIZON
Construction is underway on the new soccer operations facility at the Iowa Soccer Complex.  The $4 million facility, which is expected to open in time for the 2021 fall season, will include a spacious locker room and lounge area, multi-purpose space, athletic training space, visiting team and official locker rooms, and a press box.
SCOUTING REPORT
The Scarlet Knights are ranked No. 17 in the nation by the United Soccer Coaches Ranking.
Rutgers sits atop the Big Ten standings at 4-1-1. They were picked to finish fourth in the conference by the Big Ten coaches.
Maryland is 0-4-2, one spot above Iowa in the conference standings. They tied Rutgers, 0-0, last time out.
SERIES HISTORY
The Hawkeyes trail Rutgers in the series, 3-4-0.
Iowa is 3-2-0 in program history against Maryland.
UP NEXT
Iowa hosts Penn State at 2 p.m. (CT) on March 25 at the Iowa Soccer Complex.