MATCHUP
Iowa (3-5) vs. Nebraska (5-3)
LOCATION
Duane Banks Field | Iowa City, Iowa
DATE
March 19-21, 2021
WATCH
BTN+ (All Games)
LISTEN
Hawkeye Radio Network | TuneIn Radio
LIVE STATS
Game 1 | Game 2 | Game 3
 
STARTING ROTATION
Game 1 | March 19 | 4:05 p.m.
UI: LHP Trenton Wallace (1-0, 1.64 ERA)
NEB: LHP Cade Povich (1-0, 6.00 ERA)
Game 2 | March 20 | 2:05 p.m.
UI: RHP Drew Irvine (0-1, 4.15 ERA)
NEB: RHP Chance Hroch (2-0, 2.50 ERA)
Game 3 | March 21 | 1:05 p.m.
UI: RHP Duncan Davitt (1-0, 4.82 ERA)
NU: RHP Shay Schanaman (1-0, 3.48 ERA)
THIS WEEK
The University of Iowa baseball team hosts Nebraska in its opening three-game series Friday through Sunday at Duane Banks Field. Friday's season opener is set to begin at 4:05 p.m. followed by 2:05 p.m. and 1:05 p.m. starts on Saturday and Sunday.
• General fan attendance is not allowed due to the global coronavirus pandemic.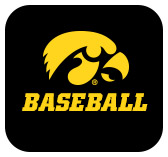 WATCH/LISTEN LIVE
• All three games will be streamed live via BTN+, a paid subscription service.
• The duration of the three-game series will be available on the Hawkeye Radio Network with Zach Mackey on the call. Fans can access the stream via TuneIn Radio.
• Fans can follow along for live updates via Twitter/@UIBaseball.
HAWKEYE NOTABLES
• Five of Iowa's first 11 games will be played against Nebraska. The Hawkeyes will play the Huskers five times in the span of nine days.
• Redshirt freshman Tyler Snep is third in the Big Ten with a .455 batting average. His .625 on-base percentage is second-best in the Big Ten.
• Redshirt freshman Peyton Williams was only available as a pinch-hitter in the four games in Minneapolis because of injury. Williams is day-to-day heading into the Nebraska series.
• The Hawkeyes' pitching staff has 82 strikeouts (10.25 strikeouts per game) over their first eight contests, but free bases have been an issue. Iowa has 41 walks over 68 innings.
• After starting the season slow offensively, Iowa had a season-high nine hits against Nebraska on March 14. Three of the hits went for extra bases.
• The Hawkeyes were a perfect 10-for-10 on the base paths during their four games at U.S. Bank Stadium. Senior Ben Norman was 5-for-5, moving him into a tie for first place in the Big Ten in steals.
• Austin Martin, Ben Norman and Trenton Wallace were named to the Big Ten Players to Watch List.
ROTATION SHINES
Iowa's four-man starting rotation was superb in Minneapolis, posting a 0.79 ERA over 34 innings. The Hawkeye starting pitchers allowed 25 hits and 12 runs (three earned) and had 44 strikeouts to 13 walks.
• Redshirt junior Trenton Wallace tossed 5 1/3 innings of no-hit ball against Ohio State and redshirt sophomore Duncan Davitt no-hit Nebraska for 5 2/3 innings. Wallace had a career-high 10 strikeouts in his first win.
WALLEY: THE ACE
Redshirt junior Trenton Wallace has slid right in to the Friday night starter role for the Hawkeyes. The southpaw is 1-0 with a 1.64 ERA in his first two weekend starts, where he has 18 strikeouts (to six walks) over 11 innings. Wallace has allowed just five hits and two runs while limiting hitters to a .139 average.
• Wallace had a career-high 10 strikeouts on March 12 against Ohio State. He is the first Hawkeye since Cole McDonald in 2019 to strike out 10 or more batters in a game.
• Wallace currently ranks in the top six in four categories. He is fourth in strikeouts (18), fifth in batting average against (.139) and strikeouts looking (5), and sixth in ERA (1.64).
STEADY SOSA
Redshirt senior Matthew Sosa has a career-long eight-game hitting streak through Iowa's first eight games of the 2021 season. The third baseman is hitting .400 (10-of-25) with team-bests in hits (10), doubles (3) and RBIs (7). Sosa has also been plunked a Big Ten-high six times.
• Sosa is eighth in the Big Ten in steals (3) and OBP (.516) and 11th in batting average.
NORMAN HEATING UP
Senior Ben Norman hit safely in all four games in Minneapolis after going hitless during the opening weekend in Texas. The Des Moines, Iowa, native had three hits, finishing 3-for-4 with a double and run scored against Nebraska on March 14. He hit a two-run home run against Ohio State on March 13 — Iowa's first blast of the season.
• Norman has a four-game hitting streak and a six-game reached-base streak heading into the Nebraska series.
ROTATION NOTES
• Redshirt sophomore Drew Irvine allowed four runs (one earned) on six hits over 5 2/3 innings against Nebraska. He fanned eight and walked just one on March 13.
• Redshirt sophomore Duncan Davitt scattered one run on two hits over six innings against Nebraska (3/14). It was his first career quality start.
PITCHING NOTES
• Iowa's pitching staff has four games with 12 or more strikeouts and five with nine or more strikeouts.
• Iowa's pitching staff has allowed three earned runs or fewer in five of its eight games.
BULLPEN BECOMING A STRENGTH
Iowa's bullpen has been strong over the first two weekends of the season, posting a 2.25 ERA over 32 innings. Thirteen players have pitched in relief, limiting opposing hitters to a .211 average.
• Redshirt junior Dylan Nedved is developing into a strong late-inning option. He is 1-0 with a 0.00 ERA over 5 2/3 innings and he recorded his first two saves against Ohio State (3/12) and Nebraska (3/14). Nedved is tied for second in the Big Ten in saves.
• Senior Trace Hoffman has a team-high four appearances, allowing one run on four hits over four innings. He has six strikeouts and is limiting hitters to a .250 average.
• Freshmen Will Semb, Jackson Payne, Jacob Henderson, Ty Langenberg, and Tyson James have thrown 14 innings without allowing an earned run. The group has 19 strikeouts to 11 walks.
THE GRANT LEONARD FILE
• Redshirt senior Grant Leonard (1-1, 5.68 ERA) followed up his record-breaking junior year with a solid 2020 campaign. In seven appearances, he recorded four saves in five chances — the second most in the Big Ten and 17th most nationally.
• Leonard enters his sixth and final season as a Hawkeye with 20 career saves, which are tied for the second most in Hawkeye history with Tim Gudex (2004-06). Kurt Belger (1993-97) holds the program record with 22 career saves.
• Leonard also earned a "save" off the field as he and Iowa softball pitcher Allison Doocy became engaged in January.
MARTIN TO POSEY
Senior Austin Martin was named to the Buster Posey Award Watch List on March 9. He is one of four players in the Big Ten and 69 players nationally named to the watch list for an award presented to the top catcher in collegiate baseball.
SCOUTING NEBRASKA
• The Huskers are 5-3 overall after dropping their final two games in Minneapolis to Iowa and Ohio State. Prior to the two losses, Nebraska had won five straight games.
• Nebraska is leading the Big Ten in fielding percentage (.997), while ranking third in ERA (3.05) and seventh in batting average (.254).
• Three Huskers are hitting over .300 with Max Anderson leading the way with a .367 average.
• Nebraska starter LHP Cade Povich is 1-0 with a 6.00 ERA, RHP Chance Hroch is 2-0 with a 1.50 ERA in two starts, allowing two runs on 14 hits over 12 innings and RHP Shay Schanaman is 1-0 with a 3.48 ERA.
SERIES RECORD
• Iowa and Nebraska have split two games this season. The Huskers beat Iowa 4-0 on March 13 and Iowa defeated Nebraska, 3-1, on March 14.
• The Hawkeyes leads the all-time series 23-22. The Hawkeyes are 14-10 against the Huskers since Nebraska joined the Big Ten.
• Iowa won two of three game over the 30th-ranked Huskers in Iowa City in 2019 in the last weekend series. Nebraska downed Iowa in the second game of the Big Ten Tournament.
BANKS MAGIC
• The Hawkeyes are 95-27 at home since the start of the 2015 season.
• Iowa won 19 games in 2019, the third-most in a single-season in school history, trailing only the 22 wins in 1977 and 20 wins in 2018.
• Iowa has 16 walk-off victories at Duane Banks Field since the start of 2015.
FOLLOW THE HAWKEYES
Iowa baseball fans can follow the Hawkeyes on Facebook @iowabaseball, Twitter @UIBaseball, and Instagram @UIBaseball in addition to coverage on hawkeyesports.com.