PISCATAWAY, N. J.  — The University of Iowa soccer team fell, 2-1, to Rutgers at Yurcak Field on Thursday afternoon.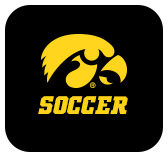 Rutgers forward Amirah Ali scored twice in the final five minutes of the first half, putting the Hawkeyes in a 2-0 deficit at halftime.
The second half was mostly a defensive effort until the 83rd minute. The Hawkeyes unleashed a barrage of offensive pressure, forcing a pair of saves and a corner kick attempt that resulted in a Rutgers handball inside the penalty box.
Then junior Sara Wheaton stepped up to the penalty spot and notched Iowa's first goal of the season. Wheaton previously missed the team's most recent game against Minnesota because of injury.
That wasn't all for the Hawkeyes, as an excellent pass from Samantha Cary set up Skylar Alward with a header shot to tie the game in the 89th minute. Rutgers goalkeeper Megan McClelland came up with the save, however, and the Scarlet Knights held on to win the match.
HEAR FROM HEAD COACH DAVE DILANNI
"Today's game was one in which we learned some valuable lessons about ourselves, but also this conference. On one hand, we played the best soccer we've shown as a team to date against one of the top teams in our conference and a nationally-ranked opponent. It has allowed us to set a new expectation for ourselves and this team as to what is demanded of them to win. Unfortunately, we learned a difficult lesson in that it's not enough to be mentally invested in the game for 84 minutes, as far as competing and executing a game plan. This level requires more of us, especially versus a high-level opponent such a Rutgers.
"We are a resilient group of women that are growing amid a tough schedule, but we are learning those lessons and we will be back for Sunday. There are so many positives to love from today's performance. We will embrace those and continue to grow."
OF NOTE
– Iowa led Rutgers in shots (14-12), shots on goal (8-6), and corner kicks (6-5).
– 90 TRACKER: Sara Wheaton has played the entirety of every game she has participated in this season (6), missing only last week's contest against Minnesota because of injury.
NEXT UP
Iowa returns to action Sunday, taking on Maryland at Ludwig Field in College Park, Maryland. Kickoff is set for 1 p.m. (CT) and the game will be televised on BTN.