COLLEGE PARK, MD. — Sophomore Gianna Gourley scored a golden goal in the 98th minute to send the University of Iowa soccer team to a 1-0 overtime victory at Maryland on Sunday afternoon at Ludwig Field.  The win was the Hawkeyes' first of the season.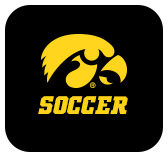 Freshman Macy Enneking made her first career start at goalkeeper and she came away with three saves to help the Hawkeyes pitch their second shutout on the year. 
Iowa was the aggressor most of the day, outshooting Maryland, 17-9. Both teams combined for three shots in the first half before the Hawkeyes unleashed a barrage of 15 shots the remainder of the game.
In the first overtime period, Gourley delivered a strike to the top of the goal that was carried across the line despite contact from Maryland goalkeeper Kennedy Tolson. 
HEAR FROM HEAD COACH DAVE DILANNI
"Results aren't always a great indicator of progress being made, and I've said before that this group understands we are a work in progress and want to continue to get better. I'm happy that they were rewarded with three points today. We created chances to score, held a very athletic, countering team to limited chances, and earned a clean sheet for Macy, who made her first career start. We will use this as a springboard to continue our growth for the remaining games and build the culture of how Hawkeye soccer needs to compete."
OF NOTE
– Gourley scored her first goal of the season on her only attempt of the game. The overtime score marks her second career game-winner (1-0 win over Nebraska on Oct. 3, 2019).
– Aleisha Ganief returned to action after missing two games due to injury. She played 75 minutes off the bench for Iowa. 
– 90 TRACKER: Four Hawkeye position players played the entirety of Sunday's game: Sara Wheaton (7), Samantha Cary (4), Rielee Fetty (4), and Diane Senkowski (4).
NEXT UP 
Iowa hosts Penn State at 2 p.m. (CT) on Thursday at the Iowa Soccer Complex.