THIS WEEK
The University of Iowa soccer team hosts No. 9 Penn State at 4 p.m. (CT) on Thursday at the Iowa Soccer Complex.  The Hawkeyes will then host Purdue on March 28 in their home finale at 1 p.m.  It will be Senior Day on Sunday.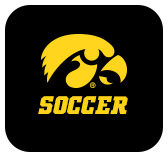 WATCH/FOLLOW LIVE
Both games will be streamed live on BTN+.
Live stats will be available on hawkeyesports.com.
Fans can follow the Iowa soccer program on Twitter (@HawkeyeSoccer) for live in-game updates.
WHAT YOU NEED TO KNOW
Head coach Dave DiIanni is in his seventh season at the helm of the soccer program. In 2019, DiIanni led the Hawkeyes to a 15-5-1 overall record and an at-large berth into the NCAA Tournament for the second time in program history.
Iowa picked up its first win of the season on March 21, downing Maryland, 1-0 in overtime, in College Park. Sophomore Gianna Gourley scored the game-winner in the 98th minute. It was Gourley's sixth career goal and second career game-winner.
Goalkeeper Macy Enneking was named the Big Ten Freshman of the Week on March 22 after posting a shutout at Maryland in her first career start.
The Hawkeyes have allowed one or fewer scores in four of seven games this spring, including two shutouts.
Juniors Hailey Rydberg and Riley Whitaker were voted team captains for the 2021 spring season.
LAST GAME
Iowa defeated Maryland, 1-0, on a golden goal from sophomore Gianna Gourley. Freshman goalkeeper Macy Enneking made her starting debut against the Terps, coming up with three second half saves to force overtime. In the first period of extra time, Gourley fired a shot just below the crossbar that made its way in for the score through contact from Maryland goalkeeper Kennedy Tolson.
ENNEKING HONORS
Freshman Macy Enneking earned her first career Big Ten honor, being named the league's Freshman of the Week on March 22 after posting a shutout at Maryland in her first collegiate start. The Hilliard, Ohio, native faced nine shots and made three saves over 97:03 minutes to give Iowa its first win of the season.
Enneking made her collegiate debut at Rutgers, making three saves in 45 minutes in the second half. In two games, Enneking has had 142:03 minutes of shutout soccer in goal.
MONKEY OFF BACK
After being shut out for the first six games of the season, junior Sara Wheaton scored on a penalty kick in Iowa's road loss at Rutgers on March 18.  It was the Hawkeyes' first goal of the season and the third career strike for Wheaton.
FRESHMEN STRONG
Six Hawkeye freshmen — Aleisha Ganief, Meike Ingles, Rielee Fetty, Jalyn Mosley, Maggie Johnston, and Macy Enneking — have all started games this season.  Fetty has started a freshman-high seven contests, while Johnston has started six games. Ingles and Ganief have each started five contests and Mosley has been in the starting 11 three times.   Enneking made her first collegiate start at Maryland.
GETTING CHANCES
The Hawkeyes have out-shot their opponents in four of their six losses this season. Junior Hailey Rydberg (21) and freshman Meike Ingles (13) have combined for 34 of Iowa's 80 shot attempts.
90 TRACKER
Six Iowa position players have played the entirety of multiple games this season. They are: Sara Wheaton (7), Samantha Cary (4), Rielee Fetty (4), Diane Senkowski (4), Aleisha Ganief (3), and Samantha Tawharu (2).
FRESH HAWKEYES
A year after having one of the most veteran teams in the nation, the Hawkeyes have one of the youngest.  Iowa has only one senior on the 2021 spring roster in Diane Senkowski.  Eighteen of the 28 players on the roster are underclassmen.
ROSTER BREAKDOWN
The Hawkeyes have 28 players on the 2021 roster, which includes 10 freshmen/redshirt freshmen.
Junior Samantha Tawharu and sophomore Gianna Gourley return after combining to start 16 games (eight apiece) during their first Hawkeye seasons. Junior Skylar Alward scored two goals in 18 games as a reserve as a sophomore
The Hawkeye midfielder are anchored by junior Hailey Rydberg. The St. Charles, Illinois, native started 11 games as a sophomore and has 24 career starts. Junior Josie Durr has three career goals in 33 career games (11 starts).
Along with sophomore Monica Wilhelm, the Hawkeyes have a total of three underclassmen at the goalkeeper position. Redshirt freshman Sabrina Shaw and freshman Macy Enneking have no collegiate experience.
The Hawkeyes welcome eight newcomers to the mix in 2021, including two players — Enneking and Jayln Mosley — who joined the program last January.
Forward/defender Aleisha Ganief played on the Canadian National Team, joining Tawharu, who was a part of the New Zealand Youth National Team prior to becoming a Hawkeye.
NEW DIGS ON THE HORIZON
Construction is underway on the new soccer operations facility at the Iowa Soccer Complex.  The $4 million facility, which is expected to open in time for the 2021 fall season, will include a spacious locker room and lounge area, multi-purpose space, athletic training space, visiting team and official locker rooms, and a press box.
SCOUTING REPORT
Penn State is ranked No. 9 in the nation by the United Soccer Coaches Ranking. They haven't lost since the season opener — a 3-2 defeat at Rutgers.
The Nittany Lions have scored 22 goals in eight games, averaging 2.75 strikes per contest. Sam Coffey and Ally Schlegel have six goals apiece, while six different players have scored.
Goalkeeper Katherine Asman has a 1.11 goals against average and 33 saves this season.
Purdue is 4-3-1 on the year and is 3-0-1 in the last four games with victories over Michigan State, Northwestern and Wisconsin and a draw with Ohio State.
Purdue is 1-2 away from West Lafayette before playing Minnesota on Thursday.
The Boilermakers have scored nine goals in 2021 with Sarah Griffith accounting for five strikes.
Marisa Bova has played every minute in goal, making 25 saves and posting three shutouts. She has a 0.84 goals against average on the season.
SERIES HISTORY
The Hawkeyes are 2-25-0 all-time against Penn State with both victories coming in the 2013 season. Iowa hasn't scored against the Nittany Lions since 2015.
Iowa is 9-7-4 all-time against Purdue. The Boilermakers won 1-0 last season in West Lafayette to snap the Hawkeyes' nine-game winning streak to start the season.
Iowa and Purdue tied in 2018, before that, the Hawkeyes had won five straight.
UP NEXT
Iowa returns to action April 3, traveling to Lincoln, Nebraska, to face the Cornhuskers at 1 p.m. (CT).