IOWA CITY, Iowa — The University of Iowa soccer team sent off lone-senior Diane Senkowski with a, 1-0, Senior Day victory over Purdue on Sunday afternoon at the Iowa Soccer Complex.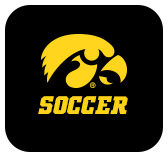 The Hawkeyes struck first, as junior Hailey Rydberg followed up a steal with a precise pass to set up Samantha Tawharu for a goal in the 20th minute. From there, the Hawkeye defense held firm against an onslaught of 16 total Boilermaker shot attempts, earning their third shutout of the season.
Freshman goalkeeper Macy Enneking held down the fort with six saves, matching a single-game career-high that she set last time out against Penn State.
Sunday's game marks Iowa's second win of the 2021 season, as well as the sixth time in nine games that the Hawkeyes have held opponents to one score or fewer.
HEAR FROM HEAD COACH DAVE DILANNI
"I was happy for our kids. I said to them this morning that I believe in input-output. You invest and it comes back around. In terms of results, we haven't got a lot of points, but the effort they are giving out and their mentality has been fantastic.
"I talked a lot about karma this morning; like, we played well in some games and we haven't got any points to show for it. Today, credit to Purdue, they played well and had the ball a lot more than anybody has had the ball against us. Yet, we create an opportunity and score a goal, and we've missed that chance numerous times this year. So, I'm happy for our girls. I always thought we'd be a better team at the end of the season than we were at the beginning, and we continue to develop and get better every week."
OF NOTE
– Goalkeeper Macy Enneking has allowed one goal in 322:03 in goal this season.
– 90 TRACKER: Four Hawkeye position players played the entirety of Sunday's game. They are: Sara Wheaton (9), Samantha Cary (6), Rielee Fetty (6), Hailey Rydberg (3).
NEXT UP
Iowa travels to Lincoln, Nebraska, on April 3 for a 1 p.m. (CT) game against Nebraska.