IOWA CITY, Iowa – The University of Iowa soccer team defeated South Dakota, 3-0, in an exhibition match on Saturday afternoon at the University of Iowa Soccer Complex.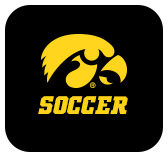 Senior Hailey Rydberg knocked in the first score of the season in the 17th minute, and redshirt senior Josie Durr found the back of the net in the second period.
Freshman Kenzie Roling got in on the action with a score in the final minute of the third period off a missed shot from sophomore Meike Ingles. The Hawkeyes and Coyotes played three 30-minute periods.
"Winning is important, and I thought we scored three nice goals," said Head Coach Dave DiIanni. "We didn't give anything up at the back. Obviously a really good player in Sara Wheaton didn't play today, so we are really happy with the win.
We earned three good goals, didn't give up a goal against, and everyone got to play. When that happens, you get really good experience and everyone is on film, so you can evaluate. Really the bulk of our work is going to be in the next 10 days trying to get a little consistency about what our lineup is going to look like."
The Hawkeyes will be back in action next Friday for an exhibition game against Northern Iowa. Kickoff is set for 7 p.m. (CT) on Aug. 13 at the University of Iowa Soccer Complex.