CHICAGO– The University of Iowa soccer team opened the regular season with a 2-1 victory at DePaul on Thursday. Two first half goals from newcomers lifted the Hawkeyes over the Blue Demons.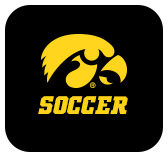 DePaul struck first, knocking in a goal in the third minute of play to open the game with a one score advantage. Freshman Kenzie Roling avenged the score in the 15th minute, notching the first official collegiate goal of her college career. Roling also found the net in each of Iowa's two preseason exhibitions against South Dakota and Northern Iowa.
Graduate transfer Alyssa Walker scored the go-ahead goal at the end of the first half to give the Hawkeyes a 2-1 advantage. Iowa held DePaul scoreless in the second half to seal the season opening win.
"Today was a good start to the season for many reasons," said Iowa head coach Dave DiIanni. "We challenged our group to play on a difficult field in a tough environment and they performed admirably. To start the game giving up a goal in the first two minutes created an adversity we weren't prepared for, however the team didn't panic and instead stayed the course. These are the types of games that a team needs to grow through adversity.
"We created some excellent scoring chances that would have made the game a bit easier for us, but credit to DePaul for how they played as the game went on. They made it very difficult for us. We will learn from the missed chances and are happy to start the season off with a win."
Iowa's road trip concludes Sunday with a 1 p.m. (CT) matchup at No. 21 Saint Louis. The game at Hermann Field will be live streamed on ESPN+.