IOWA CITY, Iowa – The University of Iowa soccer team defeated Purdue-Fort Wayne, 5-0, on Thursday night at the Iowa Soccer Complex. Three Hawkeyes found the back of the net en route to the preseason drubbing.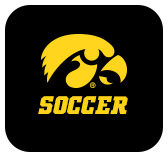 Graduate transfer Alyssa Walker drilled a goal in the third minute of play to open things up for Iowa. Walker scored again in the 11th minute and the Hawkeyes rolled into halftime with a 3-0 lead after freshman Kenzie Roling found the back of the net for the third time this season. The Waverly-Shell Rock alumnus scored her goal at the 30-minute mark off an assist by Riley Whitaker, who returned to the Hawkeye lineup tonight after an extended injury battle.
Iowa scored three goals in the first half off of 12 shots while the defense held Purdue-Fort Wayne without a first half shot.
Junior Samantha Cary opened the second half with a score in the 48th minute before Kenzie Roling wrapped things up with another goal in the 54th minute.
HEAR FROM HEAD COACH DAVE DIANNI
"We got everything we were hoping to get out of this game. We wanted to stretch the bench and get a lot of players playing time, and we've been a bit unfortunate outside the box with goal scoring, so today was a pretty good reflection of our training.
"It means the world to us [to have Riley Whitaker back]. You heard the cheer when she was going in. Prior to the injury you could arguably make the case she was our best player. It was very difficult to see her go down, and quite honestly to spend a whole year in recovery. When you work hard you let good things happen at the end, and she is a good kid and somebody who cares about the game.
"It was a complete game for us top to bottom and were really excited about that heading forward."
HAWKEYE NOTABLES
Two Hawkeyes scored multiple goals; Iowa's last multi-score performance came Sept. 12, 2019 when Hannah Drkulec put up a pair of goals against Notre Dame
Thursday marked the most goals the Hawkeyes have scored in a game since a 6-1 win over UNI on Aug. 25, 2019.
Iowa is undefeated in its last 26 games when scoring two goals ore more.
The Hawkeyes took 17 shots on goal off of 28 total shots; Iowa also registered four assists and seven corners.
90 TRACKER: Zero Hawkeyes played the entirety of Thursday's game as Coach DiIanni rotated subs throughout the night.
UP NEXT
Iowa hosts Mississippi State at 1 p.m. (CT) Sunday at the Iowa Soccer Complex.