LINCOLN, Neb. — The University of Iowa wrestling team advanced six wrestlers to the semifinals of the 2022 Big Ten Championships on Saturday afternoon at Pinnacle Bank Arena.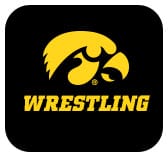 The Hawkeyes won 11-of-15 matches in the opening session, sweeping five matches in the opening rounds and winning six-of-10 in the quarterfinals. Iowa won twice by major decision in the opening round and once by fall.
Michael Kemerer was one of three Hawkeyes to score bonus points. He secured a first-period pin in the opening round before advancing to the semifinals with a 5-4 decision in the quarters at 174. Max Murin opened his tournament with a major decision at 149 and advanced to the semifinals with a takedown in the closing seconds of a 6-5 win in the quarters.
Jacob Warner advanced through the opening round with a 17-4 major decision at 197, but fell one round shy of the semifinals with a 3-1 setback in the quarterfinals.
Warner is one of three Hawkeyes on the back side of the bracket that need one win in the consolation round to secure an automatic berth to the 2022 NCAA Championships in Detroit, Michigan, on March 17-19. Kaleb Young is two wins shy of an automatic berth. Iowa's six semifinalist have already earned a spot at the national tournament.
Austin DeSanto advanced to the semifinals for the third straight year with a 7-3 win at 133. Defending tournament champion Jaydin Eierman controlled a 10-3 decision to advance to the semis at 141.
Alex Marinelli opened his pursuit of a fourth straight conference title with an 8-2 win at 165, and Tony Cassioppi closed Iowa's opening session with a 9-3 win at 285.
Iowa will open the second session in third place in the team race with 55 points. Michigan leads after the first session with 68.5 points.
QUOTING COACH TOM BRANDS
"You have to put the fear of what you do really well into your opponent, and that means we have to pick up our pace. We have to pick up our pace and put guys under fire. There is a lot of wrestling left to go."
UP NEXT
Session II begins at 5:30 p.m. (CT) with consolation round competition (B1G+). The semifinals begin at 7:30 p.m. on BTN.
FIRST ROUND RESULTS (tournament seeds)
125 – #6 Drake Ayala (IA) dec. #11 Tristan Lujan (MSU), 4-0
149 – #4 Max Murin (IA) major dec. #13 Payton Omania (MSU), 12-0
174 – #4 Michael Kemerer (IA) pinned #13 Connor O'Neill (RU), 2:41
184 – #5 Abe Assad (IA) dec. #12 Zach Braunagel (ILL), 6-4
197 – #4 Jacob Warner (IA) major dec. #13 Nick WIllham (IND), 17-4
QUARTERFINAL RESULTS
125 – #3 Eric Barnett (WIS) dec. #6 Drake Ayala (IA), 4-3
133 – #2 Austin DeSanto (IA) dec. #7 Chris Cannon (NU), 7-3
141 – #2 Jaydin Eierman (IA) dec. #7 Dylan D'Emilio (OSU), 10-3
149 – #4 Max Murin (IA) dec. #5 Yahya Thomas (NU), 6-5
157 – #10 Brady Berge (WIS) dec. #2 Kaleb Young (IA), 5-3
165 – #2 Alex Marinelli (IA) dec. #10 Creighton Edsell (PSU), 8-2
174 – #4 Michael Kemerer (IA) dec. #5 Ethan Smith (OSU), 5-4
184 – #4 Taylor Venz (NEB) dec. #5 Abe Assad (IA), 4-2
197 – #5 Patrick Brucki (MICH) dec. #4 Jacob Warner (IA), 3-1
285 – #2 Tony Cassioppi (IA) dec. #7 Trent Hilger (WIS), 9-3
SEMIFINAL MATCHUPS
133 – #2 Austin DeSanto (IA) vs. #3 Lucas Byrd (ILL)
141 – #2 Jaydin Eierman (IA) vs. #3 Sebastian Rivera (RU)
149 – #4 Max Murin (IA) vs. #1 Sammy Sasso (OSU)
165 – #2 Alex Marinelli (IA) vs. #3 Dean Hamiti (WIS)
174 – #4 Michael Kemerer (IA) vs. #1 Carter Starocci (PSU)
285 – #2 Tony Cassioppi (IA) vs. #3 Greg Kerkvliet (PSU)
CONSOLATION MATCHUPS
125 – #6 Drake Ayala (IA) vs. #12 Jacob Moran (IND)
157 – #2 Kaleb Young (IA) vs. #8 Robert Kanniard (RUT)
184 – #5 Abe Assad (IA) vs. #6 Layne Malczewski (MSU)
197 – #4 Jacob Warner (IA) vs. #11 Jaron Smith (MD)
TEAM STANDINGS
1. Michigan 68.5
2. Penn State 67.5
3. IOWA 55.0
4. Nebraska 47.5
5. Wisconsin 35.0
6. Ohio State 33.0
7. Northwestern 27.5
8. Minnesota 21.0
9. Rutgers 16.0
10. Michigan State 15.5
11. Purdue 13.0
12. Illinois 12.0
13. Maryland 4.5
14. Indiana 4.0