IOWA CITY, Iowa – Fourteen players — nine from the Hawkeye State — have signed National Letters of Intent to join the University of Iowa baseball program in the fall of 2023, it was announced Wednesday by head coach Rick Heller. The class is ranked as the 15th-best nationally by Baseball America, the highest ranking in program history.
"This is an outstanding recruiting class and a fantastic group of young men," said Heller. "The balance between pitching and hitting is excellent. Associate head coach and recruiting coordinator Marty Sutherland continues to do a fantastic job year after year. Pitching coach Sean McGrath hit the ground running and has done a super job helping our recruiting efforts. This new group of Hawkeyes is talented and has a chance to be special. Our current roster has several potential MLB draft picks and the same can be said about this recruiting class. We feel that we are in a great place with our roster heading into the 2024 season, but we will likely need to sign a few more players this spring and summer."
The class consists of 10 position players: Kyle Alivo (UT, Milwaukee, Wis.), Cash Campbell (3B, Lombard, Ill.), Colin Coonradt (SS, Cedar Falls, Iowa), Myles Davis (SS, Marion, Iowa), Karson Grout (UT, Wellman, Iowa), Carter Geffre (C, Ames, Iowa), Tyler Guerin (1B, Shoreview, Minn.), Miles Risley (OF, Johnston, Iowa), Kooper Schulte (SS, New London, Iowa) and Caleb Wulf (C/UT, West Liberty, Iowa).
Iowa also signed four pitchers: Joey Oakie (RHP, Ankeny, Iowa), Nick Heitman (RHP, Mt. Vernon, Iowa), Liam Roche (LHP, Overland Park, Kansas) and Jaron Bleeker (RHP, Sergeant Bluff, Iowa). Newcomers Alivo, Guerin and Geffre will also pitch for the Hawkeyes.
Eleven recruits are top 500 rated players nationally by Perfect Game and five are inside the top 500 by Prep Baseball Report.
The Hawkeyes bring in the top rated recruit in the state of Iowa (Oakie) and Minnesota (Guerin), according to Perfect Game. Alivo, Davis, Geffre and Grout are also ranked in the top-10 of their respective states by Perfect Game and Prep Baseball Report.
2024 Recruiting Class
Position Players
Name
Ht.
Wt.
B/T
Pos.
Hometown
Last School (Coach)
Club Team
Kyle Alivo
6-1
170
R/R
UT
Milwaukee, Wis.
St. Thomas More (Tim Shultz)
Prospect Training Academy
Cash Campbell
6-1
215
L/R
3B
Lombard, Ill.
Montini Catholic (Eric Scott)
Cangelosi Sparks North
Colin Coonradt
6-0
200
L/R
SS
Cedar Falls, Iowa
Cedar Falls (Brett Williams)
Iowa Select
Myles Davis
6-0
200
R/R
SS
Marion, Iowa
Marion (Steve Fish)
AB3 Academy
Carter Geffre
6-3
220
R/R
C
Ames, Iowa
Ames (Nick Steenhagen)
Spects National
Karson Grout
6-0
195
L/R
UT
Wellman, Iowa
Mid-Prairie (Kyle Mullet)
Spects National
Tyler Guerin
6-6
205
L/R
1B
Shoreview, Minn.
Mounds View (Nik Anderson)
MN Blizzard
Miles Risley
6-0
190
R/R
OF
Johnston, Iowa
Kirkwood CC (Todd Rima)
Kooper Schulte
6-1
200
R/R
SS
New London, Iowa
Central Arizona CC (JoJo Howie)
Caleb Wulf
5-9
195
R/R
C/UT
West Liberty, Iowa
Southeastern CC
Pitchers
Name
Ht.
Wt.
Pos.
Hometown
Last School (Coach)
Club Team
Joey Oakie
6-3
200
RHP
Ankeny, Iowa
Ankeny Centennial
Canadian National Team (Greg Hamilton)
Nick Heitman
6-3
190
RHP
Mt. Vernon, Ind.
Mt. Vernon (Brad King)
Indiana Bulls
Liam Roche
6-0
200
LHP
Overland Park, Kan.
Shawnee Mission South (Bryce McElroy)
Mac N Seitz
Jaron Bleeker
6-3
195
RHP
Sergeant Bluff, Iowa
Bishop Heelan (Andy Osborne)
Wow Factor 712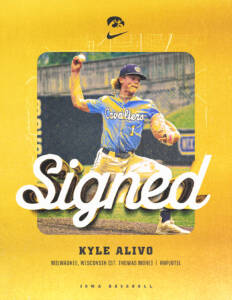 Kyle Alivo
6-1, 170, UT/RHP, R/R
Milwaukee, Wisconsin
St. Thomas More (Tim Shultz)
2023 Team Captain
2023 State Runner-Up (St. Thomas More)
2023 First Team All-Conference/District
2023 Second Team All-State
Heller on Alivo:
"Kyle will bring the potential to impact the program both as a pitcher and an infielder. He has always demonstrated high level pitchability on the mound as his velocity has taken off. We're excited about his ability to defend as a middle infielder and bat-to-ball skills at the plate. Kyle led his high school team to a state runner-up finish in 2023, which speaks to his competitiveness and leadership qualities."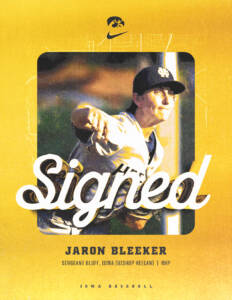 Jaron Bleeker
6-3, 195, RHP
Sergeant Bluff, Iowa
Bishop Heelan (Andy Osborne)
5-2 record with a 0.68 ERA in 2023
64 strikeouts in 51 innings pitched
Heller on Bleeker:
"Jaron brings a high-upside arm from Western Iowa to Hawkeye Nation. He has always been a guy who has shown great command with three pitches. The velocity has been up to 92 MPH with a whole lot more in his future. He is a multi-sport athlete who was the Player of the Year in his conference this past summer. We are excited to have Jaron at Iowa."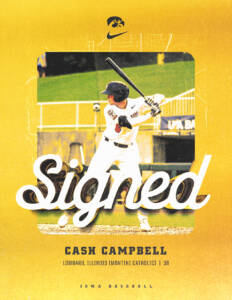 Cash Campbell
6-1, 215, 3B, L/R
Lombard, Illinois
Montini Catholic (Eric Scott)
Two-Time All-Conference (Chicago Catholic League)
Two-Time Team Captain
16U/17U Team USA (Prospect Development Pipeline)
2023 Perfect Game First Team All-Central Region
2022 WWBA Prospect Meadows MVP
Three Year Honor Roll Member
Grandson of semi-retired KCRG sports anchor John Campbell
Heller on Campbell:
"Cash brings a powerful left-handed bat to our program and can play both corner infield positions. He has always shown great ability to drive the baseball and we expect him to do that in a Hawkeye uniform, as well. Cash comes from a family of Hawkeyes, and we are extremely excited he chose Iowa."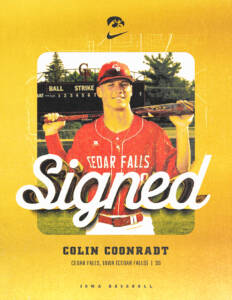 Colin Coonradt
6-0, 200, SS, L/R
Cedar Falls, Iowa
Cedar Falls (Brett Williams)
Nine home runs and 45 RBIs in 2023
Drew 40 walks and scored 50 runs in 43 games played
Heller on Coonradt:
"Colin had one of the best offensive summers of anyone in the state of Iowa. He led Cedar Falls to the State Tournament in 2023. He showed tremendous leadership and production during that run. Colin is a multi-sport athlete with great leadership skills and is a hard-nosed competitor on the field. We're excited Colin will be a Hawkeye."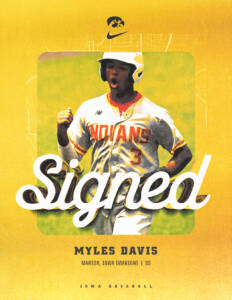 Myles Davis
6-0, 200, SS, R/R
Marion, Iowa
Marion (Steve Fish)
No. 2 ranked player in Iowa by Perfect Game
Ranked as the No. 60 player in the nation by Perfect Game
Seven home runs and 23 RBIs in 26 games played in 2023
Led the team with a .415 batting average
Heller on Davis:
"Myles has been the starting shortstop at Marion high school since he was in eighth grade. His maturity at a young age was evident when we watched him early in his high school career. Since then, Myles has made a splash on the national scene with his high-level hitting ability and production. He helped lead his high school team to a State Championship as a sophomore. We feel Myles will step in with tremendous energy and the ability to lead early in his career. Iowa Baseball is excited to see him in Black and Gold."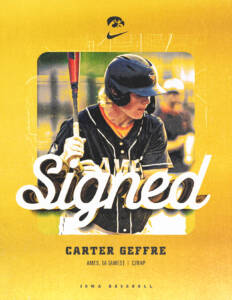 Carter Geffre
6-3, 220, C/RHP
Ames, Iowa
Ames (Nick Steenhagen)
2023 First Team All-State
2023 First Team Elite (4A) – Des Moines Register
2022 Third Team All-State
Two-Time First Team All-Conference (CIML)
2023 First Team All-District
Two-Time All-Academic Honors (CIML)
Three year varsity starter
Led team to State Runner-Up Finish in 2023
Heller on Geffre:
"Carter is a physical presence who has a chance to impact the program behind the plate as well as the mound. We're excited about Carter's zone skills and ability to drive the ball offensively. After fighting through the first half of the season with some injuries, Carter settled in and had a great second half on the mound. He led Ames High School to a State Runner-Up finish. Carter is a tireless worker with tons of baseball savvy. We're very happy Carter is a Hawkeye."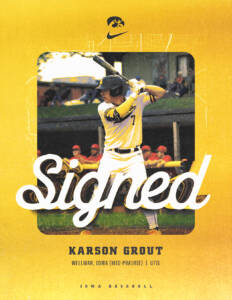 Karson Grout
6-0, 195, UT
Wellman, Iowa
Mid-Prairie (Kyle Mullet)
First Team All-State (2A)
Heller on Grout:
"Karson brings a physical, left-handed bat to the Hawkeye offense and the ability to defend on the infield. He has been an All-State performer at Mid-Prairie and helped lead them to a state tournament appearance in 2022. Karson plays middle infield and has the potential to be an impact for us there, as well. We love Karson's make-up and how he has represented himself on the field. We're excited to add Karson to the Hawkeye Family."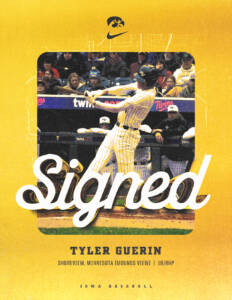 Tyler Guerin
6-6, 205 1B/RHP
Shoreview, Minnesota
Mounds View (Nik Anderson)
Two-Time All-Area Selection
Two-Time All-Conference
2023 All-State Member
No. 1 Ranked Player in Minnesota by Perfect Game
Brother of current 1B Blake Guerin
Heller on Guerin:
"Tyler will come to Iowa with the ability to contribute both on the mound and at the plate. Tyler is a left-handed first baseman with a frame to be a middle-of-the-order presence. On the mound, Tyler possesses a ¾ arm slot. Paired with his size, this gives him incredible deception. The fastball has been up to 94 MPH with great ability to command the zone. We couldn't be happier to add Tyler to Hawkeye Nation."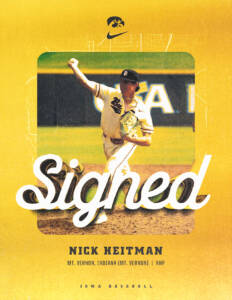 Nick Heitman
6-3, 190, RHP
Mt. Vernon, Indiana
Mt. Vernon (Brad King)
All-Conference Selection
62 strikeouts in 35 1/3 innings pitched
.223 batting average against
Heller on Heitman:
"Nick fits the mold of several of the successful arms we have had in our time at Iowa. He has demonstrated ability to fill up the strike zone with three pitches, which includes an advanced ability to spin the slider. There is a ton left in the tank, which makes it exciting to picture him in an Iowa uniform. Nick's competitiveness and character make it really exciting that he chose Iowa."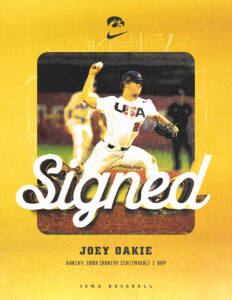 Joey Oakie
6-3, 200, RHP
Ankeny, Iowa
Ankeny Centennial (Mark Hey)
2023 All-State Super Team
2023 All-State Team Captain (4A)
2022 First Team All-State (4A)
Two-Time First Team All-Conference (CIML)
Two-Time First Team All-District
2023 Perfect Game All-American and All-American Game Participant
2023 18U Team USA
Ranked as the top player in Iowa by Perfect Game and Prep Baseball Report
Ranked as the No. 10 player in the nation by Perfect Game
Heller on Oakie:
"Joey is without question one of the most decorated players from our state in the last 30 years. He brings electricity across the board with his FB/SL combo. As good as the physical traits are, we've always been more impressed with his work ethic and how humble he is. Through all the accolades — including Team USA this fall — Joey has stayed humble and continues to put his head down and work. It meant something to Joey and his family to stay home and Iowa Baseball is elated he will be a Hawkeye."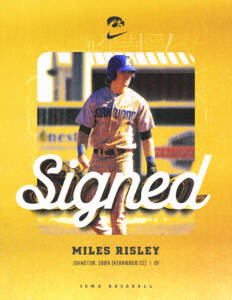 Miles Risley
6-0, 190, OF
Johnston, Iowa
Kirkwood CC (Todd Rima)
2022 Iowa HS Player of the Year
2022 All-State Super Team
2021 Second Team All-State
Heller on Risley:
"Miles has been a winner his whole life. He has been lucky to play at two outstanding programs (Johnston HS/Kirkwood CC) prior to getting to Iowa. On the field, Miles brings a highly athletic outfielder with ability to drive the baseball. He is a tremendous leader and plays with a ton of energy. We expect Miles to step in and help continue to build the culture at Iowa. We are very excited to have Miles in Iowa City."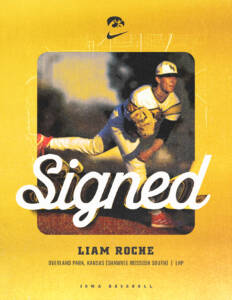 Liam Roche
6-0, 200, LHP
Overland Park, Kansas
Shawnee Mission South (Bryce McElroy)
All-Sunflower League
Appeared in 10 games, making nine starts
67 strikeouts over 35 innings pitched
3.00 ERA
Heller on Roche:
"Liam has all the stuff present to have a role early on in his Hawkeye career. He has great stuff, presence and pitchability, plus he competes. The fastball has been up to 92 MPH with a great ability to spin the slider. His character and work ethic are also what drew us to him during the recruiting process. He will add a much-needed lefty arm to the staff. We're lucky to have Liam heading north to Iowa City."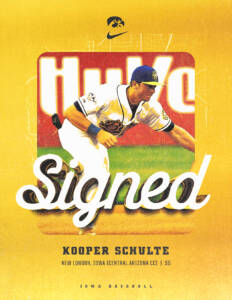 Kooper Schulte
6-1, 200, SS
New London, Iowa
Central Arizona CC (JoJo Howie)
First Team All-State Selection in 2022
Led New London to 2022 State Championship
Hit .373 with eight doubles for the Burlington Bees (Prospect League) in 2023
Son of Justin Schulte, head coach at Southeastern CC and former Hawkeye pitcher
Heller on Schulte:
"Kooper brings several intangibles with him to Iowa City. We've been around Kooper since he was a young kid so we couldn't be happier to get a chance to coach him. He is a high-level defender who shows incredible toughness and leadership whenever he plays. Kooper was the leader of his New London team that won a state championship in 2022. He will bring those winning qualities to the Hawkeye uniform."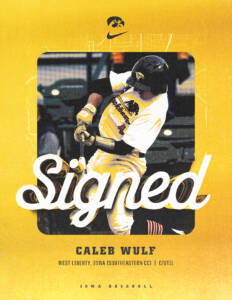 Caleb Wulf
6-0, 195, C/UT
West Liberty, Iowa
Southeastern CC (Justin Schulte)
2023 Second Team All-Region (ICCAC)
Led team to National Runner-Up Finish in 2023 (NJCAA II)
Fourth in the nation in hits in 2023 (NJCAA II)
Tied for seventh in the nation in doubles in 2023 (NJCAA II)
Broke school record for hits (101) in 2023
Son of Troy Wulf, Iowa Athletic Academic Advisor and former Hawkeye pitcher
Heller on Wulf:
"Caleb is the definition of a ball player. His work ethic and focus on being great is what stood out during the recruiting process. He will bring a left-handed bat with the ability to play all over the field. Not only will Caleb impact us on the diamond, but we expect him to be a leader the minute he steps foot on campus. We've watched Caleb for a long time, so we are excited to see him in Black and Gold."