IOWA WRESTLING
The Iowa wrestling program is synonymous with championships: team titles, individual titles, conference titles, national titles, World titles, Olympic gold — Hawkeye wrestling does not discriminate.​​​​​​​
Over the course of the last five decades, Iowa Wrestling continues to be the most recognizable brand around the world.  The Iowa style is loathed by opponents, and glorified by record setting crowds no matter the site, no matter the season.
The Iowa style is simply different, unique in an approach that encourages relentless aggression and unmatched endurance. It is a brand recognized by all, yet hard to comprehended by many. Iowa Wrestling operates at the highest standard, upholding traditional values and building future champions. And it starts here.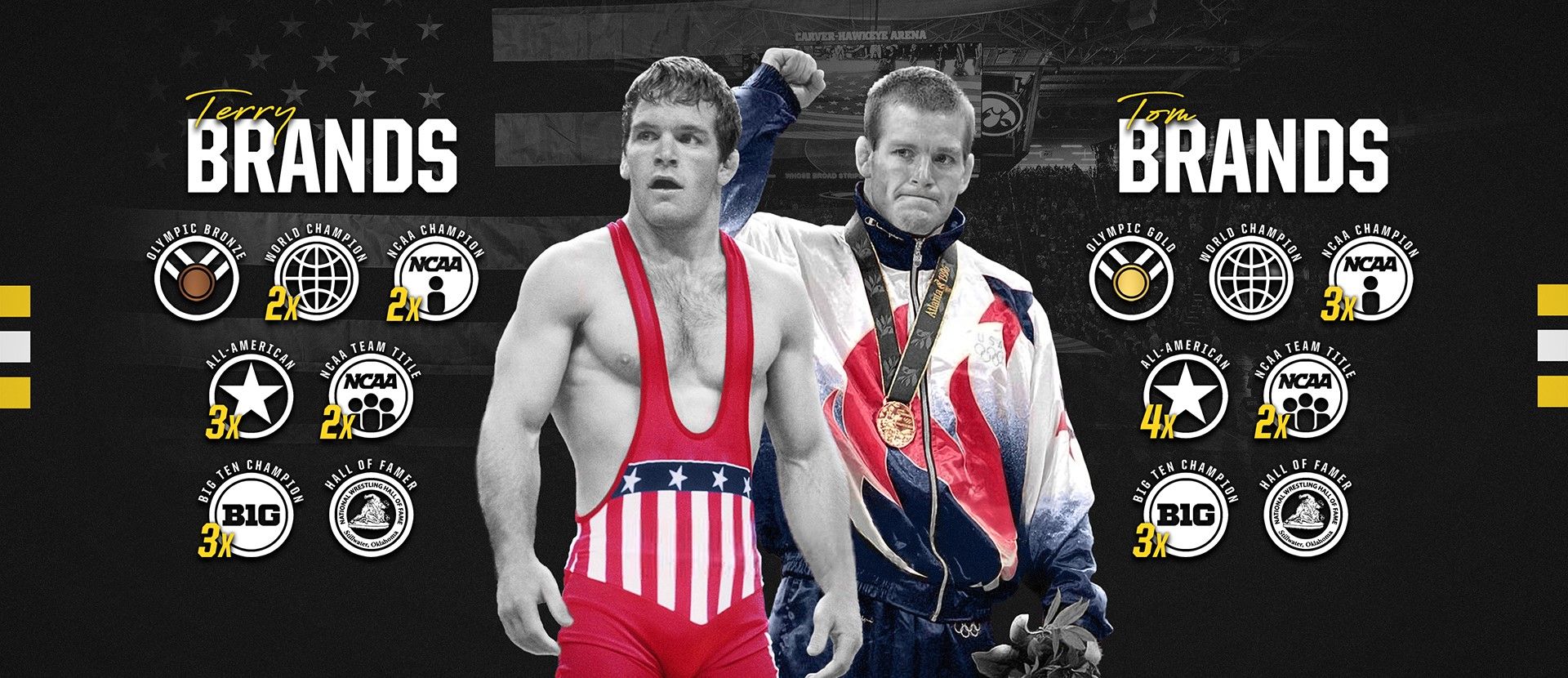 ON THE MAT
Tom and Terry Brands won a combined five world medals, including one Olympic gold medal, one Olympic bronze, and three World titles. The coaching staff has won five NCAA individual titles, earned nine All-America honors, and wrestled for five NCAA championship teams.
TOM BRANDS
1996 Olympic gold medalist
1993 World Champion
Three-time NCAA Champion (1990, 1991, 1992)
Outstanding Wrestler of the 1992 NCAA Championships
Four-time All-American (1989, 1990, 1991, 1992)
NCAA team titles in 1991 and 1992.
Three-time Big Ten Champion (1989, 1991, 1992)
National Wrestling Hall of Fame
TERRY BRANDS
2000 Olympic bronze medalist
Two-time World Champion (1993, 1995)
Two-time NCAA Champion (1990, 1992)
Three-time All-American (1990, 1991, 1992)
NCAA team titles in 1991 and 1992
Three-time Big Ten champion (1990, 1991, 1992)
National Wrestling Hall of Fame
RYAN MORNINGSTAR
Two-time All-American (2009, 2010)
NCAA team titles in 2008, 2009, 2010​​​​​​​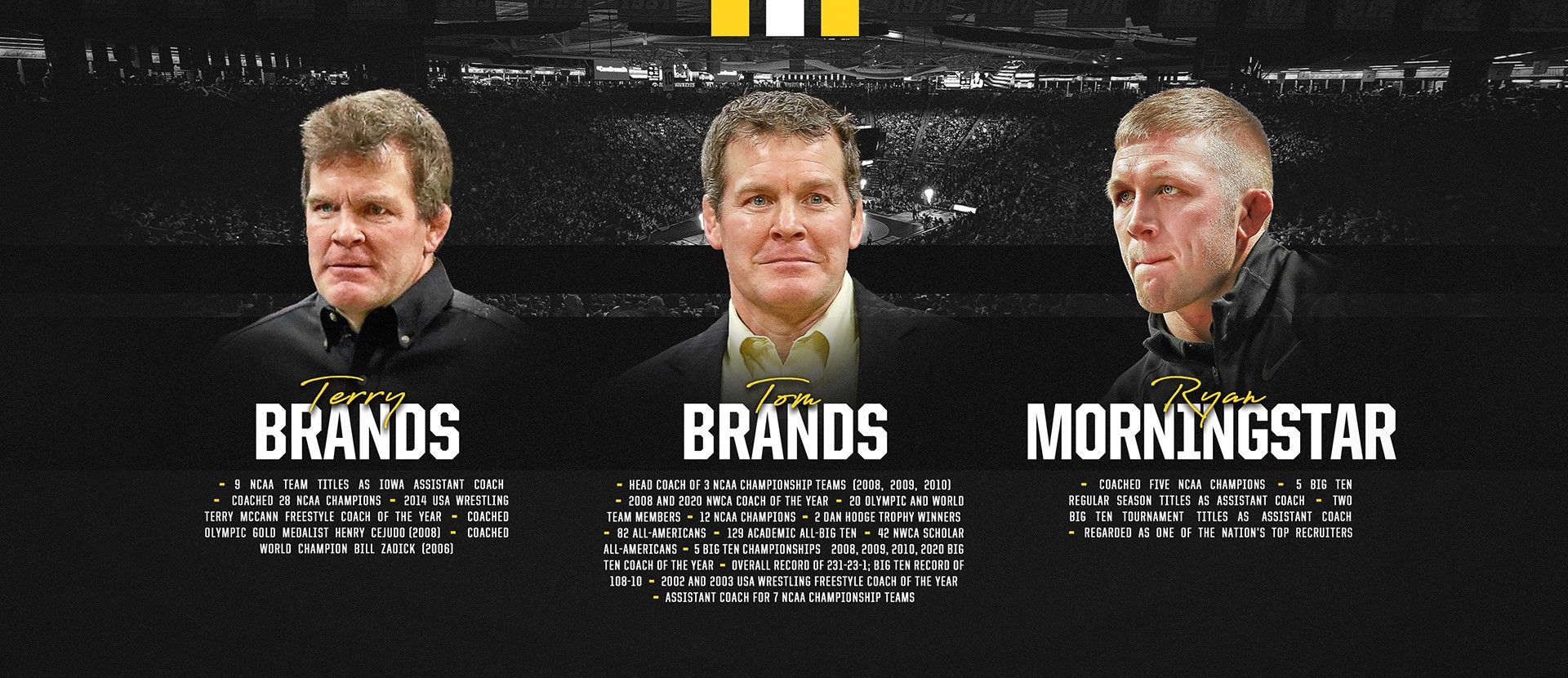 IN THE CORNER
Since Gary Kurdelmeier won the program's first NCAA championship in 1975, the University of Iowa has won 23 NCAA team titles. Fifteen of those came under the watch of Dan Gable. Six other championships have come from the Gable coaching tree, including the last three under the leadership of Tom Brands and today's Hawkeye Wrestling coaching staff.
TOM BRANDS 
Head coach of three NCAA Championship teams (2008, 2009, 2010)
2008 and 2020 NWCA Coach of the Year
20 Olympic and World Team members
12 NCAA Champions
Two Dan Hodge Trophy winners
82 All-Americans
129 Academic All-Big Ten
42 NWCA Scholar All-Americans
Five Big Ten Championships
2008, 2009, 2010, 2020 Big Ten Coach of the Year
Overall record of 231-23-1; Big Ten record of 108-10
2002 and 2003 USA Wrestling Freestyle Coach of the Year
Assistant coach for seven NCAA Championship teams
TERRY BRANDS
Nine NCAA team titles as Iowa assistant coach
Coached 28 NCAA champions
2014 USA Wrestling Terry McCann Freestyle Coach of the Year
Coached Olympic gold medalist Henry Cejudo (2008)
Coached World champion Bill Zadick (2006)
RYAN MORNINGSTAR
Coached five NCAA champions
Five Big Ten regular season and two Big Ten tournament titles as assistant coach
Regarded as one of the nation's top recruiters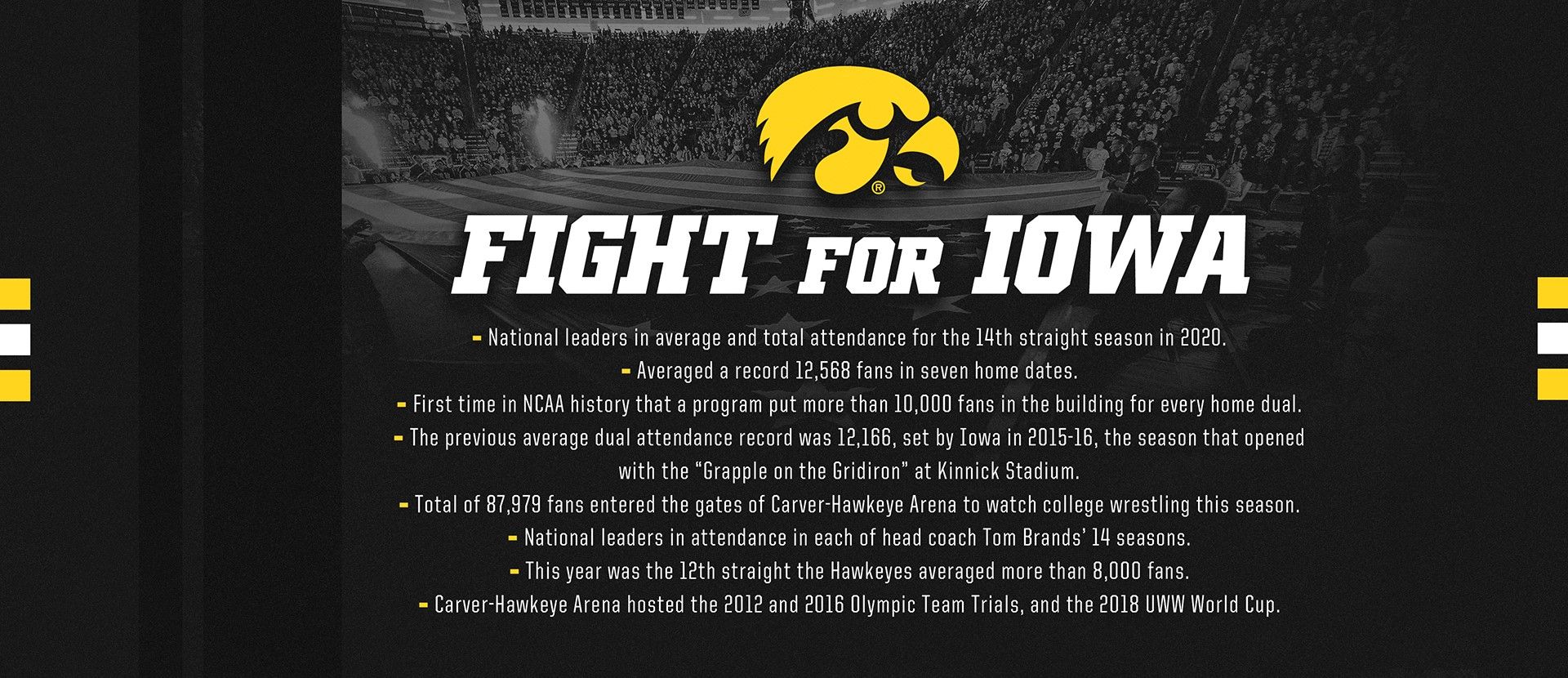 FIGHT FOR IOWA
The University of Iowa wrestling program set an NCAA record and led the nation in average and total attendance for the 14th straight season in 2020.
The Hawkeyes averaged a record 12,568 fans in seven home dates, seeing a total of 87,979 fans enter the gates of Carver-Hawkeye Arena to watch college wrestling. It marks the first time in NCAA history that a program put more than 10,000 fans in the building for every home dual. The previous average dual attendance record was 12,166, set by Iowa in 2015-16, the season that opened with the "Grapple on the Gridiron" at Kinnick Stadium.
Iowa has led the nation in attendance in each of head coach Tom Brands' 14 seasons. This year was the 12th straight the Hawkeyes averaged more than 8,000 fans. Carver-Hawkeye Arena hosted the 2012 and 2016 Olympic Team Trials, and the 2018 UWW World Cup.