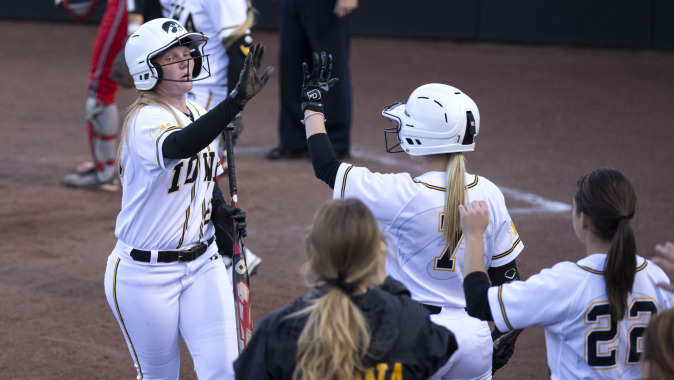 Sept. 12, 2014
Editor's Note: The following first appeared in the University of Iowa's Hawk Talk Daily, an e-newsletter that offers a daily look at the Iowa Hawkeyes, delivered free each morning to thousands of fans of the Hawkeyes worldwide.
By JIL PRICE
hawkeyesports.com
IOWA CITY, Iowa — A year ago, Kaitlyn Mullarkey was proving herself to coaches in an open tryout and the Kara Misel was practicing with the Hawkeyes for the first time as a walkon. This fall, the sophomores were voted captains by their University of Iowa softball teammates.
Members of the program made initial nominations for captains, which then required a second for support. From there, candidates were asked to address the team and explain why they would be a successful captain. A vote followed.
Being chosen was a humbling experience for both.
"It makes me feel good that they see leadership qualities in me even though I'm a young and a walkon," Mullarkey said. "It gives me so much confidence knowing that they all believe in me."
Mullarkey, who is described by her teammates as the loudest player on the field whether she's in the lineup or not, stepped in last season when injuries created a spot in the field. She logged time in the outfield before joining the infield for the majority of the Big Ten season as Iowa's first baseman.
Solon, Iowa, native Misel had a limited role during games in 2013, appearing primarily as a pinch runner with some pinch hitting opportunities, but made a big impact in practice. She was able to push the starting lineup by working hard day in and day out.
"I was nominated by Shayla (Starkenburg) and I was really excited to hear the things she said about me," Misel said. "It was nice to know that my actions had an effect last year. It's something I worked really hard to do. I didn't expect it to pay off, but when it did it made me really happy."
Junior outfielder Whitney Repole has already seen a difference in the team's attitude and approach this season and believes the captains will do a lot to keep it that way throughout the year.
"They embody what it means to be a Hawkeye," Repole said. "They always put the team ahead of themselves, they're on top of the game and they're always respectful and responsible. They both get here early, they put in hard work and I'm really excited to have them lead the team."
Fifth-year head softball coach Marla Looper is pleased with the results of the team vote and believes the pair will be great captains. To her, their unique point of view as student-athletes aids itself to the job.
"They don't let the facts that they aren't scholarship student-athletes and every day starters limit them from giving their all every day," Looper said. "When you have team players as captains, your team is in great hands. Both of them exude that and care about their team first."
The Hawkeyes open their fall slate at home against Highland College on Sept. 19. The contest is scheduled to begin at 5:30 p.m. (CT).