Sept. 27, 2014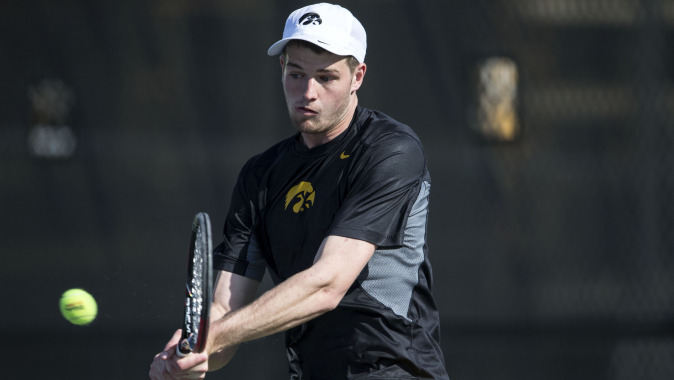 TULSA, Okla. — The University of Iowa men's tennis team opened up weekend competition Saturday at the ITA All American Championships where six Hawkeyes saw action on the courts. Andres Estenssoro, Matt Hagan, Nils Hallestrand, Jake Jacoby, Dominic Patrick and Lefteris Theodorou were involved in the pre-qualifying rounds of the Tournament.
"We had a great competitive attitude today, but we have to do a better job closing out the close sets," said interim head coach Ross Wilson.
Estenssoro's evening looked as though it was going to be a great one after picking up a victory in the first round of pre-qualifying over Stefan Cooper of Weber State in straight sets 6-4, 6-4. Ultimately, Estenssoro wasn't able to keep his momentum in his next match, falling to Danil Zelenkov of George Washington, 6-2, 6-3.
Estenssoro's classmate, Hagan, was also able to pick up an early victory in the first round. Hagan defeated Sanjay Goswami of Weber State in straight sets, 6-3, 6-3. The victory set up a match against Nicolai Ferrigno of Oklahoma State, grabbing a hard-fought three-set victory, 7-5, 3-6, 6-3.
"I was very happy with Matt's play today. He took care of business in his first match and was able to hang in and battle some nerves to close out his second match in three sets," added Wilson.
Jacoby saw his first round match pit him against Stuart Depaolo of North Carolina. Depaolo was able to gain the upper hand on Jacoby registering a victory in straight sets 6-3, 7-5(5).
Theodorou pushed his match against Ryan Peniston of Memphis to three sets, but eventually fell to Peniston, 6-1, 1-6, 6-3.
Hallestrand fell to Logan Staggs of Northwestern in his first-round matchup, 6-2, 6-3. Patrick had a close match with Brett Forman of Michigan State, however he fell in straight sets, 7-5, 7-5.
ITA ALL AMERICAN CHAMPIONSHIPS
Saturday's results
Pre-Qualifying first round singles
Andres Estenssoro (UI) def. Stefan Cooper (Weber State) 6-4,6-4
Matt Hagan (UI) def. Sanjay Goswami (Weber State) 6-3, 6-3
Stuart Depaolo (UNC) def. Jake Jacoby (UI) 6-3, 7-5 (5)
Ryan Peniston (Memphis) def. Lefteris Theodorou (UI) 6-1, 1-6, 6-3
Logan Staggs (NW) def. Nils Hallestrand (UI) 6-2, 6-3
Brett Forman (MSU) def. Dominic Patrick (UI) 7-5, 7-5
Pre-Qualifying second round singles
Danil Zelenkov (George Washington) def. Andres Estenssoro (UI) 6-2, 6-3
Matt Hagan (UI) def. Nicolai Ferrigno (Oklahoma State) 7-5, 3-6, 6-3