Oct. 29, 2014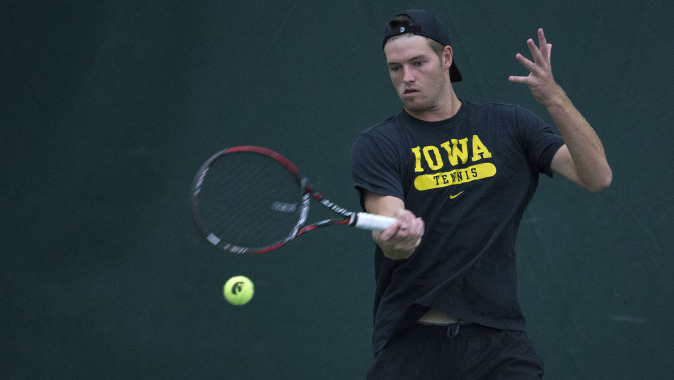 Weekly Release

THIS WEEK: The University of Iowa men's tennis team travels to Minneapolis, Minnesota, for the Big Ten Singles/Doubles, which runs Friday through Monday. All seven Hawkeyes will participate in the tournament. Jonas Dierckx and Matt Hagan both made a run to the Round of 16 in the singles main draw before eventually dropping out of last year's competition.
HAWKEYE LINEUP: Seniors Matt Hagan and Andres Estenssoro, sophomore Nils Hallestrand, junior Dominic Patrick, freshmen Josh Silverstein, Jake Jacoby, and Lefteris Theodorou will be in action in Minneapolis.
LAST COMPETITION RECAP: Matt Hagan put on a great performance racking up four-straight victories en route to a semifinal appearance at the ITA Central Regional Tournament in Norman, Oklahoma, Oct. 9-13, Hagan's winning streak ended in the semis thriller at the hands of Oklahoma's Axel Alvarez, ranked third in the nation, (5-7, 6-3, 6-4). The senior became just the third Hawkeye to reach the semifinals at a regional the last two decades and first since Tyler Cleveland in 1999, who won the tournament. Doubles team Jacoby/Silverstein notched two victories in the doubles main draw over Bates/Sosnowski of Oral Roberts (8-4) and Haertel/Adams of Western Illinois (8-3) before falling to Minnesota's Hamburg/Froment (8-5), in the Round of 16. Jacoby/Silverstein became the first doubles team for Iowa to reach the Round of 16 competition at the ITA regional since 2010, where Will Vasos and Austen Kauss advanced to the Round of 16.
HAWKEYE RETURNEES: The Hawkeyes lost six seniors to graduation last spring, but return four student-athletes in 2014-15. Andres Estenssoro and Matt Hagan enter their senior seasons, while Dominic Patrick is a junior and Nils Hallestrand enters his sophomore campaign. Estenssoro and Dominic Patrick posted 7-6 and 23-16 singles records, respectively, in 2013-14; neither player saw doubles action. Hallestrand was 9-7 in singles and 3-1 in doubles action a year ago. Hagan was 16-15 in singles and 15-10 in doubles.
HAWKEYE NEWCOMERS: Iowa welcomes three freshmen to the squad: Jake Jacoby (Little Rock, Arkansas), Josh Silverstein (Great Neck, New York), and Lefteris Theodorou (Athens, Greece). Jacoby was a four-time Arkansas state champion. Silverstein was a five-time USTA National Open doubles champion and had success on the junior tournament circuit this past summer. Theodorou, a Greek National champion, was the No. 1 Greek player ranked in U14, U16, and U18.
INTERIM HEAD COACH Ross Wilson: Ross Wilson, a former two-time NCAA All-American and three-time ITA national doubles champion at Ohio State, is the interim head men's tennis coach after the announcement of Steve Houghton's retirement on Sept. 8. Wilson served as the team's assistant coach last season. Wilson, the 2012 ITA National Assistant Coach of the Year and ITA Central Region Assistant Coach of the Year, came to Iowa after serving as assistant coach at nationally-ranked San Diego during the 2012-13 season. Wilson was a standout at national power Ohio State from 2002-06. He was a two-time NCAA All-American and three-time ITA national doubles champion. He broke the Buckeyes' overall career wins record, career doubles wins record and single season doubles wins record in 2006.
WILSON ON BIG TEN SINGLES/DOUBLES: "We are going to be competing against all the other Big Ten teams, it's a good opportunity to see where we are compared to everyone else. The guys have been practicing hard and it's time now to get some results. Matt had a great performance at the Regionals; he has been working hard the last few weeks. He is feeling really good and he'll go into the tournament as one of the top players in the draw. There will be a lot of tough matches for him. We'll see if he can put together a good run again."