Nov. 1, 2014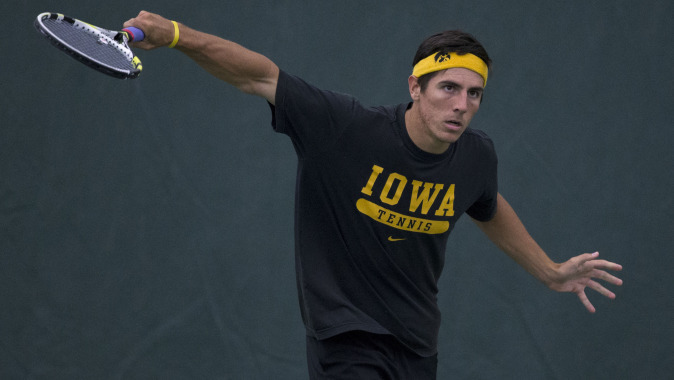 Day Two Results

MINNEAPOLIS, Minn. — The University of Iowa men's tennis squad continued action at the Big Ten Indoor Singles/Doubles Championships Saturday at Baseline Tennis Center, marking the start of the singles portion. The Hawkeyes were able to register six victories on the day; putting victories in the win column were freshmen Lefteris Theodorou and Josh Silverstein, junior Dominic Patrick and seniors Matt Hagan and Andres Estenssoro.
After a historic Big Ten doubles performance for Iowa on Friday, kicking things of in the Round of 64 singles main draw was Patrick. The junior faced a test against Vasilis Stavropolous of Nebraska and got off to a winning start by taking the match in straight sets (6-1, 6-2). Patrick followed that up with a win over Michigan State's Brett Forman (6-2, 2-6, 6-4).
"We had a very successful day as a team. Dominic played well in both of his matches, winning a tight three set contest over a very good player from Michigan State who beat him earlier in the season," said interim head coach Ross Wilson.
Patrick's doubles teammate, Hagan, was also in action. The senior, seeded tenth in the tournament, received a bye in the Round of 64 before facing Lamar Remy of Wisconsin in the Round of 32. Hagan was able to stay on the winning track edging out Remy in straight sets (6-1, 6-3).
Silverstein was able to keep the winning trend going for the Hawkeyes, seeded 11th in the draw he received a bye first round before taking a match against Michigan State's Michael Dube (6-1, 2-6, 6-2) in the Round of 32. Also notching a win was 12th-seeded Theodorou. The freshman received a bye before defeating Doug Zade of Michigan State in the Round of 32 (6-3, 6-4).
"Josh was able to pull out a tough three set match. We can see his game really starting to come around, he is improving. We have a lot of good opportunities coming up on Sunday and we are all looking forward to the competition," added Wilson.
Elsewhere, Estenssoro defeated Nebraska's Andrew Dzulynsky (6-2, 7-6 (3)) in the Round of 64. The senior then faced Ohio State's Riley Reist in the Round of 32, but lost (6-0, 6-0).
Also taking the courts were Nils Hallestrand and Jake Jacoby. Hallestrand went up against Alberto Zanotti of Northwestern is his Round of 64 matchup. However, it was Zanotti who claimed the victory (6-1, 6-3). Jacoby lost his Round of 64 match against Linus Erhart of Nebraska (6-2, 6-4).
Iowa continues action at Baseline Tennis Center Sunday with more singles action in the Big Ten Indoor Championships.
BIG TEN SINGLES/DOUBLES CHAMPIONSHIPS
Saturday's results
Singles Main Draw round of 64
Dominic Patrick (UI) def. Vasilis Stavropolous (NEB): 6-1, 6-2
Matt Hagan (UI) received bye
Josh Silverstein (UI) received bye
Lefteris Theodorou (UI) received bye
Andres Estenssoro (UI) def. Andrew Dzulynsky (NEB): 6-2, 7-6 (3)
Linus Erhart (NEB) def. Jake Jacoby (UI): 6-2, 6-4
Alberto Zanotti (NW) def. Nils Hallestrand (UI): 6-1, 6-3
Singles Main Draw Round of 32
Dominic Patrick (UI) def. Brett Forman (MSU): 6-2, 2-6, 6-4
Matt Hagan (UI) def. Lamar Remy (UW): 6-1, 6-3
Josh Silverstein (UI) def. Michael Dube (MSU): 6-1, 2-6, 6-2
Lefteris Theodorou (UI) def. Doug Zade (MSU): 6-3, 6-4
Riley Reist def. Andres Estenssoro (UI): 6-0, 6-0