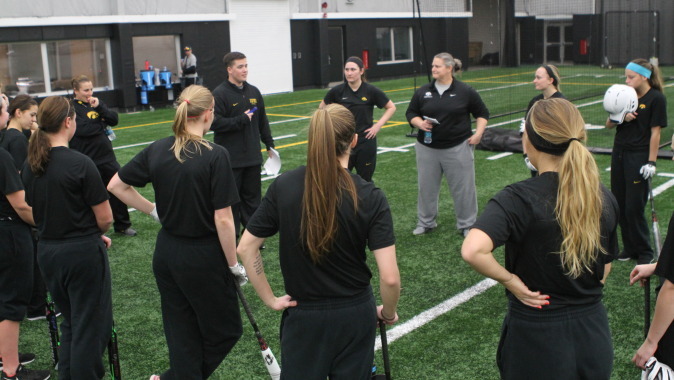 Jan. 13, 2015

Photo Gallery
IOWA CITY, Iowa — The University of Iowa softball program kicked off the 2015 season with its first practice of the spring Monday. The Hawkeyes began the day in the weight room at Carver-Hawkeye Arena, had a defensive practice mid-morning, and closed Day 1 with an afternoon offensive practice session inside the new turf building located at the Hawkeye Tennis and Recreation Complex.
Fifth-year head softball coach Marla Looper was encouraged by what she saw on day one and is excited to see the team's drive continue as it prepares for the season opener on Feb. 6.
"There was a really positive vibe and the girls were really excited to see each other," fifth-year head coach Marla Looper said. "There is a different bond that we have already this year and it will be helpful today.
"The best thing I see is that they are all hungry. Their attitude to want to keep getting better and keep working is good to see. The challenge is to be consistent for the rest of the three and a half weeks and carry that into our opener. It was a great first day overall."
The Hawkeyes enjoyed the opportunity to be back training together in Iowa City and are excited to get the 2015 season started.
"From how today went, I'm really excited," senior shortstop Megan Blank said. "Everyone put in a lot of work over break. We had times during the day when someone made an error, but we bounced back and everyone was picking each other up. You could tell you everyone was excited to be back together. The energy was really high and it was overall a solid first day."
"It feels great getting back together with all of the girls and getting back into practice," freshman outfielder Allie Wood said. "Everyone is hungry and excited to be back and get some reps. We were ready to get our bats back, start hitting and put in work on the field."
With its student-athletes out of school until Jan. 20, UI softball has the opportunity to practice for the remainder of the week with zero distractions. The Hawkeyes are able to focus on softball alone, which will give them a jump start to 2015.
"It's huge in the grand scheme of things," Looper said. "There aren't any distractions. They're just eating, sleeping and coming to play softball. If we play our cards right we can have the opportunity to do this again in June."
The Hawkeyes open their 2015 season at the UNI Dome Tournament Feb. 6-8. Iowa is slated to face Drake, UNI, Southern Utah, North Dakota State and Green Bay.