Jan. 28, 2015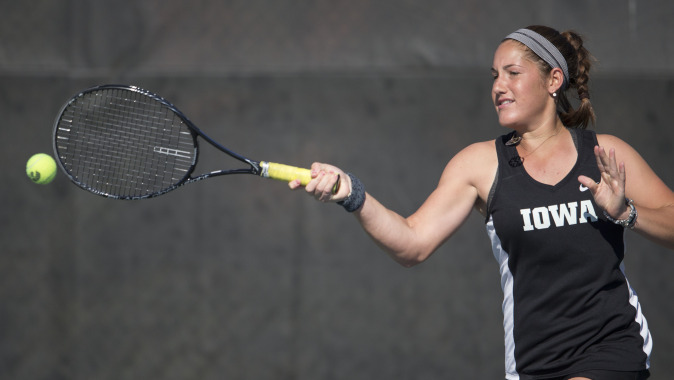 Jan. 28, 2015
Weekly Release

HAWKEYES OPEN DUAL SCHEDULE AT HOME
The University of Iowa women's tennis team kicks off its dual schedule at the Hawkeye Tennis and Recreation Complex, hosting Northern Iowa at 12 p.m. (CT) on Saturday.
THE SERIES
Iowa took on Northern Iowa in the home opener of the 2014 season. The Hawkeyes swept the Panthers, 7-0, increasing Iowa's all-time record against Northern Iowa to 8-0.
QUOTING @COACHKDOUGH
"We're looking forward to hosting UNI this weekend and getting the spring season started. This team has been practicing well and working hard, they are focused and looking forward to the opportunity to compete. With four seniors, we have a veteran squad and lots of options in both singles and doubles."
DOUGHERTY IN SEASON OPENERS
Head coach Katie Dougherty is 4-1 in season openers during her time as UI head women's tennis coach. Dougherty and the Hawkeyes have won four straight season openers, with the only loss to Notre Dame during her first season. This will be the second time in her career that the Hawkeyes face Northern Iowa in their home opener.
THE BEGINNING OF THE END
The Hawkeye roster features four seniors who were tabbed the No. 18 recruiting class in the country four years ago. Shelby Talcott, Katie Zordani, and Morven McCulloch have a combined 172 wins entering their final season, while Ellen Silver is showing signs of stability after battling injury since her freshman year. Silver came to campus as the 64th best prospect in the nation and hopes this bill of health will help make up for lost time.
A LOOK BACK AT THE UCF QUAD TOURNAMENT
The Hawkeyes opened the 2015 spring season at the UCF Quad Tournament in Orlando, Florida. Iowa newcomer Zoe Douglas made an immediate impact during her Hawkeye debut, collecting singles victories on days one and three. She topped UCF's Annika Hepp, 6-1, 4-6, 6-1, and defeated Valentina Briceno (FIU), 6-4, 7-6 (0-4). Douglas teamed up with senior Katie Zordani for doubles competition, gathering a 1-2 record. Senior Shelby Talcott found singles and doubles success during the weekend, ending the competition with a 2-1 individual record. Talcott was paired with junior Annette Dohanics for doubles and posted a 2-1 record.
COMING UP FOR THE HAWKEYES
Iowa women's tennis returns to action at the Hawkeye Tennis and Recreation Complex on Feb. 6 to take on Iowa State at 6 p.m. (CT) in the annual Cy-Hawk Series. The matchup will be followed by an Iowa State vs. Utah State dual on Feb. 7 at 1 p.m. (CT). The Hawkeyes close the weekend hosting the Utah State Aggies at 11 a.m. (CT) on Feb. 8.
BECOME A FAN
Fans can follow the Iowa women's tennis team at facebook.com and via twitter @Iowa_Tennis. Live results from this weekend are available on the Iowa women's tennis schedule page at hawkeyesports.com.