Box Score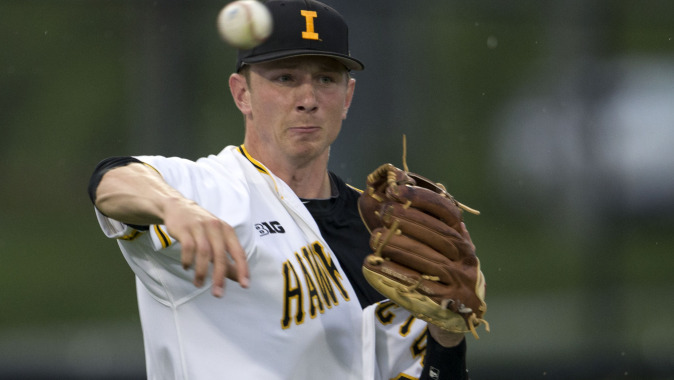 Feb. 12, 2015
By JAMES ALLAN
hawkeyesports.com
PORT CHARLOTTE, Fla. — The University of Iowa baseball team dropped its season-opener, falling 5-4 to Kansas State on Friday at the Snowbird Baseball Classic in Port Charlotte, Florida.
After playing to a 2-2 tie through six innings, the Wildcats pushed three runs across the plate in the top of the eighth to take a 5-2 advantage. The first two batters of the inning reached against Iowa reliever Connor Grant before pinch-hitter Tyler Moore delivered an RBI single against reliever Jared Mandel to put K-State on top 3-2.
The Hawkeyes turned to senior reliever Nick Hibbing to get out of a two-on, nobody out jam. Hibbing retired the first batter he faced before intentionally walking Clayton Dalrymple to load the bases. Alex Bee followed with a sacrifice fly to plate the fourth run, and the fifth run scored on a passed ball.

b
| | | | | |
| --- | --- | --- | --- | --- |
| | 1 2 3 | 4 5 6 | 7 8 9 | R H E |
| Kansas State (1-0) | 0 0 0 | 0 1 1 | 0 3 0 | 5 7 1 |
| Iowa (0-1) | 0 0 0 | 0 0 2 | 0 2 0 | 4 3 2 |
Pitching Decision
W – Jordan Floyd (1-0)
L – Connor Grant (0-1)
S – Kyle Halbohn (1)
Iowa fought back in the bottom half of the inning and had a chance to take the lead. Senior Nick Day reached on an error to start the frame before junior Joel Booker and senior Jake Mangler drew back-to-back walks to load the bases. Iowa cut the lead to 5-4 when Day and Booker scored on two wild pitches by Nate Williams, but the Hawkeyes couldn't capitalize on an opportunity.
After senior Dan Potempa drew a one-out walk to put runners on the corners with one out, junior Taylor Kaufman popped up a bunt attempt with a safety squeeze on. Iowa left both runners stranded when senior Kris Goodman struck out to end the inning.
The Hawkeyes tried to put together a two-out rally in the ninth after Day doubled to left center, but senior Eric Toole grounded out to second base to end the game.
Four Wildcat pitchers limited Iowa to three hits in the contest. Starter Nate Griep allowed two runs on two hits over 5 1/3 innings, striking out seven. Jordan Floyd (1-0) picked up the win, allowing one unearned run over two innings, and Kyle Halbohn pitched the final 1 2/3 inning to record the save.
Junior Tyler Peyton allowed one run on three hits over five innings in his first career Friday start. The right-hander had six strikeouts against one walk in the game. Grant (0-1) took the loss, allowing three runs on two hits over two innings.
Booker, Mangler, and Day were the only Iowa players to record a hit. Booker went 1-for-3 with two runs, Mangler was 1-for-2 with two walks and an RBI, and Day was 1-for-2 with one run.
Kansas State jumped out to a 2-0 lead, pushing single runs across the plate in the fifth and sixth innings. After having just two base runners and zero hits through the first five frames, Iowa got things going in the sixth.
With one out and Toole on first base, Booker executed a hit-and-run, lacing a single through the left side to put runners on the corners. Iowa was aggressive again and Mangler produced, hitting an opposite field RBI single to cut the deficit to 2-1 to chase Griep from the contest. Floyd was summoned in relief and was called for a balk, allowing Booker to score and even the game at two.
The Hawkeyes missed an opportunity to take the lead when Mangler was thrown out at home plate on a comebacker off the bat of Potempa, and Kaufman lined out to the shortstop to end the inning.
Iowa (0-1) returns to action at 9:30 a.m. (CT), facing Saint Louis at North Central Regional Park.