Feb. 14, 2015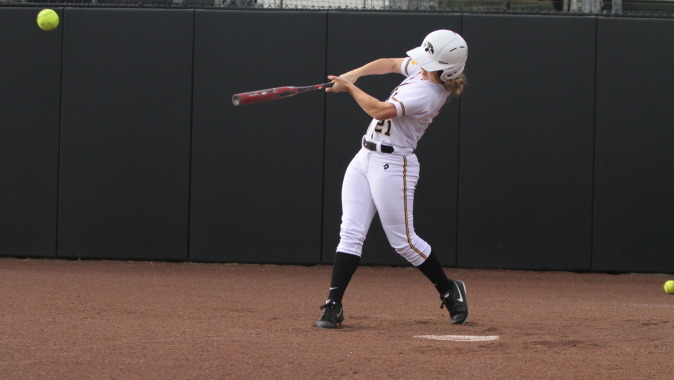 Feb. 14, 2015
GAINESVILLE, Fla. — The University of Iowa softball team (3-4) fell to No. 1 Florida (9-0) and NC State (3-5) at the University of Florida Tournament on Saturday. The Hawkeyes dropped an, 8-0, decision to the Gators in five innings, before losing to NC State, 6-5.
After being down, 3-1, through four innings against NC State, the Hawkeyes put together a fifth inning rally. Redshirt junior Holly Hoffman started off the inning with a single through the right side. Freshman Sarah Kurtz followed with a walk, before sophomore Claire Fritsch put down a bunt-single. With the bases loaded and nobody out, redshirt sophomore Sammi Gyerman hit an RBI grounder to the shortstop. Freshman Cheyenne Pratt followed with a grounder to the second baseman that caused a throwing error and allowed two runs to score. Senior Megan Blank added an RBI single to right to give the Hawkeyes a 5-3 lead.
The Wolfpack surged back scoring one run in the fifth and sixth innings to tie the game, 5-5, heading into the seventh. With two outs in the bottom of the seventh sophomore Morgan Medford delivered an RBI single to right to secure the 6-5 win for the Wolfpack.
"We gave up a few runs early, but we didn't sit back and lick our wounds," said head coach Marla Looper. "We fought back and got four runs and that was fun to see. That's the kind of softball I expect us to play all the time. Unfortunately, we couldn't hold on to it. Free passes became our nemesis."
NC State 6, Iowa 5
1
2
3
4
5
6
7
R
H
E
Iowa (3-4)
0
0
1
0
4
0
0
5
7
0
NC State (3-5)
2
1
0
0
1
1
1
6
9
2
Game Decision
W: Weiman (NC STATE) 2-3
L: Starkenburg (IOWA) 2-2
Iowa's best scoring chance in game one came in the first inning. Gyerman led off the inning with a single up the middle. Blank followed with a double to left center, giving Iowa runners at second and third with one out. Back-to-back strikeouts by juniors Whitney Repole and Erin Erickson ended the Iowa scoring chance.
"We got a jump on them early by getting a couple runners on, but unfortunately we gave them the momentum back quickly," said Looper.
The Gators got the bats going early. Senior outfielder Bailey Castro hit a two-run blast off of freshman Ashley Yoways to give Florida an early 2-0 lead.
"They just got the momentum and we never took it back," said Looper." It's unfortunate, because I felt like we were playing some good defense. As pitchers, we can't put them on for free, because good teams will take advantage of that."
Florida hurler Lauren Haeger took over from there. The 2014 NFCA All-Southwest Region first team selection did not allow an Iowa baserunner after the first inning. She struck out eight in five innings of work.
After a scoreless second inning, Florida's bats lit up in the bottom of the third. The Gators tallied five runs on three hits to take a, 7-0, lead before adding their eighth run on a solo homerun by Haeger in the bottom of the fourth.
"We can't give them more opportunities than they already have," said Looper. "Offensively, we have to continue to attack good pitches. In the circle, we just have to be sharper. I think it will be a good match-up tomorrow, but we still have to show up, get on the field and get after it."
Iowa returns to action tomorrow when it faces No. 1 Florida. First pitch is set for 11 a.m. (CT). The game will be televised on the SEC Network.
Florida 8, Iowa 0
1
2
3
4
5
R
H
E
Iowa (3-3)
0
0
0
0
0
0
2
1
Florida (9-0)
2
0
5
1
X
8
7
0
Game Decision
W: Haeger (FLA) 4-0
L: Yoways (IOWA) 1-2