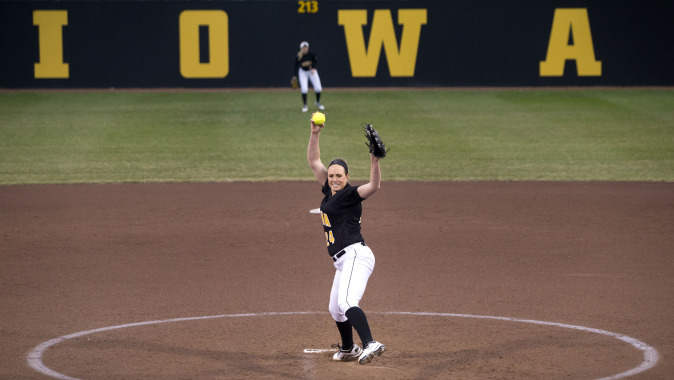 Feb. 20, 2015
Editor's Note: The following first appeared in the University of Iowa's Hawk Talk Daily, an e-newsletter that offers a daily look at the Iowa Hawkeyes, delivered free each morning to thousands of fans of the Hawkeyes worldwide.
By JIL PRICE
IOWA CITY, Iowa — During opening weekend of the 2015 season, the University of Iowa softball team shut out its first opponent of the season with a 2-0 victory over Southern Utah.
Three Hawkeyes recorded hits in the win with freshman Allie Wood posting her first career RBI and junior Erin Erickson adding one of her own to lead the Hawkeyes.
The defense did not commit an error in the contest and redshirt sophomore pitcher Shayla Starkenburg fanned a career-high eight batters in her complete game effort in the circle.
The Hawkeyes were proud of the total team win, but everyone missed one major detail. Starkenburg had thrown a no-hitter.
"I didn't know until I was interviewed after the game," Starkenburg said. "She said I threw a no-hitter.
"Coach Looper didn't realize it right away either, but when she did she was really excited for me."
The Ankeny, Iowa, native tossed the 17th no-hitter in Iowa softball history, becoming only the seventh pitcher to accomplish the feat in her career. Starkenburg is the first pitcher to throw a "no-no" since Amanda Zust on March 21, 2010 — five seasons ago.
Starkenburg joins an elite list of Hawkeyes, including Stephanie Ackerson, Debbie Bilbao, Lisa Birocci, Kristi Hanks, Brittany Weil, and Zust — four of which earned All-America accolades at least once in their illustrious careers.
"It is a neat thing to be in the record books with the other pitchers at Iowa who are great," Starkenburg said. "I got some messages from some of them congratulating me. It's an honor to be on a list like this with those pitchers."
Starkenburg shared the success with her battery mate, catcher Holly Hoffman, who called pitches behind the plate.
"My first reaction was that I was super excited for Holly and me because she called an awesome game behind the plate," Starkenburg said. "We were in sync, and I was able to hit the spots she was calling." Hoffman, a redshirt junior catcher, was also unaware of the no-hitter until after the game.
"At the UNI Dome, the scoreboard didn't show a lot so I wasn't even looking at it," said Hoffman. "Shayla and I were locked in and working great together.
"Shayla's pitches were working well that day. We were effective because we didn't get into a pattern. We tried to mix it up and were paying attention to what we got batters out on in previous at bats. High, low, changeup, in-and-out; everything was looking good for her."
Both Starkenburg and Hoffman are proud of the accomplishment, but also know there is always more work to do.
"There are still things I need to work on," Starkenburg said. "Even though I threw a no-hitter I still need to come back and have more confidence in my pitches.
"Knowing I can be that successful gives me confidence and lets me know that I can trust my catcher's calling ability. We're a good battery together and that will help us in the games moving forward."
"It felt great because I called the game," Hoffman said. "It's definitely a confidence boost. It shows we can have that kind of success and the standard has been set even higher in the future."
The Hawkeyes opens action at the Ragin' Cajun Invitational today in Lafayette, Louisiana. Iowa faces Hofstra at 12 p.m. (CT), and No. 6 Louisiana-Lafayette at 2:30 p.m.