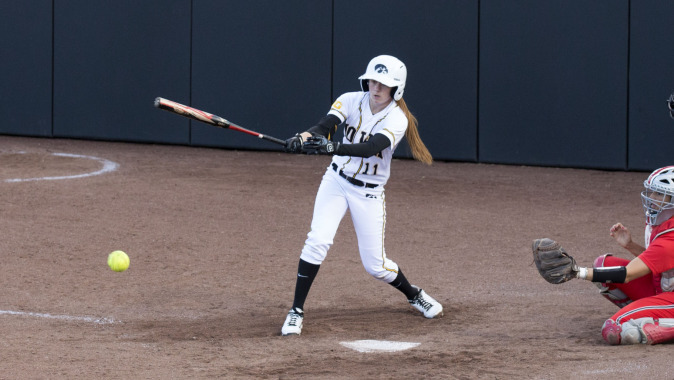 Feb. 28, 2015
Box Score

ORLANDO, Fla. — The University of Iowa softball team fell to Princeton, 10-2, in five innings Saturday morning. With the loss the Hawkeyes drop to 5-11 on the season, while the Tigers improve to 3-6.
The Hawkeyes jumped ahead early, scoring a pair of runs in a two-out rally in the top of the second. Freshman Allie Wood got it started with a walk and freshman Sarah Kurtz followed with a single through the left side. Sophomore Kaitlyn Mullarkey capitalized on the RBI situation with a bases clearing double.
From there, it was all Princeton. The Tigers plated one run with a home run in the bottom of the second and brought in the tying run in the fourth. In the fifth, the Tigers went through all three Hawkeye pitchers and added eight runs on four hits and one error to post a 10-2 walk-off, run rule win in five innings.
Freshman starting pitcher Ashley Yoways (2-5) took the loss in the circle. She allowed eight earned runs in her 4.1 innings.
Mullarkey led the Hawkeyes at the plate with a 2-for-2 effort and two RBIs, while freshman Cheyenne Pratt, sophomore Claire Fritsch, redshirt junior Holly Hoffman, and freshman Sarah Kurtz recorded one hit apiece.
Iowa resumes UCF Doubletree/Radisson Invitational action this afternoon with a 3 p.m. (CT) game against Florida A&M. Live stats are available on the softball schedule page at hawkeyesports.com.
Princeton 10, Iowa 2 (5 innings)
1
2
3
4
5
R
H
E
Iowa (5-11)
0
2
0
0
0
2
6
1
Princeton(3-6)
0
1
0
1
8
10
8
0
Game Decision
W: Christian (PU) 1-0
L: Yoways (IOWA) 2-5