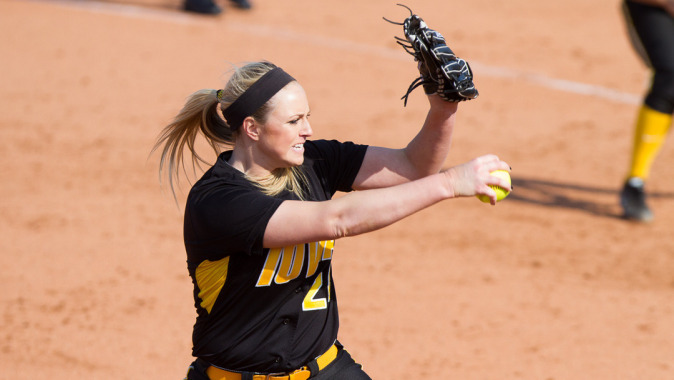 March 1, 2015
Box Score

ORLANDO, Fla. — Redshirt sophomore Shayla Starkenburg tossed a complete game one-hitter with a career-high nine strikeouts to lead the University of Iowa to its 2-0 victory over Florida A&M on Sunday.
"When they did get runners on, she was able to hold them at bay at either first or second," head coach Marla Looper said. "She kept them from being a scoring threat. She still needs to be better at pounding the zone and going after hitters, but when she took command of the zone and her pitches she had a lot of success."
The Hawkeyes improve to 6-11 overall with the win and end the UCF Doubletree/Radisson Invitational with a 3-1 mark.
The Hawkeyes reached the scoring column in the bottom of the second, to establish an early 1-0 advantage over the Rattlers. Senior Megan Blank drew a walk to open the frame and moved into scoring position on a groundout. After junior Erin Erickson won a long at bat with a walk and a passed ball put runners at second and third with two away, freshman Sarah Kurtz hit a chopper back to the pitcher who committed an error. Kurtz reached base, while Blank touched home on the play.
After a scoreless third, Iowa extended its lead in the fourth. Blank started the inning with a double off the fence in center and sophomore Alyssa Navarro followed with a single through the left side to put Hawkeyes on the corners with no outs. Freshman Angela Schmiederer came through in the RBI situation, plating a run on a fielder's choice.
Iowa left two on base in the remainder of the game, but the defense kept the Rattler offense quiet to record the 2-0 shutout victory. The Hawkeyes never allowed a Florida A&M runner to reach third base in the contest.
Starkenburg earned the complete game win in the circle to move to 4-6 on the season. She struck out two Rattlers in the first, two in the third, two in the fourth, one in the fifth and two in the seventh to bring her tally to nine in the contest. She allowed one hit — an infield single in the top of the third.
"The biggest thing I was trying to do was keep the batters off balance," Starkenburg said. "Angela did a good job calling behind the plate, working inside and outside and taking advantage of their weaknesses."
Navarro was the lone Hawkeye to post a multiple hit performance, going 2-for-3. Redshirt sophomore Sammi Gyerman, Blank, and junior Whitney Repole also had a hit apiece.
The Hawkeyes are back in action at the Judi Garman Classic in Fullerton, California, on March 6-8. Iowa will face San Jose State, Fresno State, San Diego State, Cal State Fullerton, and Oregon in the three day tournament.
Iowa 2, Florida A&M 0
1
2
3
4
5
6
7
R
H
E
Florida A&M (2-18)
0
0
0
0
0
0
0
0
1
2
Iowa (6-11)
0
1
0
1
0
0
X
2
5
0
Game Decision
W: Starkenburg (IOWA) 4-6
L: Burse (FAMU) 1-4