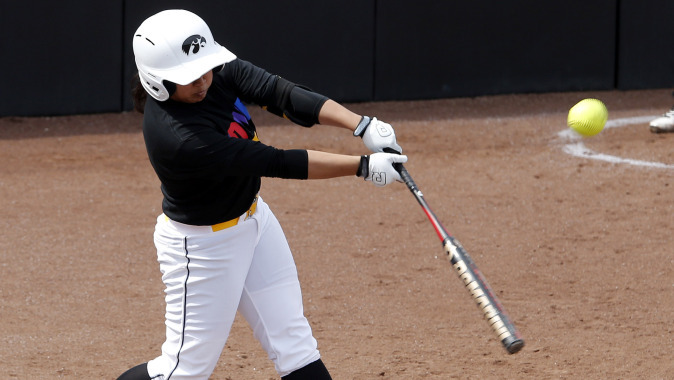 March 7, 2015
Box Score

FULLERTON, Calif. — The University of Iowa softball team fell to San Diego State, 7-2, Saturday afternoon in Judi Garman Classic action. The Hawkeyes drop to 6-14 on the season, while the Aztecs improve to 13-8.
The Hawkeyes jumped ahead early with a run in the top of the first inning. Redshirt sophomore Sammi Gyerman reached on a fielder's choice and senior Megan Blank moved her to third on a single to center. Sophomore Alyssa Navarro capitalized on the RBI situation with a single to right to give the Hawkeyes an early 1-0 lead.
San Diego State pulled ahead in the bottom of the second. The Aztecs scored three runs on two hits to take a 3-1 lead. They extended their lead on a two-out rally in the bottom of the fourth. The Aztecs plated three runs on five hits and two errors.
Iowa plated another run in the top of the sixth. Gyerman and Blank sent back-to-back doubles into center field, narrowing the Aztec lead to 6-2.
The Aztecs got one back in the bottom of the sixth. The San Diego State lead-off batter reached on a double to center, moved to third on a passed ball and scored on an RBI single to give the Aztecs a 7-2 lead.
Six Hawkeyes recorded hits in the contest. Blank led the way on a 2-for-3 effort with a single, double and an RBI.
Redshirt sophomore Shayla Starkenburg (4-8) took the loss in the circle. She struck out two and did not allow a walk in six innings.
Iowa resumes tournament action tonight against host Cal State Fullerton. First pitch is set for 7:30 p.m. (CT).
San Diego State 7, Iowa 2
1
2
3
4
5
6
7
R
H
E
Iowa (6-14)
1
0
0
0
0
1
0
2
7
2
San Diego State (13-8)
0
3
0
3
0
1
X
7
13
3
Game Decision
W: Romero (SDSU) 11-5
L: Starkenburg (IOWA) 4-8