March 8, 2015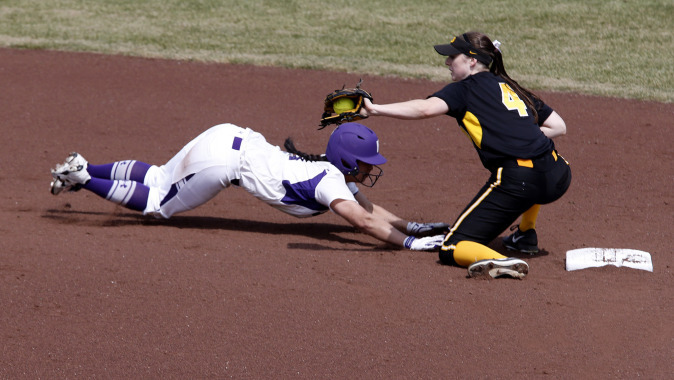 March 8, 2015
Box Score

FULLERTON, Calif. — The University of Iowa softball team fell to No. 2 Oregon, 2-1, Sunday morning at the Judi Garman Classic. The Iowa offense registered eight hits but left eight runners on base in the contest. The Hawkeyes fall to 7-15 overall, while the Ducks improve to 19-3.
"Oregon is one of the top teams in the country, but the Iowa team that showed up on the field today can play with any team in the country. That's the team we have talked about. We've got to bring that every day."
The Hawkeyes jumped ahead early, scoring a run in bottom of the second. Sophomore Claire Fritsch took a leadoff walk before freshman Cheyenne Pratt and redshirt sophomore Sammi Gyerman registered back-to-back singles. With the bases loaded, senior Megan Blank took a pitch to the shoulder to give Iowa the 1-0 lead.
Oregon evened the score in the top of the second. The Ducks used a walk, single and two sacrifice bunts to plate the tying run. Oregon scored the go-ahead run in the top of the third. Two stolen bases put an Oregon runner on third before an RBI single to left gave the Ducks a 2-1 lead.
The Hawkeyes put runners on base in the second, third and fourth inning but could not convert. The Iowa defense was perfect in the field, committing no errors and turning one double play.
Redshirt sophomore Shayla Starkenburg (5-9) took the loss in the circle. She allowed two earned runs on eight hits and struck out four in seven innings.
"Other than two walks I think she threw really well," said head coach Marla Looper. "She settled in and took command of them. When she threw pitches that they could contact our defense played behind her."
"You tip your hat to Oregon for finding a way to win and scrapping out two runs," said Looper." We've got to start doing that. We had opportunities, but we just didn't do that with runners in scoring position."
Iowa returns to action when it travels to Norman, Oklahoma for the University of Oklahoma Tournament on March 14-16
"We have to get back at it this week and sharpen up some of those little things that cost us some ball games this weekend," said Looper. "We need to do that this week in order to go into Oklahoma and take care of business."
Oregon 2, Iowa 1
1
2
3
4
5
6
7
R
H
E
Oregon (19-3)
0
1
1
0
0
0
0
2
8
0
Iowa (7-15)
1
0
0
0
0
0
0
1
8
0
Game Decision
W: Smithson-Willett (ORE) 1-0
L: Starkenburg (IOWA) 5-9