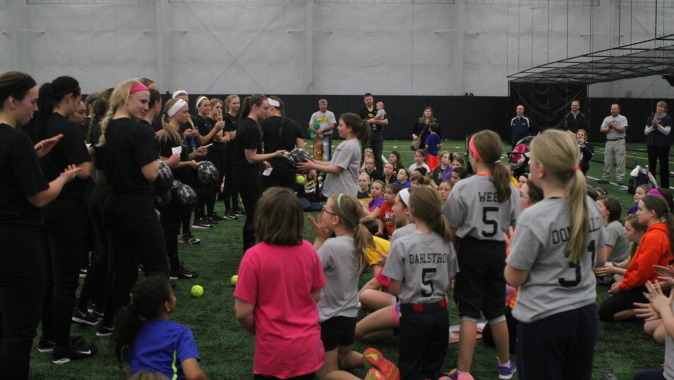 March 12, 2015

Photo Gallery
IOWA CITY, Iowa — Hawkeye fans of all ages and University of Iowa softball student-athletes and coaches came together at the team's 11th annual `Meet the Hawks' Night at the Iowa Turf Facility inside the Hawkeye Tennis and Recreation Complex on Wednesday night.
"It's always fun for our girls to intermingle with our fans," fifth-year head coach Marla Looper said. "It's nice to see new fans each year that have connected with the team and our old faithful come together.
"It's just a great event. The community loves it, our girls love it, and it builds up some momentum for us heading into our home season."
The Hawkeyes opened the night with introductions, and continued to interact with young players at interactive softball stations. Those in attendance had the opportunity to work on fundamentals of the game with the team, including hitting, throwing and base running. Following drills, the group came back together for fans to ask questions and to give out prizes to winners of the drawing. The night closed with an autograph session with the student-athletes and coaches.
"It's a great event because we get to connect with the community and all the little kids," redshirt junior Holly Hoffman said. "They love it, and we love seeing them. They're enthusiastic and it helps us remember what we're doing and why we're doing it. We're playing for them.
"They come out to all our games and support us. The Hawkeye community is always behind us and we're always thankful and grateful to have that."
"My favorite part of this event is being able to spend time with the little kids and seeing how excited they get," sophomore Alyssa Navarro said. "It makes you remember what you're doing this for and where you started. We were all once that little girl."
Iowa opens home competition at Bob Pearl Field with a three game set against Big Ten Conference foe Maryland March 20-22. First pitch is set for 4 p.m. (CT) on Friday, 2 p.m. on Saturday, and 1 p.m. on Sunday. The home stand continues with a doubleheader on March 24 against Nebraska at 4 p.m.
"This team is fun to watch," Looper said. "It's a good group, and I'd put them on the field against anyone because they have the ability to beat anyone. I think the fans will enjoy watching them represent the state of Iowa this year. It's something they all take pride in."
Check hawkeyesports.com for game updates and promotions each week.