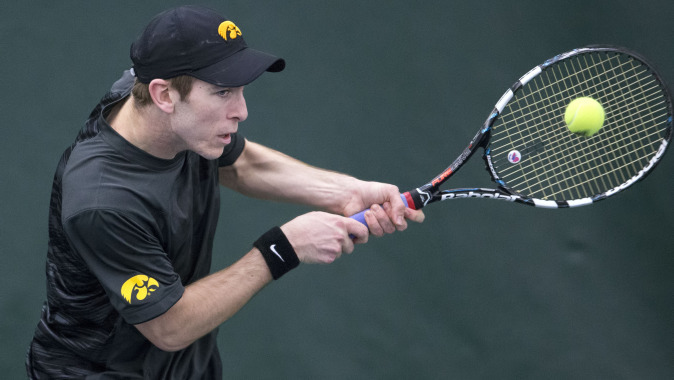 March 16, 2015
SAN DIEGO, California — The 51st-ranked University of Iowa men's tennis team looked to extend its winning streak Monday, but fell 5-2 to 35th-ranked San Diego State of the Mountain West Conference.
"San Diego State was better than us today. They competed better as a team and they were more physical. We need to realize, to beat top 40 teams we need to go out and take it from them, from the first point of the match," said UI head coach Ross Wilson.
The Hawkeyes' No. 1 doubles duo of Matt Hagan and Dominic Patrick, ranked 74th nationally, faced a tough test in the Aztecs 63rd-ranked duo of Freddy Gelbrich and Hendrik Jebens. Gelbrich/Jebens went on to take the match over Hagan/Patrick, 6-2. San Diego State then went on to take the doubles point as Thorsten Bertsch and Jonas Meinzer topped Nils Hallestrand and Josh Silverstein, 6-2.
Leading 5-3, Jake Jacoby and Lefteris Theodorou's match with Marko Goles-Babic and Andranik Khachatryan was abandoned due to the Aztecs taking the doubles point.
In singles, freshman Silverstein picked up a victory at No. 5 singles with a straight set win over Milen Ianakiev, 6-4, 6-4. Silverstein's classmate Jacoby also earned a straight set win over Khachatryan, 7-6 (6-2), 6-2.
"Josh and Jake played really great today and they tried their best to lead the team," added Wilson.
At No. 1 singles, Hagan fell to Gelbrich 6-1, 6-1. Patrick looked to tally a win but fell short to Bertsch 6-4, 6-4. At No. 2 singles, Theodorou looked to get his team on track with a win but was outlasted by Jebens in straight sets. Stieg Martens fell at No. 4 singles, 6-2, 6-4.
The Hawkeyes have a chance to get back on track on Friday when they travel to Minneapolis for their conference opener against No. 22 Minnesota at 6 p.m. (CT).
No. 35 San Diego State 5, No. 51 Iowa 2
Singles
1. Freddy Gelbrich (SDSU) def. No. 104 Matt Hagan (UI): 6-1, 6-1
2. Thorsten Bertsch (SDSU) def. Dominic Patrick (UI): 6-4, 6-4
3. Hendrik Jebens (SDSU) def. Lefteris Theodorou (UI): 6-0, 7-6 (6-2)
4. Marko Goles-Babic (SDSU) def. Stieg Martens (UI): 6-2, 6-4
5. Josh Silverstein (UI) def. Milen Ianakiev (SDSU): 6-4, 6-4
6. Jake Jacoby (UI) def. Andranik Khachatryan (SDSU): 7-6 (6-2), 6-2
Order of Finish: 1,4,3,5,6,2
Doubles
1. No. 63 Gelbrich/Jebens (SDSU) def. No. 74 Hagan/Patrick (UI) 6-2
2. Thorsten Bertsch/Jonas Meinzer (SDSU) def. Hallestrand/Silverstein (UI) 6-2
3. Jacoby/Theodorou (UI) v.s. Goles-Babic/Khachatryan (SDSU): 5-3 abandoned
Order of Finish: 1,2