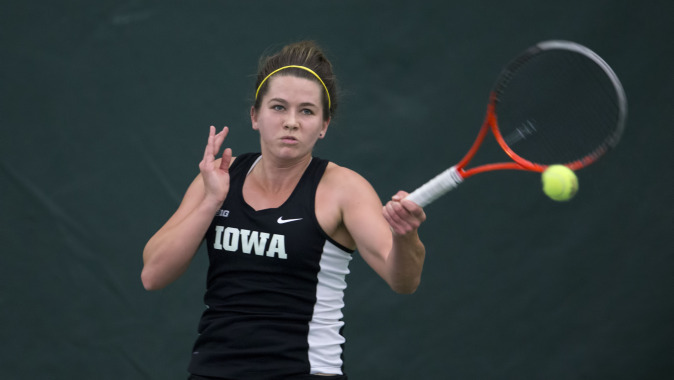 March 17, 2015
LAS VEGAS, Nevada — The University of Iowa women's tennis team recovered from its loss against No. 13 Michigan on Friday by handing UNLV their eighth home loss of the season. The Hawkeyes improve to 6-6 overall after their 4-1 victory over the Rebels.
"The team compete very well today," said UI head coach Katie Dougherty. "UNLV is a talented team and a tough place to play. I'm proud of how we bounced back after Michigan and had good practices on the road and executed well today."
Iowa started the dual strong as the No. 2 and No. 3 doubles teams took care of business and solidified the first point for the Hawkeyes. Senior Morven McCulloch and junior Annette Dohanics defeated UNLV's Santa Shumilina and Paola Artiga, 6-3. Doubles duo Katie Zordani and Zoe Douglas collected Iowa's second doubles victory, shutting out Iren Kotseva and Alexis Garrett, 6-0.
The Rebel's Anett Ferenczi-Bakon and Mercedes Lopez Valez led Anastasia Reimchen and Shelby Talcott, 5-4 at the No. 1 doubles position when the match was abandoned.
The Hawkeyes continued strong into singles play as seniors Talcott, Zordani, and Ellen Silver recorded victories at the No. 1, No. 5, and No. 6 positions, respectively.
Talcott beat out UNLV's Santa Shumilina, 6-2, 6-1, while Zordani overcame Mercedes Lopez Valez in straight sets, 6-4, 6-4. Silver shut out Alexis Garrett in the first set 6-0 and finished strong with a 6-4 second set victory, clinching the win for Iowa.
McCulloch and Reimchen were trailing in their singles matches, 6-3, 5-7, 2-1 and 3-6, 7-6, 1-1, respectively, when the matches were abandoned.
"Now our focus shifts to Indiana and playing another tough Big Ten team on Sunday," Dougherty noted of Iowa's next contest.
The Hawkeyes return to action on Sunday, March 22 as they host Big Ten foe, No. 52 Indiana. Competition will begin at 10:30 a.m. (CT) at the Hawkeye Tennis and Recreation Complex.
Iowa 4, UNLV 1
Singles Results
1. Shelby Talcott (IOWA) def. Santa Shumilina (UNLV) 6-2, 6-1
2. Anett Ferenczi-Bako (UNLV) vs. Morven McCulloch (IOWA) 6-3, 5-7, 2-1, unfinished
3. Iren Kotseva (UNLV) vs. Anastasia Reimchen (IOWA) 3-6, 7-6, 1-1, unfinished
4. Paola Artiga (UNLV) def. Annette Dohanics (IOWA) 6-2, 6-4
5. Katie Zordani (IOWA) def. Mercedes Lopez Valez (UNLV) 6-4, 6-4
6. Ellen Silver (IOWA) def. Alexis Garrett (UNLV) 6-0, 6-4
Doubles Results
1. Anett Ferenczi-Bako/Mercedes Lopez Valez (UNLV) led Anastasia Reimchen/Shelby Talcott (IOWA) 5-4, unfinished
2. Morven McCulloch/Annette Dohanics (IOWA) def. Santa Shumilina/Paola Artiga (UNLV) 6-3
3. Katie Zordani/Zoe Douglas (IOWA) def. Iren Kotseva/Alexis Garrett (UNLV) 6-0