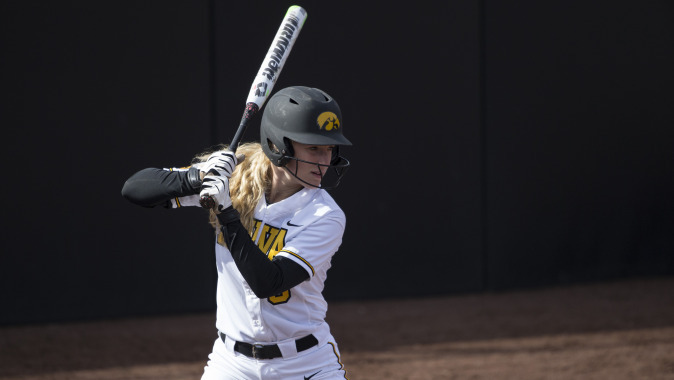 March 28, 2015
ANN ARBOR, Mich. — The University of Iowa softball team dropped a twinbill to No. 4 Michigan on Saturday. The Wolverines notched a 6-0 victory in game one, before outlasting the Hawkeyes 7-4 in game two.
Iowa drops to 10-26 overall and 1-6 in Big Ten play, while Michigan improves to 31-4 overall and 5-0 in conference action.
Michigan struck first in game one, scoring three runs in the bottom of the first. The Wolverines used five walks and a hit by pitch to take a 3-0 lead. Michigan added an unearned run in the bottom of the second on a walk, single and passed ball.
After a scoreless third inning, Michigan added another run in the bottom of the fourth. The Wolverines capitalized on a walk, fielder's choice and a stolen base. Michigan plated their final run in the bottom of the sixth inning on a solo home run to right center to secure the 6-0 victory.
The Hawkeyes best scoring chance came in the second inning. Junior Whitney Repole reached on a hit by pitch, and freshman Allie Wood followed with a single to center. Both runners advanced on a wild pitch but the Hawkeyes could not get a run across.
Wolverine right hander Megan Betsa controlled a majority of the game. Betsa allowed three hits in seven innings of shutout work. She struck out 16 and walked one.
After struggling with the strike zone in the first inning, Shayla Starkenburg settled in. The redshirt sophomore allowed just two earned runs on four hits and three walks in the final five innings. With the loss, Starkenburg falls to 8-15 on the season.
"We have to be better and quicker at making adjustments offensively, but we get to see them again tomorrow," said head coach Marla Looper. "There aren't any secrets out there, and we have to make those adjustments sooner to give ourselves a chance."
Michigan 6, Iowa 0
1
2
3
4
5
6
7
R
H
E
Iowa (10-25; 1-5)
0
0
0
0
0
0
0
0
3
1
Michigan (30-4; 4-0)
3
1
0
1
0
1
X
6
4
1
Game Decision
W: Betsa (MICH) 14-2
L: Starkenburg (IOWA) 8-15
The Hawkeyes and Wolverines battled back and forth in game two. The Hawkeyes found the scoreboard first, plating a run in the top of the first inning. Sophomore Claire Fritsch drew a leadoff walk and moved herself into scoring position with her second stolen base of the season. Redshirt sophomore Sammi Gyerman capitalized on the RBI opportunity with a single to center to give Iowa a 1-0 lead.
After trading zeros in the second inning, Michigan took the lead in the bottom of the third. The Wolverines used two walks, a single and a double to plate three runs and take a 3-1 lead.
"It was nice to jump out on top in the first inning," said head coach Marla Looper. "[Ashley] Yoways started the game really well and made them look silly for a little bit, but Michigan is a good team and they made adjustments and were able to put some runs across."
Iowa fought back in the top of the fifth. Junior Erin Erickson led off the inning with a double to right. Freshman Sarah Kurtz moved her to third with a groundout before sophomore Kaitlyn Mullarkey sent an RBI single into right. Fritsch kept the rally going with a single to left giving Iowa runners on first and second. With two outs, the Wolverines intentionally walked senior Megan Blank to load the bases for Holly Hoffman. The redshirt junior rose to the challenge, delivering a two-run single to give Iowa a 4-3 lead.
"They walked Megan [Blank] to load the bases, and Holly [Hoffman] did a nice job of hitting it where they weren't," said Looper. "It was big, and it all started with Erin's [Erickson] hustle to stretch a single into a double. The leadoff hitter did her job to get on base. We have to do a better job of that. Our leadoff hitters have to find ways to get on."
The Michigan bats battled back in the bottom of the fifth inning. The Wolverines plated four runs on four hits to secure a 7-4 win.
Ashley Yoways (2-10) suffered the loss in the circle. The freshman held the Michigan bats to seven hits and sent the Wolverines down in order in three of her six innings pitched. She allowed seven earned runs and struck out four.
The Hawkeyes and Wolverines close out the three-game series tomorrow. First pitch is set for 2 p.m. (CT). The contest will be shown live on BTN.
Michigan 7, Iowa 4
1
2
3
4
5
6
7
R
H
E
Iowa (10-26; 1-6)
1
0
0
0
3
0
0
4
6
0
Michigan (31-4; 5-0)
0
0
3
0
4
0
X
7
7
0
Game Decision
W: Wagner (MICH) 13-2
L: Yoways (IOWA) 2-10
S: Betsa (MICH) 2