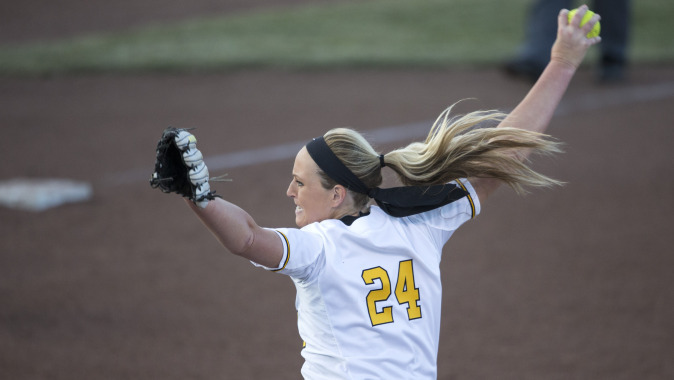 April 1, 2015
Box Score

DES MOINES, Iowa — The University of Iowa softball team dropped a 1-0 decision to Drake on Wednesday. The Hawkeyes registered six hits, but left eight runners on base in the contest.
Iowa falls to 11-27 on the season with the loss, while the Bulldogs improve to 17-12.
Drake reached the scoreboard early, plating a run in the bottom of the first. The Bulldogs used a walk, singe and an RBI groundout to take the 1-0 lead.
"You give up one run in the first inning and you think you can come back from that, but we didn't do a very good job offensively at all," said head coach Marla Looper. "We were anemic and that's not what we are used to seeing. We have to be better. It's plain and simple."
It was a pitcher's duel from there. Redshirt sophomore Shayla Starkenburg (9-16) allowed just one hit in the contest. She walked three, struck out one, and sent the Bulldogs down in order in three of her six innings pitched.
Bulldog starting pitcher Rebekah Schmidt got the complete-game win the circle. The senior did not allow a run on six hits. She struck out seven and walked one.
Freshman Allie Wood (2-for-3) and sophomore Claire Fritsch (2-for-4) led the Hawkeyes at the plate, registering four of Iowa's six hits.
"We have Western Illinois tomorrow, and they are going to come into our house and want to put it to us," said Looper. "We have to take care of business. We have to attack the game from the first pitch to the last pitch."
Iowa returns to action tomorrow when it hosts Western Illinois at Bob Pearl Field. First pitch is set for 6:30 p.m. (CT).
Drake 1, Iowa 0
1
2
3
4
5
6
7
R
H
E
Drake (17-12)
1
0
0
0
0
0
0
1
1
0
Iowa (11-27)
0
0
0
0
0
0
0
0
6
0
Game Decision
W: Schmidt (DRAKE) 9-8
L: Starkenburg (IOWA) 9-16