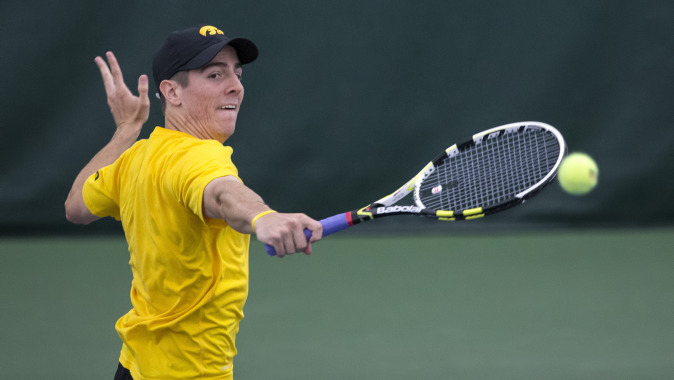 April 5, 2015
BLOOMINGTON, Indiana — The No. 68 University of Iowa men's tennis team (11-6) headed into Sunday's match with the 44th-ranked Indiana Hoosiers at the IU Tennis Center looking to notch its fourth Big Ten win of the spring campaign. Indiana was able to register four singles victories leading to a 4-1 win over Iowa.
For the third straight match Iowa was able to take the doubles point over its opponent. At the No. 1 position, Daniel Bednarczyk/Sam Monette tallied an 8-4 win over Stieg Martens/Lefteris Theodorou. Matt Hagan and Jake Jacoby registered the first victory of the afternoon for the Hawkeyes with an 8-3 decision over Stefan Lugonjic and Chris Essick.
Dominic Patrick and Josh Silverstein clinched the doubles point for Iowa in a close match against Raheel Manji and Sven Lalic. With the match noted at 7-7 it went to a tiebreak, the Iowa duo was able to win the tiebreaker (7-4) and the doubles point.
Matthew McCoy defeated Martens in straight sets 6-2, 6-2 to tie the match at one point apiece. Silverstein looked to put Iowa ahead at No. 4 singles going into a match with Manji. After dropping a close first set 7-6, Silverstein dropped the second set, 6-1, giving Indiana a 2-1 lead.
At the No. 2 position, Patrick faced Bednarczyk. The Hawkeye junior paced Bednarczyk in the first set 6-3. Patrick dropped the second set before Bednarczyk tallied a third set win. With the Hawkeyes down 3-1, No. 96 Hagan looked to give his team a spark but, Monette went on to edge the Hawkeye senior, 7-6, 7-6.
Both Jacoby and Theodorou's matches were abandoned due to Indiana winning the match.
Iowa will look to get back on track Wednesday when the team heads to Lincoln, Nebraska for a Big Ten contest with the Nebraska Cornhuskers at 4 p.m. (CT).
No. 44 Indiana 4, No. 68 Iowa 1
Singles
1. Sam Monette (IND) def. No. 96 Matt Hagan (UI): 7-6 (10-8), 7-6 (7-2)
2. Daniel Bednarczyk (IND) def. Dominic Patrick (UI): 6-3, 5-7, 6-4
3. Lefteris Theodorou (UI) vs. Sven Lalic (IND): 7-5, 4-6, 2-5 abandoned
4. Raheel Manji (IND) def. Josh Silverstein (UI): 7-6 (7-0), 6-1
5. Matthew McCoy (IND) def. Stieg Martens (UI): 6-4, 6-2
6. Jake Jacoby (UI) vs. Stefan Lugonjic (IND): 7-5, 4-6, 1-0 abandoned
Order of Finish: 5,4,2,1
Doubles
1. Bednarczyk/Monette (IND) def. Theodorou/Martens (UI): 8-4
2. Hagan/Jacoby (UI) def. Lugonjic/Essick (IND): 8-3
3. Patrick/Silverstein (UI) def. Manji/Lalic (IND): 8-7 (7-4)
Order of Finish: 1,2,3