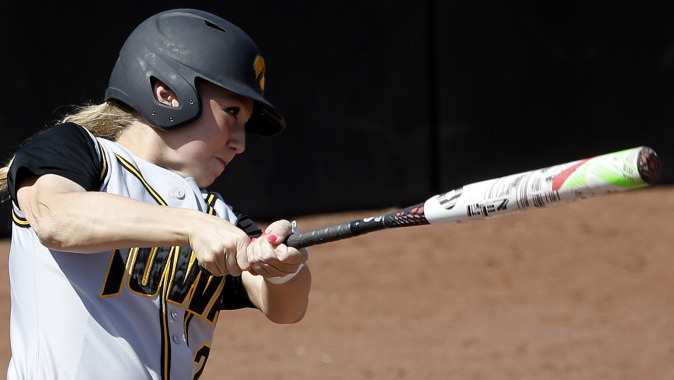 Editor's Note: The following first appeared in the University of Iowa's Hawk Talk Daily, an e-newsletter that offers a daily look at the Iowa Hawkeyes, delivered free each morning to thousands of fans of the Hawkeyes worldwide. To receive daily news from the Iowa Hawkeyes, sign up HERE.
By DARREN MILLER
hawkeyesports.com
IOWA CITY, Iowa — The University of Iowa and Illinois played a three-game series April 3-5 where the teams combined for 68 hits and 63 runs. The offensive highlight was produced by Hawkeye sophomore center fielder Sammi Gyerman.
On Friday, Gyerman did something she had never done before, and ironically, something she had never heard of. She hit for the cycle, sparking Iowa to a 15-7 victory in five innings in Big Ten Conference softball. It is the first cycle in Iowa softball history and the third in the history of the Big Ten Conference.
"I'm a major league baseball fan and I had never heard of a cycle," Gyerman admitted.
Hitting for the cycle is a feat that occurs when a player collects a single, double, triple, and home run in the same game. It is one of the most difficult things to accomplish in baseball or softball. It has occurred just 305 times in the history of major league baseball.
"It was an awesome experience," Gyerman said. "To get four at-bats in a (five-inning) game is hard to do, so I have to credit my teammates for letting me get those four at-bats. It felt great; I was trying to do my job and score runs."
Gyerman doubled to right center and tripled to center during the Hawkeyes' nine-run first inning. She hit a home run to left center in the third inning.
"When I hit my home run I came in and my teammates said, `You have to hit a single and you get the cycle,'" Gyerman said. "I was like, wait, what does that mean?"
| | |
| --- | --- |
| | "Staying calm, cool, and collected — the three Cs. I don't perform well when I put too much pressure on myself. I have to maintain my mental state throughout my body and see the ball." |
Gyerman came to the plate a final time in the bottom of the fourth inning and singled up the middle to drive in two more runs. Her historic effort produced a statistical line of 4-for-4 with three runs and six RBIs.
A native of San Pedro, California, Gyerman has frequently made the 45-minute trip to attend Los Angeles Dodgers games. It's safe to say she wasn't there April 13, 2009, when Orlando Hudson hit for the cycle against San Francisco.
It's also safe to assume she will always remember what the term "hitting for the cycle" means.
"Staying calm, cool, and collected — the three Cs," Gyerman cited as keys to her offensive explosion. "I don't perform well when I put too much pressure on myself. I have to maintain my mental state throughout my body and see the ball."
Gyerman followed her 4-for-4 outing by going 3-for-4 with two runs and an RBI on Saturday. She didn't have a hit in two official at-bats Sunday, but she walked twice, was hit by a pitch, and scored a run. For the Illinois series, Gyerman batted .700 (7-for-10) with six runs and seven RBIs.
This season she is batting .343 with a team-high 134 at-bats and 30 runs. Gyerman has 46 hits, including nine doubles, two triples, and five home runs. She leads the Hawkeyes with six stolen bases.
As a freshman in 2013, Gyerman played 52 games (starting 50) and batted .201. Last season she played 11 games and hit .296 before suffering a season-ending shoulder injury.
"After so many years playing softball you hit a point where you are comfortable with yourself. I think I'm there," Gyerman said. "I have to give credit to the past years of struggle to get to this point — it's nice, but of course I still have a lot of work to do."
The Hawkeyes also played two nonconference games last week, with Gyerman finishing the five games with an average of .579 (11-for-19), seven runs, five extra-base hits, and nine RBIs. She was 3-for-3 in stolen bases.
For the remainder of the season, Gyerman wants to become a triple threat at the plate as a bunter, slapper, and hitter.
"I can be more productive by mixing up my short game and long game," she said.
The Hawkeyes open a three-game series at Wisconsin on April 10. They return home to host Iowa State on Wednesday, April 15, at Bob Pearl Field.