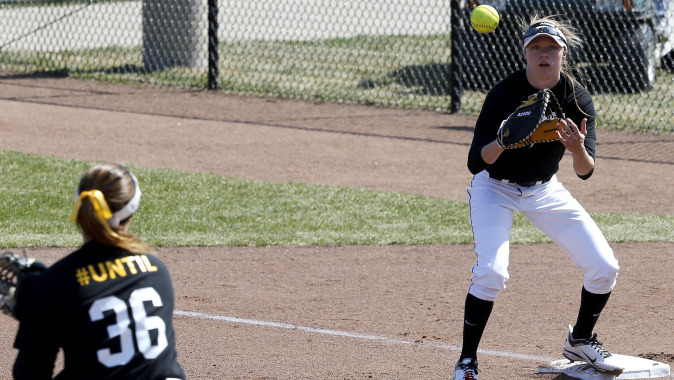 April 8, 2015
Weekly Release

PLAY BALL
The University of Iowa softball team continues Big Ten action with a three-game series against Wisconsin in Madison, Wisconsin, this weekend. The series begins with a 5 p.m. (CT) game on Friday, continues with a 12 p.m. contest on Saturday, and concludes with a 3 p.m. game Sunday.
FOLLOW ALONG
Fans can follow the action with Gametracker (live stats). Audio will also be available on Hawkeye All-Access with Jon Swisher (play-by-play) and Austin Bramley (color) on the call. Links can be accessed on the softball schedule page at hawkeyesports.com. To receive more frequent game updates, follow @IowaSoftball on Twitter and "like" our official page on Facebook, facebook.com/iowahawkeyessoftball.
WATCH IT LIVE
Hawkeye fans can watch Sunday's contest live on the Big Ten Network. Lisa Byington (play-by-play) and Garland Cooper (color) will have the call. Iowa is 1-0 in games played on the Big Ten Network this season (No. 4 Michigan, 6-4).
TAKING ON THE BEST
Ten of Iowa's 2015 opponents are ranked in the most recent release of the USA Today/NFCA Division I Top-25 Poll (March 6). They include: Oregon (2), Florida (3), Michigan (4), Oklahoma (5), Louisiana Lafayette (10), Minnesota (15), UCF (17), Missouri (21), North Dakota State (RV), and Northwestern (2). The Hawkeyes have played 10 games against opponents ranked in the top six this season.
GYERMAN MAKES HISTORY
Sammi Gyerman hit for the cycle to lead the Hawkeyes past the Illini, 15-7 after five innings, on April 3. The redshirt sophomore recorded double and a triple in Iowa's nine-run first inning before hitting a home run in the third and a single in the fourth. The San Pedro, California, native, became the first Hawkeye in school history to hit for the cycle and just the third player in the Big Ten to accomplish the feat. Gyerman posted career bests in hits (4), RBIs (6) and runs scored (3) in the contest.
GYERMAN SHINES IN THREE-GAME SET
Redshirt sophomore Sammi Gyerman recorded a .700 clip in three games against Illinois on April 3-5. Gyerman registered seven hits in 10 at bats, including a double, triple and a home run. She also posted a slugging percentage of 1.300 and an on base percentage of .769 in the three-game set.
RUN-RULE VICTORY
Iowa posted a 15-7 victory over Illinois in five innings on April 3. Seven Hawkeyes posted hits in the contest including a four-hit cycle by redshirt sophomore Sammi Gyerman. The Hawkeye offense got off to a hot start early, sending 13 batters to the plate and scoring nine runs in the bottom of the first inning. Iowa added a run in the third and five runs in the fourth to register the run-rule victory.
OFFENSE HEATS UP
Seven Hawkeyes hit .300+ in five games last week. Redshirt sophomore Sammi Gyerman led the team with a .579 clip. Freshman Angela Schmiederer joined Gyerman hitting .500. Senior Megan Blank (.444), sophomore Kaitlyn Mullarkey (.429), freshman Allie Wood (.429) all hit .400+, while freshman Cheyenne Pratt (.353) and junior Whitney Repole (.300) batted in the 300s.
TAKE 3
Iowa registered five on its six season triples last week. Redshirt sophomore Sammi Gyerman and senior Megan Blank each notched two triples, while freshman Angela Schmiederer recorded her first career triple against Western Illinois on April 2. The Hawkeyes are currently tied for sixth in the Big Ten with six triples on the season.
OFFENSE ON THE RISE
The Hawkeyes have enjoyed a jump offensively from 2014 to 2015 under new hitting coach Adam Arbour. Iowa has improved in batting average (.250 to .269), slugging percentage (.376 to .400), on-base percentage (.321 to .346), doubles (59 to 61), RBIs (122 to 159), walks (97 to 107), runs scored (141 to 175) and runs per game (3.0 to 4.16). With 15 regular season games remaining Iowa has already matched its home run total from a season ago with 23.
CONFERENCE AVERAGE
Seven Hawkeyes are hitting .300+ in conference play. Senior Megan Blank leads the team with a .452 clip, while redshirt sophomore Sammi Gyerman (.421) and freshman Angela Schmiederer (.400) join her in the 400s. Redshirt junior Holly Hoffman (.333), junior Whitney Repole (.318), freshman Allie Wood (.304), and sophomore Kaitlyn Mullarkey (.300) have all recorded .300+ clips in 11 conference contests this season.
INCREASE IN SPEED
Iowa swiped a season-high four bases against Western Illinois on April 2. Redshirt sophomore Sammi Gyerman stole a pair, while senior Megan Blank and sophomore Claire Fritsch each stole one. Prior to the Thursday contest, the Hawkeyes had just eight stolen bases on the season.
MULTIPLES OF 3
A trio of Hawkeyes recorded three hits in Iowa's contest against Western Illinois on April 2, including redshirt sophomore Sammi Gyerman, senior Megan Blank, and freshman Cheyenne Pratt. Two of Gyerman's hits were for extra bases, including a double and her first triple of the season. Blank recorded her 55th career double and added two singles, while Pratt posted three singles in midweek action.
UPSET IN ANN ARBOR
The Hawkeyes handed the No. 4 Wolverines their fifth loss of the season with a come-from-behind victory in Ann Arbor, Michigan, on March 29. Down four runs in the top of the sixth, Iowa scored three runs off of a pair of home runs by redshirt junior Holly Hoffman and freshman Allie Wood. The Hawkeyes continued their rally in the seventh when sophomore Kaitlyn Mullarkey capitalized on an RBI opportunity with a double down the right line to give Iowa a 5-4 lead. The Hawkeyes added an insurance run on a RBI ground out from Wood to take a 6-4 lead into the bottom of the seventh. After a Wolverine reached on a single to start the seventh, Iowa used a 4-6-3 double play to silence the scoring chance and ultimately secure the upset victory.
STARKENBURG TROUBLES NO. 4 WOLVERINES
Redshirt sophomore pitcher Shayla Starkenburg limited the Wolverines to just four hits in the first game of a doubleheader on March 28. Only three other teams have held Michigan to four hits or less this season. They include: then-ranked No. 1 Florida (2 hits), Kent State (3 hits) and Illinois State (4 hits). The Ankeny, Iowa, native registered a complete-game upset win on March 29. After a rocky first inning Starkenburg settled in and allowed just one run in her final six innings of work and did not allow a Wolverine hit in four of her final six innings.
TOUGH OUT
Senior Megan Blank has just eight strikeouts in 123 at bats this season. Blank currently leads the team in batting average (.431), slugging percentage (.707), and on base percentage (.496).
BLANK RANKS
? Career runs scored: 9th all-time (119)
? Career hits: 7th all-time (230)
? Career doubles: School record holder (55)
? Career triples: tied for 4th all-time (12)
? Career HR: Tied for 4th all-time (24)
? Career RBI: Tied for 3rd all-time (142)
? Career Average: 2nd all-time (.405), Lea Twigg (1996-97) is the record holder with a .409 batting average
? Doubles in a season: 17 in 2012, tied for 4th all-time; 15 in 2013, tied for 9th all-time
? Triples in a season: 5 in 2012, tied for 8th all-time
? HR in a season: 11 in 2013, 3rd all-time
? RBI in a season: 59 in 2013, 2nd all-time
? Average in a season: .437 in 2013 (record holder)
TURN TWO
Iowa leads the Big Ten Conference in double plays with 22 on the season. The Hawkeyes have recorded two double plays in a game six times: No. 6 Louisiana-Lafayette (Feb. 20), No. 6 Oklahoma (March 15), Tulsa (March 18), Nebraska (March 25), No. 4 Michigan (March 29), and Illinois (April 4).
BLANK IN THE B1G
Megan Blank is currently ranked among the top five in the conference in four different categories. The senior ranks second in the Big Ten hits (53), is tied for second in doubles (12), ranks fourth in batting average (.431), and is fifth in total bases (87).
DOUBLE TROUBLE
The Hawkeyes rank third in the Big Ten in doubles. Iowa has recorded 61 doubles on the season. Senior Megan Blank, the career doubles school record holder, leads the team with 12, while redshirt sophomore Sammi Gyerman has nine.
B1G HITS
Iowa is ranked 10th in the Big Ten in hits. Iowa has accumulated 291 hits in 42 contests this season. Senior Megan Blank leads the team with 53 hits, while redshirt sophomore Sammi Gyerman has 46.
STARKENBURG STRIKEOUTS
Redshirt sophomore Shayla Starkenburg ranks sixth in the Big Ten in batters struck out (133) and fourth in batters struck out looking (36). Starkenburg has fanned a career high nine batters twice this season (Florida A&M on March 1; East Carolina on March 14. She recorded her first career no-hitter against Southern Utah on Feb. 7. The Ankeny, Iowa, native has 133 strikeouts in 161.2 innings this season.
SCOUTING WISCONSIN
?Iowa leads Wisconsin, 32-14, in the all-time series.
?The Hawkeyes won 2-of-3 against the Badgers in the 2014 regular season
?Wisconsin enters this week with a 14-20 record overall and a 1-7 mark in Big Ten action.
?Five Badgers are hitting .300+ including, Maria Van Abel (.407), Chloe Miller (.348), Marissa Mersch (.345), Megan Tancill (.315), and Ashley Van Zeeland (.309).
BLANK MAKES HISTORY
Senior Megan Blank recorded her 53rd career double against Nebraska on March 25 to break Iowa's 18-year-old career doubles record. Blank is now in sole possession of the Iowa softball career doubles record with 55. The previous record of 52 was set by Kari Knopf in 1997.
BACK-TO-BACK… AGAIN
Redshirt sophomore Sammi Gyerman and senior Megan Blank registered back-to-back home runs to help Iowa secure a 7-6 victory over Tulsa on March 18. The feat marked the second time the duo has gone back-to-back this season (Cal State Fullerton, 3/7/15).
DOWN GOES NO. 17
The Hawkeyes defeated No. 17 UCF on Feb. 27 to notch their first win over a ranked opponent this season. Junior Erin Erickson used a squeeze bunt to score the eventual game-winning run in the fifth to guide the Hawkeyes to a 3-2 victory. Redshirt sophomore Shayla Starkenburg was credited with the complete game win. She allowed one earned run on six hits and struck out three.
ERICKSON NAMED TO ALL-TOURNAMENT TEAM
Junior Erin Erickson was named to the Ragin' Cajun Invitational All-Tournament team following the five-game invitational on Feb. 20-22. Erickson posted a .308 batting average and a .615 slugging percentage on the weekend with a double, home run, and two RBIs.
STARKENBURG SILENCES THUNDERBIRDS
Redshirt sophomore Shayla Starkenburg registered her first career no-hitter against Southern Utah on Feb. 7. Starkenburg fanned a career-high eight batters and only walked three in seven innings of work. She became just the seventh pitcher in Iowa history to toss a no-hitter, and the first pitcher to do so since Amanda Zust on March 21, 2010. Starkenburg's no-hitter is the 17th in Iowa softball history.
PRATT SHINES IN DEBUT
Cheyenne Pratt started all five games in left field at the UNI Dome Tournament on Feb. 6-8. The freshman recorded a .462 clip, collecting six hits in 13 at bats. Three of her six hits were for extra bases.
BLANK NAMED PRESEASON ALL-BIG TEN
Senior shortstop Megan Blank was named a Preseason First Team All-Big Ten infielder by College Sports Madness on Feb. 4. Blank, a three-time regular season First Team All-Big Ten honoree, led the Hawkeyes in batting average (.361), slugging percentage (.602), on-base percentage (.452), hits (48), doubles (11), triples (3) and RBIs (25) in 2014.
NFCA HONORS BLANK FOR 3RD-STRAIGHT YEAR
Shortstop Megan Blank collected her third-straight NFCA honor as she was a second team All-Midwest Region pick in 2014. The senior was named to the NFCA All-Midwest Region second team as a freshman and first team as a sophomore. She is the 16th player in Iowa history to earn three regional awards in her career.
3 IN A ROW
Senior Megan Blank received her third-straight First Team All-Big Ten accolade and was also named to the conference's All-Defensive Team, following the 2014 season. The shortstop is the eighth Iowa player to earn first team distinction three times. Blank led the Hawkeyes in batting average (.361), slugging percentage (.602), on-base percentage (.452), hits (48), doubles (11), triples (3) and RBIs (25) last season. In Big Ten action, Blank hit at a .415 clip, slugged .677 and compiled an on-base percentage of .506. Seven of her 11 doubles, two of her three triples, two of her five home runs and 15 of her 25 RBIs came against conference foes. Heading into her senior season, Blank ranks in several career categories at Iowa. She is second with a .398 batting average, sixth with 43 doubles, eighth with 18 home runs, ninth with 113 RBIs and 10th with 10 triples with one season remaining with the Hawkeyes. Blank led the team with 13 multiple-hit games and six multiple-RBI games, had the longest reached base streak (14) and owned the longest hitting streak (9). She ended the season with a seven-game reached base streak.
PRACTICE FACILITIES
The Hawkeyes have benefited from two new facilities in 2015 — the indoor Iowa Turf Facility, located at the Hawkeye Tennis and Recreation Complex, and the Jacobson Hitting Facility, located in football's former weight room. The HTRC Iowa Turf Facility has enabled the program to have consistency in team practices, while the Jacobson hitting cages have allowed student-athletes to take extra reps at any time.
HAWKEYE TRADITION
Iowa has made four Women's College World Series appearances (1995, 1996, 1997, 2001) and played in 16 NCAA Tournaments in school history. The 16 appearances are the second most in Big Ten history, and the four WCWS appearances equal the second most in conference history. The Hawkeyes have won four Big Ten Conference regular season championships (1989, 1997, 2000, 2003) and two Big Ten Tournament titles (2001, 2003). Iowa holds a 1262-781-5 (.618) record in 37 seasons.