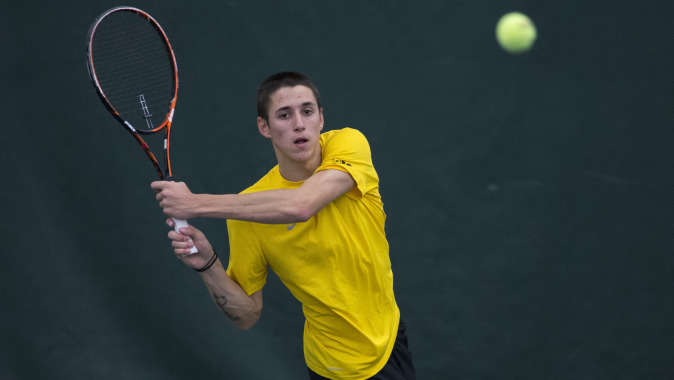 April 12, 2015
EVANSTON, Illinois — The No. 72 University of Iowa men's tennis team (12-8, 4-5) dropped a 6-1 decision to the No. 26 Northwestern Wildcats Sunday afternoon.
At No. 2 singles, Lefteris Theodorou earned the lone point for Iowa. The freshman faced No. 116 Strong Kirchheimer. The Hawkeye third-position player registered a straight set victory, 6-4, 7-5. The win is the first victory over a ranked opponent in Theodorou's young Hawkeye career.
It was a battle of ranked opponents at No. 1 singles between No. 57 Sam Shropshire and No. 112 Matt Hagan. Shropshire managed to gain the upper hand over Hagan, winning the match, 6-3, 6-4. Josh Silverstein playing at the No. 4 position fell to Logan Staggs, 6-3, 6-1.
With his team down 3-0, Jake Jacoby set out to put Iowa back in the match. The freshman could not build off his last win at Illinois, falling to Alp Horoz in straight sets, 6-2, 7-5.
At No. 5 singles, Stieg Martens faced Fedor Baev. Martens was able to take the first set, 6-4, but could not keep the momentum going, dropping the next two sets, 6-4, 6-4. Dominic Patrick fell to Konrad Zieba at the No. 3 position, 6-2, 6-3.
In doubles, Patrick/Silverstein registered the first win for the Hawkeyes with an 8-5 decision over Horoz/Mihir Kumar. With the win, Patrick/Silverstein improve to 6-1 as a team in the spring campaign.
Hagan/Jacoby faced the Wildcats' 44th-ranked duo of Shropshire/Alex Pasareanu. Shropshire/Pasareanu went on to take the match, 8-5. Playing at the No. 2 position Theodorou/Martens were defeated 8-5 by No. 85 Baev/Kirchheimer.
Iowa will attempt to bounce back when it hosts Ohio State Friday at 6 p.m. (CT) at the Hawkeye Tennis and Recreation Complex. Admission is free to the public.
No. 26 Northwestern 6, No. 72 Iowa 1
Singles
1. No. 57 Sam Shropshire (NW) def. No. 112 Matt Hagan (UI): 6-3, 6-4
2. Lefteris Theodorou (UI) def. No. 116 Strong Kirchheimer (NW): 6-4, 7-5
3. Konrad Zieba (NW) def. Dominic Patrick (UI): 6-2, 6-3
4. Logan Staggs (NW) def. Josh Silverstein (UI): 6-3, 6-1
5. Fedor Baev (NW) def. Stieg Martens (UI): 4-6, 6-4, 6-4
6. Alp Horoz (NW) def. Jake Jacoby (UI): 6-2, 7-5
Order of Finish: 4,1,6,3,2,5
Doubles
1. No. 44 Shropshire/Pasareanu (NW) def. Hagan/Jacoby (UI): 8-5
2. No. 85 Baev/Kirchheimer (NW) def. Theodorou/Martens (UI): 8-5
3. Patrick/Silverstein (UI) def. Horoz/Kumar (NW): 8-5
Order of Finish: 3,2,1