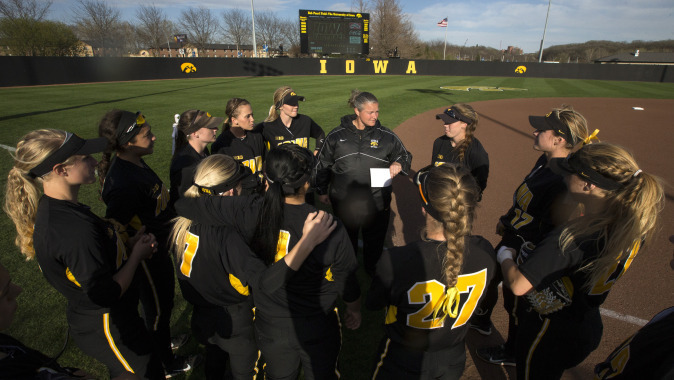 April 16, 2015
Game Notes vs Purdue

PLAY BALL
The University of Iowa hits the road to play in its second consecutive Big Ten series on the road at Purdue on April 17-19. Game one is set to begin at 4 p.m. (CT) on Friday, with game two set for 12 p.m. on Saturday and the series finale at 11 a.m. on Sunday.
SERIES COVERAGE
Sunday's game will be shown live online through BTN Plus available at btn2go.com. Live audio on Hawkeye All-Access is available for all three games. Austin Bramley will have the call. Links to audio and Gametracker (live stats) are available on the softball schedule page at hawkeyesports.com.
FOLLOW THE HAWKEYES
For in-game updates and additional coverage, follow @IowaSoftball on Twitter and `like' the team's official Facebook page at facebook.com/iowahawkeyessoftball.
ON TRACK
Hawkeye senior Megan Blank is on track to break Iowa's single season batting average record for the second time in her career. She currently owns a batting average of .442, five points ahead of the record she set in 2013 when she ended the season with a .437 clip. In her career, Blank boasts a .408 batting average and has started all 200 games at shortstop since arriving at Iowa. Lea Twigg, who played from 1996-97, holds the career batting average record with a mark of .409.
STRIKEOUTS X 3
Redshirt sophomore pitcher Shayla Starkenburg has more than tripled her strikeout total of 51 from a season ago, totaling 155 so far in 2015. She has also significantly raised her strikeouts per appearance average from 2.55 (51 strikeouts in 21 appearances) in 2014 to 4.08 (155 in 38 appearances) this year. Starkenburg currently leads the Big Ten in innings pitched (183.2), is second in appearances (38) and games started (28), third in looking strikeouts (46), and fifth in strikeouts (155).
TAKING ON THE BEST
Nine of Iowa's 2015 opponents are ranked in the most recent release of the USA Today/NFCA Division I Top-25 Poll (April 14). They include: Oregon (1), Florida (2), Michigan (4), Oklahoma (5), Louisiana Lafayette (9), Minnesota (13), UCF (15), Missouri (20), and North Dakota State (RV). The Hawkeyes have played 10 games against opponents ranked in the top six this season.
BIG TEN STAT RUNDOWN
? Senior Megan Blank is tied for first in the Big Ten in hits (61), is second in batting average (.442), third in doubles (13) and total bases (99), seventh in on-base percentage (.509), and 11th in slugging percentage (.717).
? Redshirt sophomore Sammi Gyerman is fourth in the conference in total plate appearnaces, and tied for ninth in hits (52).
? Redshirt sophomore pitcher Shayla Starkenburg leads the Big Ten in innings pitched (183.2), is second in appearances (38) and games started (28), third in looking strikeouts (46), and fifth in strikeouts (155).
SERIES NOTES
? Iowa leads Purdue, 39-9, in the all-time series.
? The last time the teams met, the Hawkeyes swept the Boilermakers in West Lafayette, Indiana. Iowa won game one 4-3 after nine innings, game two 2-0 after eight innings, and game three 8-2.
? Purdue last defeated Iowa on April 3, 2011, by a score of 3-0.
SCOUTING PURDUE
? Purdue enters the series with a 26-16 record overall and a 5-7 mark in Big Ten Conference play.
? Five Boilermaker starters are hitting above .300, including Ashley Burkhardt (.407), Katie Harrison (.333), Alyssa Koorsen (.328), Kristen Hoppman (.315), Kaylah Hamption (.304).
? Pitcher Lilly Fecho leads Purdue in the circle with 16 wins, a 1.64 ERA, 31 appearances, 27 starts, 18 complete games, 175.0 innings pitched, and 221 strikeouts.
CY-HAWK SERIES BATTLE
The Hawkeyes and Cyclones battled it out to determine the winner of the annual Iowa Corn Cy-Hawk Series on April 15. The game included a pair of ties, before Iowa State hit a go-ahead solo home run for a 5-4 lead. It held up, handing Iowa the 5-4 loss and the 15-11 loss in the overall series. Two Hawkeyes recorded multiple hit games, including Megan Blank (3-for-4) and Cheyenne Pratt (2-for-3), in front of the largest crowd of the season at Pearl Field (827).
B1G SERIES VICTORY
The Hawkeyes clinched their first Big Ten series win, 2-1, over Wisconsin on April 10-12. Iowa took the first game of the series in run-rule fashion. The Hawkeyes used a 10-run first inning to jump ahead and eventually secure a 16-4 victory in five innings. After falling 5-4 in game two, the Hawkeyes outlasted the Badgers, 3-2, in 10 innings in game three. Senior Megan Blank hit the go-ahead home run in the top of the 10th to clinch the series victory.
BLANK DELIVERS
Megan Blank's 25th career home run was one to remember. The senior recorded the go-ahead blast in the top of the 10th inning at Wisconsin on April 12 to secure the conference series victory. Blank currently leads the team with seven home runs this season, and is fourth all-time in career home runs.
STARKENBURG COMES UP B1G
Shayla Starkenburg threw a career-high 10 innings and fanned a career-high 11 batters in Iowa's 10-inning win over the Badgers on April 12. The redshirt sophomore gave up three earned runs on 13 hits and two walks. The Ankeny, Iowa, native leads the Hawkeyes in wins (12), ERA (4.95), appearances (38), starts (28), complete games (22), shutouts (3), and strikeouts (155) this season.
FREE BASES
Sarah Kurtz tallied six walks in three games against Wisconsin on April 10-12. The freshman recorded a .727 on base percentage over the three game series, and reached base successfully at least two times in all three contests.
HOFFMAN PLATES 5
Holly Hoffman plated five runs in a three games against Wisconsin on April 10-12. The redshirt junior recorded a .462 clip with six hits in 13 at bats. Senior Megan Blank (33), redshirt sophomore Sammi Gyerman (32), and Hoffman (23) lead the Hawkeyes in RBIs this season.
UP NEXT
Iowa is set for five road games next week, beginning with a midweek doubleheader on April 22 at Missouri. The Hawkeyes remain on the road for their third consecutive Big Ten series on the road at Minnesota from April 24-26.