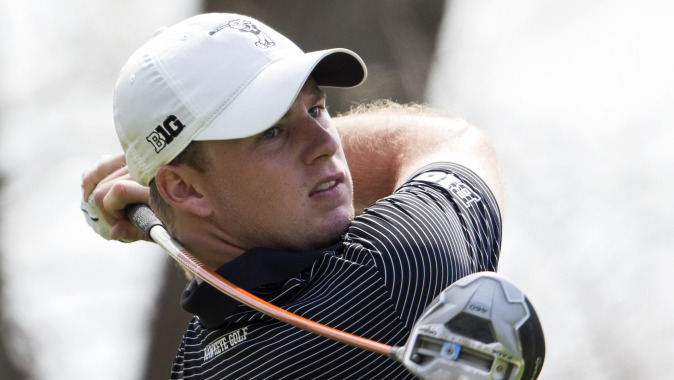 April 22, 2015
Weekly Release

THIS WEEK
The University of Iowa men's golf team travels to the Big Ten Championships at the prestigious Victoria National Golf Club in Newburgh, Indiana, on April 24-26. First round action at the 2015 Big Ten Championships begins Friday at 9 a.m. (CT). Teams play 36 holes Friday and 18 holes on Saturday. The 72-hole event concludes Sunday with a final round of 18. Live scoring or the event can be found here: http://bit.ly/1zM3sxY.
BROADCAST ON BTN
The Big Ten Men's Golf Championships will appear on the Big Ten Network in a delayed-airing at 6 p.m. (CT) on Wednesday, May 13.
THE FIELD
All 14 Big Ten members will be competing at this weekend's Big Ten Championships. Ten Big Ten schools are ranked inside the top-100 of the Golfstat Rankings, led by Illinois (4), Iowa (45), and Michigan (50).
THE COURSE
The nationally renowned Victoria National Golf Club plays as a 7,209-yard, par-72. Masterfully set among 418 acres of reclaimed mining land, Victoia National embraces the dramatic landscape, native vegetation and deep, spring-fed lakes of this naturally restored land and is consistently ranked among the top golf courses in America. Victoria National is also the host site of the PGA Tour Web.com United Leasing Championship.
THE LINEUP
Seniors Brian Bullington and Ian Vandersee, junior Nate Yankovich, and sophomores Carson Schaake and Raymond Knoll make up an Iowa lineup that hopes to bring home a Big Ten title this weekend. Vandersee will be making his fourth straight conference tournament appearance, while Bullington will be making his third.
TOURNAMENT HISTORY
Iowa has taken third place at each of the last two Big Ten Championships. In 2014 the Hawkeyes were led by Steven Ihm and Ian Vandersee, who each fi nished inside the top-10 on the individual leader board. Ihm carded a seven-over-par 295 to fi nish fi fth, while Vandersee shot 11 strokes over par to earn a tie for seventh. In 1992, Brad Klapprott earned medalist honors to lead Iowa to its lone Big Ten Championship in program history.
LAST EVENT
The Hawkeyes finished third in the 12-team field at the 22nd annual Hawkeye-Great River Entertainment Invitational last weekend (April 18-19). Iowa posted a 289 on Sunday on the final 18 holes at the UI's own Finkbine Golf Course, carding a 54-hole team score of 853 (-11; 284, 280, 289). Sophomore Carson Schaake led the way for the Hawkeyes throughout the two-day tournament. After recording a 73 and a career best 66 in the first and second rounds, the Omaha, Nebraska, native carded a one-under-par 71 on the final round of 18. Schaake finished with a total of 210 (-6) to finish tied for fourth, matching his career best finish individually.
HAWKEYES IN THE RANKINGS
The University of Iowa men's golf team is ranked 45th out of 302 teams in the most recent Golfstat Relative Rankings and are 44th according to Golfweek. Iowa is the second-highest ranked Big Ten team behind Illinois (4, 2).
SCHAAKE PACES HAWKEYES
Sophomore Carson Schaake has been Iowa's top performer in fi ve-of-eight events this year and has finished inside the top-five three different times. He finished tied for fourth last weekend at the Hawkeye-GRE invite, matching his career-best individual performance, while also carding a six-under-par 66, the best 18-hole score of his career. Schaake has played 23 rounds this year, averaging a team-best 71.43 strokes per round.
6-STRAIGHT NCAA APPEARANCES
Iowa has advanced to NCAA competition in each of the last six seasons, joining Illinois and Northwestern as the only Big Ten teams selected to NCAA Regional competition in each of the last six seasons. Iowa has advanced to the NCAA Championship fi nals three times in the last six years. This year's selection show will air on Golf Channel on May 4 at 9 a.m. (CT).
NEW FACE AT THE HELM
Tyler Stith is in his fi rst year as the head coach at the University of Iowa in 2014-15. Stith was named the UI head coach on Aug. 22, 2014. Stith, a former assistant coach and student-athlete at Iowa, served as assistant coach at Minnesota the last three years.
FOLLOW THE HAWKEYES
For an inside look at the men's golf program and to access exclusive coverage, "like" Hawkeye men's golf on Facebook (/hawkeyemensgolf) and follow @IowaHawkeyeGolf on Twitter.