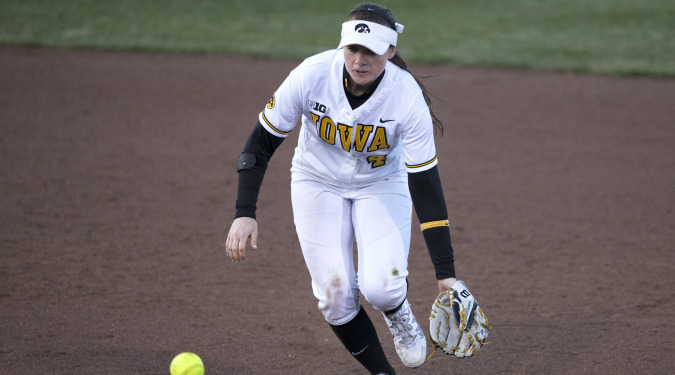 April 22, 2015
COLUMBIA, Mo. — University of Iowa senior shortstop Megan Blank shined with a 2-for-3 performance at the plate, her 27th career home run, and two double plays turned in the team's Wednesday night loss to No. 15-ranked Missouri, 10-2, after six innings.
"Megan has been coming on strong and is zeroed in right now," head coach Marla Looper said. "She's staying within herself and not trying to do too much.
"I'm proud of where she's at, and defensively she's been on fire. She made some phenomenal plays tonight. You can't ask for more from a senior, she's getting it done."
The Hawkeyes move to 16-34 on the season, while the Tigers improve to 32-10. The game is Iowa's 12th contest against a ranked opponent this year.
After a one-out walk was issued to redshirt sophomore Sammi Gyerman, Blank put her team on the board with one swing of the bat in the top of the first. The two-run home run is her ninth of the season and the 27th of her career — good for fourth all-time at Iowa.
The Tigers responded with runs of their own in the bottom half of the first to grab a 3-2 lead. A leadoff single and a walk started the inning, and Sami Fagan brought home a run with a double. Iowa saved a second run on the play with a successful relay from Gyerman to Blank to redshirt junior Holly Hoffman who applied the tag for an out at home. A single and an error allowed Missouri to score two more for the lead.
Both teams went scoreless from there until the bottom of the fifth. Missouri opened the frame with a walk and scored two on a Kirsten Mack long ball for a 5-2 advantage. The Tigers added another run on a Kelsea Roth double.
Missouri continued its offensive surge, adding four runs in the top of the sixth. A walkoff single from the bat of Roth scored the 10th Tiger run and triggered the run rule win, 10-2.
Redshirt sophomore Shayla Starkenburg (14-19) was tagged with the loss. She struck out two and allowed eight earned runs on nine hits before giving way to freshman Ashley Yoways who faced three batters in her appearance.
Blank extended her hitting and reached base streaks to 12-straight games with a 2-for-3 performance. It is her 17th multiple hit and her ninth multiple RBI contest.
Iowa remains on the road for a three-game Big Ten series at No. 12-ranked Minnesota on April 24-26.
#15 Missouri 10, Iowa 2 (6 innings)
1
2
3
4
5
6
R
H
E
Iowa (16-34)
2
0
0
0
0
0
2
3
2
#15 Missouri (32-10)
3
0
0
0
3
4
10
11
0
Game Decision
W: Lowary (MO) 14-3
L: Starkenburg (IOWA) 14-19