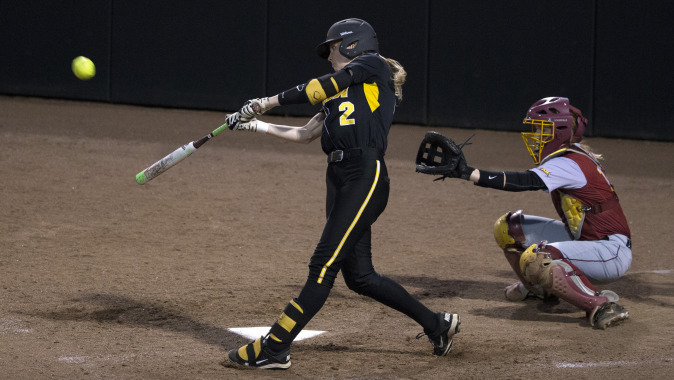 April 26, 2015
MINNEAPOLIS, Minnesota — The University of Iowa softball team dropped a 9-0 decision to No. 12 Minnesota on Sunday afternoon. The loss secured the three-game series sweep for the Gophers (41-8; 15-3). Iowa falls to 16-37 on the season and 7-13 in conference action.
"If you don't learn from this experience, it's a waste of an opportunity to be better," said head coach Marla Looper. "The girls are giving their best effort, but we have to continue to make adjustments."
After a scoreless first inning, the Gophers found the scoreboard in the bottom of the second. Minnesota plated three runs on two walks, a double to left center, and a single through the right side to take an early 3-0 lead.
The Gophers tacked on to their lead in the third and fourth innings. Minnesota plated five runs on a two singles and a three-run home run to left in the third before scoring its final run on a solo shot to right in the fourth.
Shayla Starkenburg (14-21) suffered the loss in the circle. The redshirt sophomore allowed nine earned runs on six hits in four innings. She walked four and struck out two. Gopher hurler Sara Groenewegen registered the complete-game win in the circle. The sophomore did not allow a run and held the Iowa offense to just one hit in five innings.
Senior Megan Blank and junior Erin Erickson led the Hawkeyes at the plate. Blank went 1-for-1 with a single and a sacrifice bunt, while Erickson recorded a 1-for-2 effort with a single. Redshirt sophomore Sammi Gyerman extended her reached base streak to 18 games, reaching first on a hit by pitch in the top of the first.
"Unfortunately, our pitching staff hasn't allowed us to get to the sixth or the seventh inning to give our hitters another at bat to make adjustments," said Looper. "It's challenging when you're facing one of the top pitchers in the country."
Iowa returns home for its regular season series finale against Northwestern on May 1-3.
#12 Minnesota 9, Iowa 0
1
2
3
4
5
R
H
E
Iowa (16-37; 7-13)
0
0
0
0
0
0
2
0
#12 Minnesota (41-8; 15-3)
0
3
5
1
X
9
6
0
Game Decision
W: Groenewegen (MINN) 25-4
L: Starkenburg (IOWA) 14-21