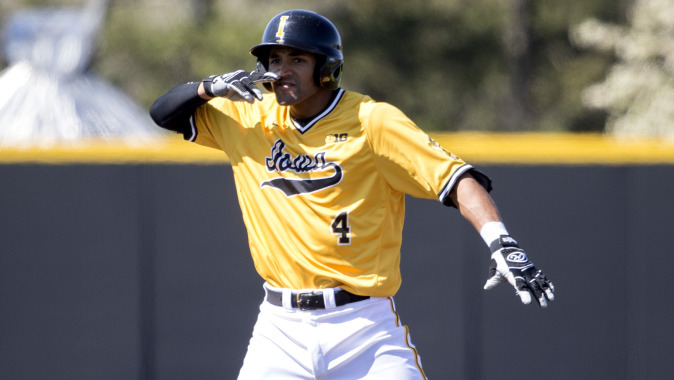 April 27, 2015
Sacramento State (22-21) at #15 Iowa (30-11)
Dates
April 28, 2015
Location
Iowa City, Iowa | Duane Banks Field
Statistics
Sacramento State | IOWA
Game 1
Date | Time
Tuesday, April 28 | 4:05 p.m. (CT)
Pitching Matchup
IOWA:Fr., RHP Nick Gallagher (0-0, 1.83 ERA) vs.
SAC ST.: Sr., LHP, Jake Stassi (0-5, 6.56 ERA)
IOWA CITY, Iowa — The 15th-ranked University of Iowa baseball team welcomes Sacramento State to Duane Banks Field for a 4 p.m. (CT) tilt Tuesday afternoon, a contest that concludes the Hawkeyes' nine-game home stand.
Iowa brings a 30-11 overall record into the midweek matchup, and the Hawkeyes have climbed in the national rankings following a three-game weekend sweep over No. 25 Nebraska. Iowa is 15th by Collegiate Baseball, 16th by Baseball America, 18th by D1Baseball, and 20th by Perfect Game. The USBWA and ESPN Coaches' Poll have yet to be released.
The Hornets bring a 22-21 record into Iowa City after dropping 2-of-3 games at North Dakota last weekend in Grand Forks. Sacramento State, an NCAA Regional team a season ago, who is 4-6 in its last 10 games, is currently in the midst of an 11 day road trip, playing games in four states (North Dakota, Iowa, Indiana, Illinois) before returning west.
Sacramento State hits .254 as a team and averages 4.2 runs per game. Outfielder Nathan Lukes and shortstop Scotty Burcham are both hitting over .330 with Lukes leading the way with a .352 average with seven doubles, five home runs, and 11 steals. Burcham hits .335 with a team-high 34 runs and 10 steals.
The Hornets have a 3.44 team ERA over 43 games, allowing 171 runs (144 earned) on 350 hits over 376 1/3 innings. Sacramento State has 225 strikeouts while issuing 93 walks. Senior southpaw Jake Stassi (0-5, 6.56 ERA) is the Hornets' scheduled starter.
Iowa will send freshman RHP Nick Gallagher to the mound for his fourth start. The Iowa City, Iowa, native is 0-0 with a 1.93 ERA in seven appearances, allowing three runs on nine hits over 14 innings.
Gallagher went 2 1/3 innings in his last start against Northern Illinois, allowing one run on three hits with two strikeouts. He went a career-long four innings, allowing one run on two hits and fanning three against Cornell College on April 15.
The Hawkeyes are 4-4 in eight midweek games this spring, where they are hitting .272 and averaging 5.4 runs per game. Junior Tyler Peyton leads the offensive attack, hitting .407 in seven midweek contests with eight runs and 15 total bases.
Live audio and video will be available on Hawkeye All-Access on hawkeyesports.com. The game will also be broadcast on AM-800 KXIC and AM-1360 KMJM with Brent Balbinot on the call.
Following Tuesday's game, the Hawkeyes travel to Ann Arbor for a three-game weekend series against the Wolverines from May 1-3.