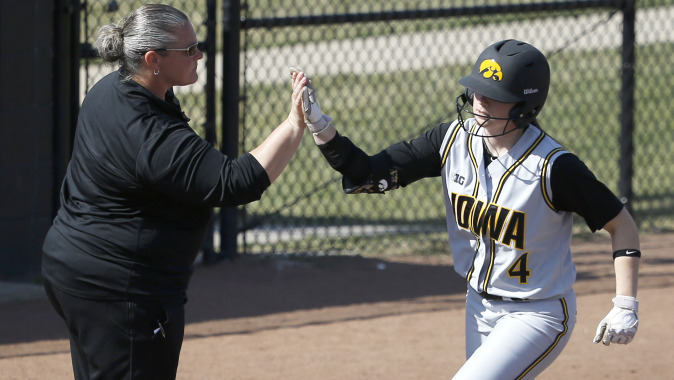 April 30, 2015
Editor's Note: The following first appeared in the University of Iowa's Hawk Talk Daily, an e-newsletter that offers a daily look at the Iowa Hawkeyes, delivered free each morning to thousands of fans of the Hawkeyes worldwide. To receive daily news from the Iowa Hawkeyes, sign up HERE.
By BRANDEE BRITT
hawkeyesports.com
IOWA CITY, Iowa — Four years ago, University of Iowa senior Megan Blank sat in the Hawkeye softball locker room wondering if she was going to survive the transition to college.
Flash forward four years and Blank has not only survived, she has thrived.
For Blank, deciding to continue her academic and athletic career at Iowa was an easy one. While her hometown of Culver City, California, is more than 1,800 miles from Iowa City, she always dreamed of dawning the Black and Gold.
"Both of my parents were born in Iowa," said Blank. "Growing up, Iowa City was kind of like a second home. When I got the chance to play softball here it was an easy decision. Getting to wear the Black and Gold as a student-athlete truly has a special meaning after growing up with it."
Since arriving on campus in 2011, Blank has made the most of her collegiate career.
She has started all 207 games of her career at shortstop and garnered three first- team All-Big Ten and NFCA All-Midwest Region honors. Following the 2014 season, Blank was considered for USA Softball Player of the Year, named to the All-Big Ten Defensive Team, and invited to attend the USA Softball Women's National Team Selection Camp.
There's more.
If the season ended today, she would not only hold the school's all-time record in doubles (59 and counting), but also finish atop the charts in career batting average (.411). She ranks third all-time in career RBIs (151), fourth in home runs (27) and triples (12), sixth in career hits (246), and eighth in career runs scored (125).
"She's definitely been our anchor," said fifth-year head coach Marla Looper. "Her passion just oozes from her. We have been fortunate and blessed to have her be a part of our program. You will never have another Megan Blank."
Blank has made her mark on the Iowa record books, but her impact on those around her speaks louder than any of her athletic accomplishments.
"It has been an honor to play alongside Megan," said redshirt sophomore Sammi Gyerman. "For two years she has been my roommate, friend, and someone I can look up to and try to follow. She will be missed."
Junior outfielder Erin Erickson echoed Gyerman's sentiments.
"I've gotten to see all three aspects of Megan," said Erickson. "I got the roommate, the teammate, and the friend. As a fellow teammate, her knowledge and love of the game is inspiring; she's an amazing person and player."
On Sunday, Blank will play her final game at Bob Pearl Field where she will be honored by her teammates and coaches.
"I can't really put into words how weird it is that it will be my last home game," said Blank. "It's incredibly hard to believe. Freshmen year I didn't think I would survive. Now it's four years later and it flew by."