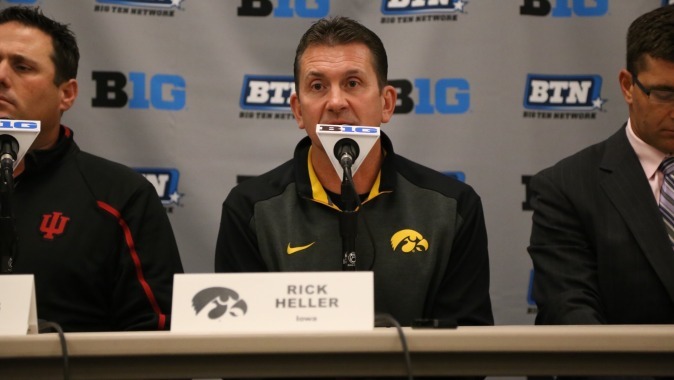 May 20, 2015
Editor's Note: The following first appeared in the University of Iowa's Hawk Talk Daily, an e-newsletter that offers a daily look at the Iowa Hawkeyes, delivered free each morning to thousands of fans of the Hawkeyes worldwide. To receive daily news from the Iowa Hawkeyes, sign up HERE.
By JAMES ALLAN
hawkeyesports.com
MINNEAPOLIS — When the 15th-ranked University of Iowa baseball team opens postseason play today at the 2015 Big Ten Tournament at Target Field in Minneapolis, UI head coach Rick Heller doesn't want to see anything change.
The second-year head coach wants to see the same fight, focus, and determination from his Hawkeyes — a team that went 38-14 during the regular season and piled up 19 Big Ten victories, the most for the program since 1990.
"We don't have to be any different than we have all year," said Heller. "If we keep playing unselfishly and not worry about statistics, we can continue to roll like we have.
"But we found out against Rutgers last weekend (losing 2-of-3 games) that it doesn't matter who you play, you still have to show up and be ready. You have to have everyone ready if you want to make a run in the postseason."
The Hawkeyes open Big Ten Tournament play against seventh-seeded Ohio State at 1 p.m. (CT) Wednesday — a team they didn't face during the regular season. The Buckeyes were ranked 25th in the country in late April before losing three straight Big Ten series down the stretch to finish the regular season 35-18 overall.
Iowa is making its second straight Big Ten Tournament appearance. The Hawkeyes won their first postseason game since 2010 a season ago, an experience the team will draw upon in the second go-round.
"We learned a lot last year because it was a new experience for all of us," said senior captain Jake Mangler. "(Leading up to the games), it was new, but once we got on the field, it was the same game. Last year we learned a lot in how to deal with all the other stuff leading into the competition."
The Hawkeyes are looking forward to competing at a "big league" venue at Target Field, but outside of the aesthetics, it's still just another ballpark.
"I am big Twins fans, and I have always wanted to play at their stadium my entire life," said junior Tyler Peyton, who will be Iowa's Wednesday starter. "The opportunity is going to be surreal, but it's just another game, and we're looking to win."
When the 2015 season began, not many people outside of Iowa City believed Iowa could be in the Big Ten hunt. The players laid out their team goals of claiming a Big Ten regular season and tournament champion. The latter starts today.
"Props to Illinois (on winning the regular season title)," said Mangler. "They had an unbelievable regular season, but now we move on to the next goal, and that's winning a Big Ten Championship.
"We'll take it one game at a time from here on out. We're going to play our best and see what we can do. With the success we've had this year, people are still waiting for us to fall off, waiting for the old Iowa team to come back.
"For us to go and make a statement early and win some games in this tournament and move onto an NCAA Regional will be important for us."
Today's game will be streamed live on BTN Plus on BTN2Go.