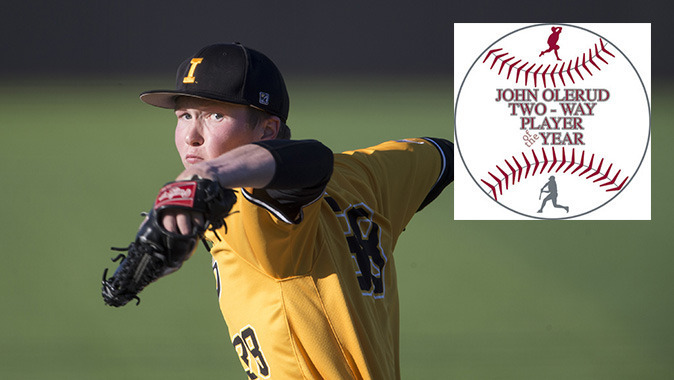 May 28, 2015
IOWA CITY, Iowa — University of Iowa junior first baseman/right-handed pitcher Tyler Peyton is one of 10 players remaining for the John Olerud Two-Way Player of the Year Award, it was released late Thursday by the National College Baseball Hall of Fame.
The award is presented to the nation's top player both on the mound and at the plate. It will be presented as part of the Hall of Fame's Night of Champions celebration in Lubbock, Texas, on June 28-29.
The Grimes, Iowa, native is Iowa's Friday night starter and leads the team with a .352 batting average — the third-best average in the Big Ten Conference. On the mound, Peyton is 6-4 with a 3.18 ERA in 15 starts, where he leads the team with seven quality starts while ranking 10th in the conference with 69 strikeouts and innings pitched (87 2/3).
Peyton has been a starting pitcher, while hitting in the three-hole, in eight games this season. He tossed a complete game shutout and drove in the game-winning run in Iowa's 2-0 series opening victory over No. 17 Indiana on March 29, which led to him earning Big Ten Player of the Week honors by College Sports Madness.
As a positional player, Peyton earned third-team All-Big Ten honors as a first baseman. He is hitting .352 with 30 RBIs and 30 runs scored with a .438 on-base percentage — the sixth best mark in the league. Peyton has 18 multi-hit games and seven multi-RBI contests and has hit safely in 38-of-47 games and reached safely in 44-of-47 contests.
Peyton brings an eight-game hitting and 13-game reached base streak into Friday's NCAA Regional matchup against Oregon.
The Olerud Award is named for the former Washington State University standout who achieved success both as a first baseman and left-handed pitcher during the late 1980s, and who was inducted into the National College Baseball Hall of Fame in 2007.
Along with Peyton, four other finalists will be playing in NCAA Regionals this weekend. They include: Bradley's Elliot Ashbeck, East Carolina's Reid Love, Louisville's Brendan McKay, and Oral Roberts' Anthony Sequeira.
Other players making the final 10 are: Cole Hallum (Campbell), Thad Johnson (St. Bonaventure), Andrew Lee (Tennessee), Alex Robles (Austin Peay), and Robert Tasin (Oklahoma).
The Hawkeyes (39-16) will play their first NCAA Regional game in 25 years Friday, facing the Ducks at 1 p.m. (CT) in the Springfield Regional. The game can be seen on ESPN3.