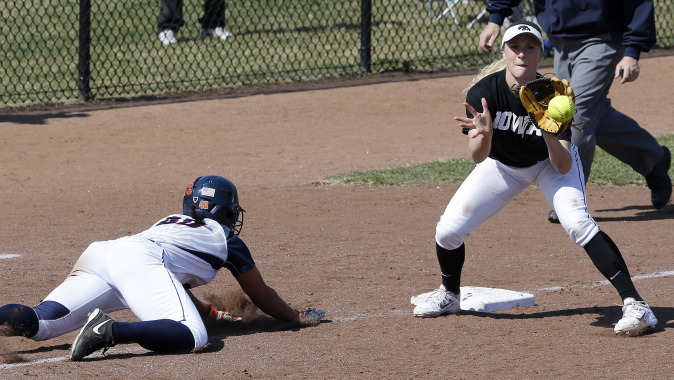 July 16, 2015
Q: Where are you spending your summer?
A: I've been spending my summer at home, in Herndon, Virginia.
Q: What are you doing there?
A: I have been working, training, practicing, and enjoying time with my family, boyfriend, and friends.
Q: Where are you working? What does an average day on the job look like?
A: I work at Lifetime Athletic in the operations department. Basically, our team is in charge of making sure the gym runs smoothly for our members. We are in charge of the locker rooms and fitness floor. This summer I have been working the morning shifts, which is from 6am-2. My coworkers are awesome and we've had a lot of fun this summer. I've also met a lot of interesting customers.
Q: What is one thing that you have learned from working there?
A: My job at Lifetime has really helped solidify that I want to be in the people business when I get older. I want to work around driven people that have the same passion for athletics that I do.
Q: Favorite summer activities?
A: Going to the beach is a must. But honestly, I love just relaxing around the house and doing spur of the moment things with friends
Q: Favorite song to listen to in the summer?
A: Keith Urban's John Cougar, John Deere, John 3:16
Q: Favorite place to go in your summer city? Why?
A: I love going to D.C! My favorite days are days spent in D.C., eating good food and going to Nationals games.
Q: What do you miss the most about living in Iowa City?
A: I miss my teammates! I miss being ten feet away from some of my best friends. I also miss Bluebird pancakes and my Bruegger's cinnamon raison bagels.
Q: What was your biggest takeaway from last season?
A: I learned a lot last season and I truly believe I grew as a person and a player. My biggest take away is that this team is more than capable of competing and beating the best teams in the country. Our conference tournament run was such a great motivator to make it to post season this coming year. I truly believe we are more than capable of making a strong post season run.
Q: How are you training for next season?
A: I try to get to the field as much as possible to take ground balls. As well as doing little drills around the house. I lift and train Monday-Thursday in a facility close to my house.
Q: What specific area of your game are you working on this summer?
A: Defensively, I am working on my range, backhand side, and soft hands! Offensively, I'm working more on the mental game. I want to have an attack mentality on the field and in the box.
Q: What are you most excited about for the upcoming year? Why?
A: I am so excited to be back with the team. It's a new start for this team, and that will allow us to discover our identity. I'm excited to get back on the "grind" as I always say. Also, I'm really excited for my classes this fall! I have a good mix of major and gen ed classes.