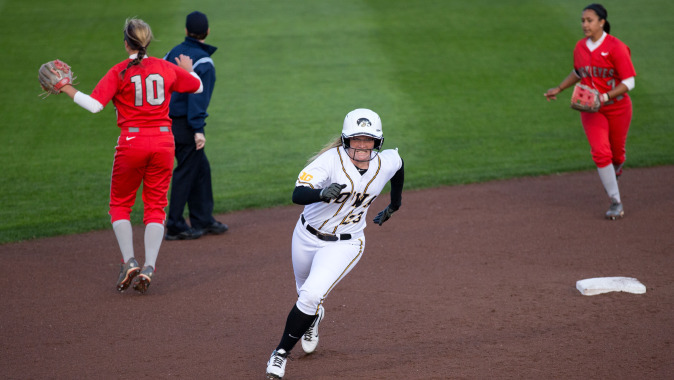 July 30, 2015
Q: Where are you spending your summer?
A: The University of Iowa, in Iowa City, Iowa. And Solon some.
Q: What are you doing there?
A: I'm taking classes, working out, doing rehab and what not.
Q: Favorite summer activities?
A: I like doing absolutely nothing. Lazy things like boating, watching tv and movies. That doesn't usually last long though cause I get bored in which case I like to workout and clean – lots and lots of cleaning when I'm bored.
Q: Favorite song to listen to in the summer? Why?
A: I'm not really a music listener, just whatever is on I guess. I prefer movies.
Q: Favorite place to go in the summer?
A: Eh, I like to travel anywhere. Road trips are fun. I've made a few to Chicago this summer!
Q: Best thing you've done so far this summer?
A: The best thing I've done this summer was road trip to Chicago. I went once to spend time at Chip's (Kaitlyn Mullarkey) and see a Bandits game, and another time to watch a Chicago Sky vs. Atlanta Dream WNBA game. All the time I've gotten to spend with the team over break has been the best!
Q: What do you love most about Iowa City summers?
A: My favorite thing about being here all summer is access to everything! It's so easy!
Q: What was your biggest takeaway from last season?
A: We learned what energy and focused fun looks and feels like. I think it's a way we need to continue playing into next season.
Q: How are you training for next season?
A: Rehab, rehab, rehab. I'm doing everything I can in the weight room to maintain and build for fall. (also sneaking some cuts and grounders off the wall when I can) Did I mention rehab?
Q: What specific area of your game are you working on this summer?
A: I'm working to physically fix and put myself in the best position to be in this fall. Also watching as many World Series games and baseball games to get to a higher mental level while I can.
Q: What are you most excited about for the upcoming year? Why?
A: This season brings so many new things so I'm not sure what I'm looking forward to most. I'd say, being able to throw, field, and hit though, especially with my awesome team. It's the little things in life.