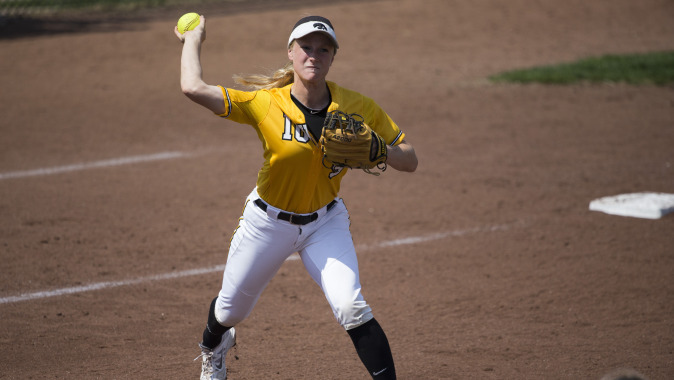 Sept. 21, 2015
Box Score

IOWA CITY, Iowa — The University of Iowa softball team recorded its second straight shutout with a 17-0 win over St. Ambrose on Sept. 20 at Bob Pearl Field. The Hawkeyes registered 16 hits on the afternoon, while holding the Fighting Bees to four.
After two scoreless innings, the Hawkeyes got on the board in the third. Sophomore Angela Schmiederer reached on an error before stealing second and advancing to third on a groundout. One pitch later, Schmiederer crossed the plate on a wild pitch to give the Hawkeyes a 1-0 lead.
Iowa got the bats going in the fifth, tacking on three runs. Schmiederer led off the inning with a double, and sophomore Sarah Kurtz followed with an RBI single. Sophomore Katy Taylor drew a walk before sophomore Cheyenne Pratt laid down an RBI bunt single. The sophomore duo followed with a double steal to give the Hawkeyes a 4-0 advantage.
The Hawkeyes added three more runs in the bottom of the sixth. Senior Erin Erickson started the rally, reaching first on an error. After a fielder's choice and a throwing error on a ball put into play by sophomore Allie Wood, the Hawkeyes had runners on first and second with no outs. Schmiederer capitalized on the RBI opportunity with a single to left, and a pair of wild pitches allowed both Schmiederer and Wood to score.
The Iowa offense stayed hot in the seventh, adding three more runs. Erickson led it off with a double before Kurtz plated her on a fielder's choice. Freshman Mallory Kilian added a two RBI double in the inning to extend the Iowa lead to 10-0.
The Hawkeyes batted around in the ninth inning, sending 11 batters to the plate. Killian (RBI single), Erickson (2 RBI double) and sophomore Daniela Chambers (RBI single) all recorded RBIs as the Iowa offense plated seven runs.
Kilian and Kurtz notched three RBIs apiece, while senior Erin Erickson added two. Six Hawkeyes had multiple-hits, including Gyerman (2), Erickson (2), Schmiederer (2), Kurtz (2), Pratt (2), and Kilian (2).
Five pitchers combined for the shutout, including freshman Erin Riding, Kilian, junior Elizabeth Wiegand, senior Jillian Navarrete, and redshirt junior Shayla Starkenburg. The hurlers allowed just four hits in nine innings of work.
The Hawkeyes return action hosting Kirkwood at Bob Pearl Field on Sept. 25 at 5:30 p.m. (CT). They then travel to Des Moines for the annual BIG 4 Fall Tournament on Oct. 3-4. Iowa takes on Northern Iowa at 11 a.m. (CT) and host Drake at 2 p.m. on Oct. 3, before facing Iowa State at 10 a.m. on Oct. 4.